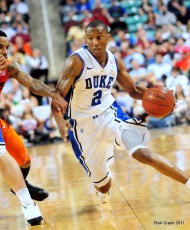 Greensboro -

The Duke Blue Devils advance the to ACC Championship game with a 77-63 win over Virginia Tech, setting up Duke-UNC III in the process.  There was some questions as to whether Smith would play, but he started and he thrived. 

"An injury is not going to stop me this time of year.  We only have a couple of more games to go.  I'm a senior and I just want to help my team win games," said Smith while being bombarded by a bevy of media types.
Once again, Kyle Singler had a good game.  After falling one rebound short of a double-double last evening, he accomplished the feat tonight scoring 13 points and grabbing a game high 11 rebounds. 
Seth Curry rounded out the double figure scorers for the Blue Devils, scoring 10 points.  Duke outscored the Hokies 28-24 in the paint and they got 14 points from their bench.
"Our guys played really well today, becasue I thought Virginia Tech played well.  Defensively we played well, making them more of a one on one team," said Kryzewski.  He continued, "They didn't have a lot of assists and I thought it was because of some good team defense.
It never seemed like Duke lost control of the game, but it got ugly in the end where technicals and some strange  if not inconsistent calls  prolonged the game.  Duke loses an hour to daylight savings time tonight, making their turnaround a quick one before they face North Carolina and Harrison Barnes who is the talk of the tournament after he scored a whopping 40 points as his team advanced.
North Carolina gained a huge advantage down low in the first game when Mason Plumlee was called for some early fouls.  In fact, Duke will have to control John Henson and Tyler Zeller better to win.  Duke will also have to combat a predominent Tar Heel crowd, one which really helped the Tar Heels in two tournament historic comebacks.
It's likely that the winner gets a number one seed while the loser is likely a two, so it should be a battle for the ages.
Link to Official Box Score Discuss the behind the scenes facts by joining BDN Premium
OFFICIAL GAME NOTES FROM DUKE SPORTS INFORMATION -
The Blue Devils advance to the ACC Championship game for the 30th time in school history. Duke has won an ACC-best 18 championships in their previous 29 title game appearances, including the last two years and nine of the last 12 seasons.
Sunday's championship game will be the 11th time Duke and North Carolina have met in the ACC Tournament finals. North Carolina has won six of the 10 but Duke head coach Mike Krzyzewski is 4-3 in his seven games against the Tar Heels for the conference title. The last time it happened was 2001 when the Blue Devils earned a 79-53 victory in Atlanta. The two schools have played 19 times in the ACC Tournament with Duke winning 11 times. The last meeting was in the 2003 semifinals, a 75-63 Duke victory.
Duke has now won eight straight ACC Tournament games in Greensboro and have also won eight straight overall with championships in 2009 and 2010. The Blue Devils have won a record 89 ACC Tournament games all-time and are 35-15 when playing in Greensboro. 
Since 1999 Coach K is 6-0 in the ACC Tournament when playing teams the Blue Devils lost to in the regular season. Duke lost to Virginia Tech in Blacksburg, 64-60. Coach K is 15-10 all-time in the ACC Tournament when playing teams Duke lost to in the regular season. Saturday marked the first time Duke and Virginia Tech had ever met in the ACC Tournament. Virginia Tech was only team the Blue Devils had never faced in the conference tournament entering this season.
Head coach Mike Krzyzewski earned his 51st career ACC Tournament win and is now 51-17 all-time. He is one of only two coaches in conference history with at least 50 tournament victories, joining North Carolina's Dean Smith (58). Since 1998, Duke is 34-4 in the ACC Tournament.
When playing in the Greensboro Coliseum, Duke is now 41-9 under Coach K with victories in 14 straight contests dating back to the 2004 ACC Championship game.
The Blue Devils have won 19 straight neutral site games dating back to a loss to Villanova in the 2009 NCAA Tournament.  
Over the last three seasons the Blue Devils have collected 94 overall victories to rank fifth most over a three-year span in school history.
Duke limited Virginia Tech to 2-of-16 (.125) shooting from behind the three-point line. It is the sixth time this season a Duke opponent has shot under 20 percent from deep. 
The Blue Devils made their final 13 free throw attempts in the game over the final 15 minutes of the game and finished 22-of-26 (.846) for the game. 
This season Duke is 22-1 when outrebounding its opponent.  
Duke held Virginia Tech to fewer made field goals (9) than made free throws (10) in the first half. The Hokies were 9-of-26 (.346) from the field and (0-for-5) from behind the three-point line.
Player Notes:
Seth Curry
Sophomore Seth Curry tallied his 15th double-figure scoring game of the season with 10 points. He has scored 10 or more in four straight games, averaging 12.3 points per game during that span.
Curry made two three-point field goals, giving him 16 games this season with two or more treys. 
Mason Plumlee
Sophomore Mason Plumlee made 3-of-4 field goal attempts and is 7-of-9 (.778) from the field in this ACC Tournament. He had back-to-back possessions with alley-oop dunks from Nolan Smith in the second half to change a 10-point lead into a 61-47 advantage.
Kyle Singler
Senior Kyle Singler matched a school record with his 144th consecutive game played, equaling the total for Chris Duhon and Jon Scheyer. His 144 career games played ranks tied for fourth most at Duke with Duhon and Scheyer. Singler made his 101st consecutive start and extended his school record to 143 career starts.
His 10 career starts in the ACC Tournament is tied for fifth most in Duke history with Mike Gminski, Kenny Dennard, Gene Banks and Christian Laettner.
His double-double was his fourth of the season and 24th of his career.
With his 13 points he moved into the top 10 in Duke history for points in ACC Tournament play and now ranks ninth with 168 points. 
He has scored in double figures in 30 of the 33 games this year and has 125 career games with at least 10 points. 
In Duke's two ACC Tournament games he has corralled 20 rebounds. He has four games this season with 10 or more boards.
Singler moved into seventh on Duke's career rebounding list, passing Gene Banks. He now has 988 career rebounds. 
He was 5-of-5 from the free throw line and is a perfect 14-of-14 from the charity stripe in the two games of this year's ACC Tournament. He has made 45-of-49 (.918) from the foul stripe in the last seven games.
In the last eight games, Singler is 2-for-25 from behind the three-point line. He is 0-for-11 in the last three games. 
The victory gives him 122 for his career, moving him into a tie for fourth most in ACC history and third most at Duke with Christian Laettner.
Nolan Smith
Senior Nolan Smith has scored at least 20 points for the 19th time this season and 36th career game. He has 10 games with 25 or more on the year. He reached double figures in scoring for the 31st time in 33 games this season.
With his 27 points he became the 19th player in school history to score 700 or more points in a season. He now has 703 points on the season.
He has shot 10 or more free throws in a game seven times this season.  
Smith posted his 19th game this season with at least five assists. He now has 11 games on the year with at least 20 points and five assists.