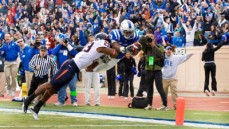 The Duke Blue Devils came out on fire scoring 21 first quarter points and they ended the fourth quarter with another 21 points in a thrilling 55-48 victory over Virginia.  In between those quarters was an offensive showdown but in the end Desmond Scott danced down the sidelines for a 35 yard run for a touchdown shortly the possession after he fumbled the ball after a solid Virginia hit.
Demond Scott was quite simply resilient but he was not alone, for several Blue Devils stepped up to the plate and willed Duke to their first ACC win of the season and their second straight win.  Scott would finish with 97 yards rushing on the day and the Blue Devils ran for a total of 230 yards, the most since 2003 against an ACC school.
Duke back up quarterback Brandon Connette had 78 yards rushing himself and two rushing scores, his first a 2 yard run and his second an exciting 20 yard jaunt.  And then starting quarterback Sean Renfree ran for two scores as well including a 37 yard run for a score putting Duke up before the Cavaliers scored two touchdowns of their own, the last one a Keith Payne 6 yard run which put the Cavaliers up 48-47.
The Blue Devils were working on field goal position but Scott's aforementioned run worked out just fine and according to Duke Coach David Cutcliffe, the play was just installed this week.  The Duke defense then held after letting up 643 yards of total offense to the Cavaliers.
Another Duke star was tight end Cooper Helfet who pulled in 7 passes for 122 yards, a team high and a score.  His play and the play of Duke's wideout depth helped offset the loss of Conner Vernon who was knocked silly on a kickoff return.
The way Duke won was incredible in that it looked as if they were going to lose a heart breaker.  With just over a minute Duke got the ball back and trailed by a single digit.  Renfree was sacked by the Virginia defense in his first two plays and Duke was forced to use their last timeout and the next play was an incomplete pass to Helfet.
That sat the scene for a 4th and 18 play where Renfree hit a streaking Donovan Varner for a 32 yard completion to the UVA 47 yard line and just when you were thinking a Duke field goal to win the game Duke found the end zone and smiles abounded from cheerleaders, fans and players for Duke won a bonafide thriller.
There was so much action it's hard to emcompess it in one article so we'll have more coming your way shortly as Duke goes to 3-6 on the season with Boston College coming into Wallace Wade Stadium next week.