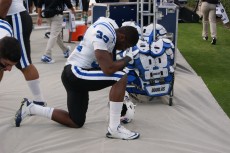 CHAPLE HILL - The Duke Blue Devils fell to arch rival North Carolina and in the process ended the season with a disappointing 3-9 record.  The Blue Devils made key mistakes when they were in scoring position and the season long bugaboo, letting up big plays, once again doomed their hopes of pulling an upset.
In fairness, the Blue Devils limped into the game having sustained a myriad of injuries to key players.  The Tar Heels also knocked Sean Renfree out of the game and Conner Vernon returned after his injury but was never the same after a high ankle sprain.  On the other side of the ball, Giovani Bernard ran shredded the Duke defense with 165 yards rushing, including a 48 yard scamper right up the gut for a touchdown to give the Tar Heels a 20-7 lead.
Duke would cut the margin to 6 before half time with Renfree connecting with Jamison Crowder for a 45 yard score.  As mentioned, Renfree injured his hand early int he first half and Anthony Boone came off the bench to give Duke a spark of hope, leading his team to 11 play 75 yard drive and cutting the lead to 23-21.
North Carolina wasted little time answering with a 11 play 75 yard drive of their own giving them  30-21 lead and they never looked back.  The Tar Heels then went on a another long drive for a score making the final margin 37-31.  The Tar Heels ended their season at 7-5 with the victory.
It was the final game for a few key seniors on the Blue Devils squad, including likely All ACC 1st team Matt Daniels.  Other seniors that will be missed next season include Donovan Varner, Cooper Helfet and Charlie Hatcher.  Daniels had an amazing 18 tackles in the game, a career high and Duke will be hard pressed to replace that kind of production, but almost the entire team beyond these young men return next season.
After the game Duke Coach David Cutcliffe was clearly disappointed and vowed to hit the road running in recruiting and said that he challenged his team to make the plays necessary in the coming season to win the close ball games.  Duke could have been in a bowl game had they closed on a few close games this season but a they say, so close, yet so far away.
The Blue Devils will need to work hard in the off season and get bigger across the fronts to turn the corner but it's a challenge Cutcliffe seems to want to take on.  Only time will tell if Duke will be better next year but with the returning cast of players and redshirt freshman ready to play, there is reason for optimism.  But then again, there was reason for that this season as well.
We'll recap the season in the coming week and take a look ahead, so check back in with BDN.