[private]•  Game 15  •
[2 AP/2 Coaches] Duke (13-1, 1-0 ACC) vs. Florida State (13-2, 0-0 ACC)
Saturday, January 10, 2009  •  2:05 PM ET  •  ESPN
Donald L. Tucker Center (12,100)  •  Tallahassee, Fla.
 
Game Quick Facts
 TV: ESPN; Mike Patrick (play-by-play), Jay Bilas (analyst).
 
Radio: Duke Radio Network (flagship WDNC 620 AM in Durham); Bob Harris (play-by-play), John Roth (analyst) and Matthew Laurance (sideline).
 
All-time Series: Duke leads the all-time series 26-6, including an 11-5 mark at the Donald L.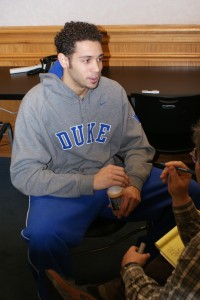 Tucker Center. Duke has won six of the last eight games in the series.
 
Coaches:
Mike Krzyzewski
Overall Record: 816-268 (34th year)
Duke Record: 743-209 (29th year)
vs. Florida State: 25-5
 
Leonard Hamilton
Overall Record: 306-286 (20th year)
Florida State Record: 106-86 (seventh year)
 
Blue Devil Bits
Duke is 13-1 on the year, including a 1-0 mark in Atlantic Coast Conference play. The Blue Devils have now started the season with a 13-1 mark 17 times, including 11 times under Mike Krzyzewski.
The Blue Devils moved up three spots to second in the AP poll and the ESPN/USA Today Coaches poll. Duke is 107-16 all-time when ranked second in the AP poll.
The Blue Devils have won 274 games this decade, the most wins in a decade by the program. The win total is the fifth-most in any decade by a team in NCAA history.
Duke is coming off a 79-67 win over Davidson on Wednesday. Kyle Singler and Jon Scheyer each had 22 points to pace the Blue Devils.
Junior Jon Scheyer scored his 1,000th career point on a free throw with 33 seconds left to play in the win over Davidson. He is the 57th player in school history with at least 1,000 career points. Duke has the third-most 1,000-point scorers in NCAA history.
Gerald Henderson added 11 points and seven rebounds against the Wildcats. He has now scored in double figures in six consecutive games.
Junior Brian Zoubek finished with seven points, nine rebounds, one block and one steal on Wednesday. Zoubek has grabbed five or more rebounds 10 times this season, including eight of the last nine games.[/private]