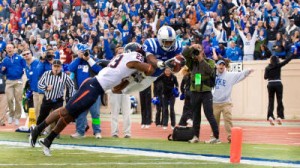 The Blue Devils emerged victorious against the Cavaliers in a shootout last year in Durham. RB Desmond Scott's late touchdown run put the Blue Devils ahead and capped the thrilling 55-48 victory. Under Head Coach David Cutcliffe, Duke is 3-0 against Virginia, and will travel to Charlottesville on November 12th to try and extend that streak, while the Cavaliers will certainly be looking for revenge.
This week, BDN welcomes back Kris Wright, editor of TheSabre.com, to answer a few questions about the 2011 Virginia football team.
BDN: The 2010 Cavaliers had an up-and-down injury-plagued season, but return a veteran group of 18 starters in 2011. The depth chart on both sides of the ball is filled with upperclassmen, led by All-ACC candidates Chase Minnifield, Cam Johnson, and Kris Burd. What are the keys for this Virginia team? How good can they be?
The biggest key for this team is doing better with the big play. The defense allowed a ton of big plays last season, including quite a few against Duke, that cost the team a lot of points. Still, the coaches believe those mistakes are correctable and that when the defense played well last season, it played really well. Offensively, UVa ranked last in the ACC in scoring plays of more than 25 yards so that meant the offense had to sustain long drives all the way into the red zone and then execute to score. If some playmakers can crank out some big plays to help put up points, it would take some pressure off the whole team. Long story short: big plays influenced a lot of outcomes for Virginia last season and that's one area that could improve the overall results. So how good can the Cavaliers be? With a favorable schedule set-up (3 non-conference home games and arguably the most winnable ACC games at home), they have a shot at bowl eligibility in 2011.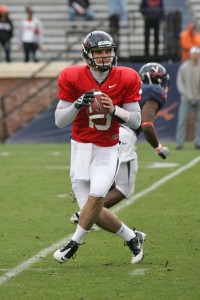 BDN: Quarterback is undoubtedly the biggest question mark for the 2011 Cavaliers, and it appears to be an interesting competition, to say the least. Recently, it appears that sophomore Michael Rocco has emerged as the leading candidate. Given the overall youth and inexperience at the position, can you give us a brief scouting report on Rocco and the UVA QBs? 
TheSabre.com has projected Michael Rocco as the likely starter since early in spring practice and he does appear to have emerged as the week one starter for now. From a football family full of high school coaches, Rocco has a high football IQ so he processes schemes and reads defenses well. With a decent amount of arm strength thrown in, he looks like a guy that can deliver the ball to a growing list of playmaking options on offense. The debate for the No. 2 QB slot right now is between true freshman and January enrollee David Watford and redshirt sophomore Ross Metheny. Watford is a dual threat quarterback that has good pocket mobility and an improving throwing motion after coming from a run-heavy offense in high school; the biggest question right now for UVa coaches is whether Watford is ready to play now or does he need a redshirt season first. I'm going to bet that he plays at least in a reserve role in 2011. That leaves Metheny, a left-hander with good mobility as well, as the third option. Metheny appears to grasp the offense and do well with the shorter throws so he could be a safe option if the other two quarterbacks can't take care of the football.
BDN: Though the majority of starters return, the Wahoos will have to replace QB Marc Verica and RB Keith Payne. What are the expectations for the 2011 Cavalier offense? Other than QB, what question marks remain to be answered in training camp?
Virginia does have to replace starting quarterback Marc Verica, the ACC's leading scorer in running back Keith Payne, and UVa's leading receiver in terms of 2010 yards Dontrelle Inman. With that said, if the quarterback situation works out, there's not too much concern with filling those spots at Virginia as offensive coordinator Bill Lazor puts together the system's second season. Perry Jones matched Payne's 4.5 yards per carry last season and he finished with nearly 1,000 yards of offense (655 rushing and 262 receiving). You mentioned earlier that Kris Burd is back at receiver and Tim Smith returns from injury there too after showing great promise as a true freshman. The tight ends and offensive line return everyone that was getting significant snaps late in 2010 too. Then you add highly regarded recruits like redshirt freshman Kevin Parks, a Salisbury, N.C. product, and true freshmen Darius Jennings and Dominique Terrell to the mix as well. So it looks like the offense should have some firepower if a quarterback can execute his part of the equation. The biggest question beyond that is who will replace Payne's points. That's probably going to be a list of names vs. one guy.
BDN: Given the talent on the UVA defense, it's hard to believe that Duke was able to put up 55 points a year ago in Durham. With the combination of talent and experience, this appears to be a group capable of dominating ACC opponents. What are the keys for this unit to be successful in 2011? Who is expected to step up alongside Minnifield and Johnson?
No question about it, the defense struggled in a major way in 2010. Duke posted 489 yards and 55 points last season - those numbers were more than 100 yards and 25 points better than the Devils' season averages. It wasn't a one-week hiccup either. UVa struggled with almost everyone on the schedule last season. As mentioned earlier, big plays really hurt so that's the top item to fix. Part of the problem appeared to be the transition from a 3-4 scheme to a 4-3 scheme as well as players swapping positions to bolster the speed on defense. That change didn't produce a high number of sacks and turnovers as expected though because Virginia wasn't consistent with a pass rush or in pass coverage. So the coaches hope the second year in the 4-3 helps with a lot of the mistakes and consistency issues. We'll see. If that improvement is going to happen, some names to watch include defensive lineman Matt Conrath, linebacker Steve Greer, and safeties Rodney McLeod and Corey Mosley. If the middle of the defense plays better, those names will be involved somehow. Also keep an eye on true freshman Demetrious Nicholson at corner - he appears to be a real talent so far in fall camp.
BDN: Virginia and Duke played one of the most exciting games in the ACC in Durham last fall. The Blue Devils have had the Cavaliers' number under Head Coach David Cutcliffe, winning each of the last three meetings. Virginia will be hungry for revenge on November 12 in Charlottesville. What do you think will be the keys to the game this fall? Can it possibly match last year's shoot-out?
It's a long time to November! If I had to guess right now based on last season's trends, I'd say the keys for Virginia will be containing big plays and Duke's running threats at quarterback. Those two items basically cost the Hoos a shootout win in 2010. For Duke, I think the keys will be to disrupt a veteran offensive line and the running game to put pressure on the young UVa quarterbacks to perform. I don't see a shootout forming this time around, though. I'm going to guess the game will be in the 20's.
BDN: Thanks for your insight, Kris. Good luck this season!
Previous week: November 5, Duke @ Miami
Next week: November 19, Georgia Tech @ Duke