BDN's Football Friday is packed and ready for summer camp. Don't forget your toothbrush!
Duke Football Camps
Duke will host hundreds of players on campus over the next two weeks. In a nutshell, there will be four types of players on campus.
Top prospects: these are players who already have Duke (and other) scholarship offers. Getting them on campus is another chance to evaluate and recruit them. It's also a good opportunity for the prospect to get a feel for what it would be like to be a player at Duke.
Prospects without offers: this is often the biggest group, and includes players who the staff has yet to evaluate in person, and other players who have a high interest in Duke and will be looking to impress. A select group of prospects from this cohort will receive scholarship offers shortly after their visit.
Commits: Duke always invites their verbal commitments to attend summer camp if possible. This is another great opportunity to continue to develop the relationship with a player, while also helping the player improve his game.
Everyone else: Duke's camps are open to all players from 9th grade and up. These are players who are primarily on campus to improve themselves as football players; they may not have started the college recruiting process, might project at the FCS level, may have borderline academic records, or several other situations.
BDN will have the latest news from all of Duke's summer camps, including top performers, new offers, and commitments. The Duke Football camp schedule is as follows:
Duke Football 1 Day Camp: June 9, 2012
Duke Football Big Man Camp: June 10 - 11, 2012
David Cutcliffe QB College: June 14 - 15, 2012
Duke Football Kicking Camp: June 14 - 15, 2012
Duke Football 1 Day Camp: June 16, 2012
Hud Mellencamp to walk-on
With Jessica Springsteen and Hud Mellencamp expected to enroll this fall, Duke is quickly becoming Rock Star U. The son of John "Cougar" Mellencamp, Hud was home schooled in Indiana and unable to participate in organized football; he did, however, compete as a boxer, winning two Golden Gloves division championships and a Junior Olympics title. At 5'11," Mellencamp is expected to join the team as a defensive back, and could certainly become a contributor on special teams this fall.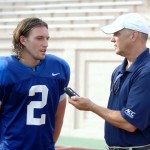 Meet the Blue Devils Day
Speaking of this year's football team, kickoff is now just 84 days away! Fans can get an up-close and personal look at the 2012 Blue Devils at the annual Meet the Blue Devils Day, held on August 18th this year in Wallace Wade Stadium. Admission is free and includes a free team poster. Duke players will be on hand for photos and autographs.
Sterling Korona updates his recruitment
With Tanner Stone and Austin Davis in the fold, the Blue Devils are looking to continue to build a pipeline of talented offensive linemen from Texas. Duke was among the first to offer 6'7" OL Sterling Korona, and impressed him on an unofficial visit earlier this spring. Several other schools have joined in pursuit of the talented Texan, who now holds offers from Kansas, North Texas, SMU, Houston, UTSA, Duke, Washington State, and Tulsa. Korona is making his visits and planning a decision before the end of July.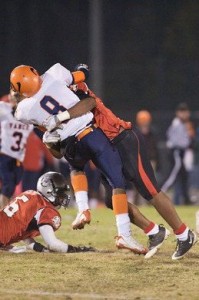 Duke makes the cut for ESPNU150 LB Peter Kalambayi
Peter Kalambayi is a 6'2″ 230 pound prospect from Butler High School in Matthews, NC. The Blue Devils were among the first to offer a scholarship to the rising senior star, and it appears they will be among the last in the running for his commitment. Kalambayi, one of the top players in the state, recently trimmed his list to California, Duke, North Carolina, Oregon, Stanford, and Virginia. Kalambayi would be the type of defensive difference-maker that Coach Cutcliffe hopes will put the program back on the national map.
Duke offensive linemen on a mission
We had mentioned this in prior updates, but it bears repeating. Led by Dave Harding, ten Duke offensive linemen planned and completed a service trip to Ethiopia earlier this summer. The primary purpose of the trip was to dig a well for a small community in Awasa, but the Blue Devils came away with a greater appreciation for their lives in America, and a stronger bond among the teammates. "Seeing these guys really losing the familiarity and their comfort zone within the United States - you're not at home anymore," said Harding. "Once that started to happen, peoples' walls come down and you get to know the true person.  We did a lot of service along the way, but even during the service, we were able to bond and build our relationships with one another. So I think we're a lot more cohesive and better friends after having taken the trip." It was an extraordinary trip for a great group of young men, and Duke fans hope that the work done in Ethiopia not only provides clean drinking water to the citizens of Awasa, but also paves the way for big running holes for the Blue Devils this fall.
With camp season upon us, bookmark BDN for all of the latest updates on Duke Football recruiting. Over the next few weeks, fans can expect to see the Duke class of 2013 add to its already impressive list of Breon Borders, Quay Chambers, Austin Davis, Evrett Edwards, Jake Kite, and Quay Mann. Thanks for reading and thanks for your support of BDN Football. WE ARE DUKE.