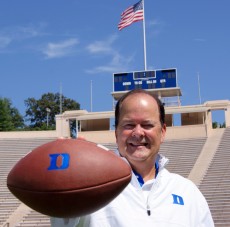 Duke Football needs to put the Florida State loss behind them. There are three important games left in the season, the results of which will determine where Duke goes as far as bowl games are concerned.  Besides, there is not a lot worth remembering in the 48-7 defeat by FSU.
It is a bit bothersome that Duke did not exactly show against the ACC's best team.  It is evidence that this is a team still learning how to win and deal with the expectations that follow.  The truth of the matter is that the Blue Devils psyche is still fragile.  Many of the players, including some solid senior leaders, have never been on a winning college football team, so there is little past experience to draw upon.
Looking forward is a must for this football team, and the next game is not much easier as the Top 10-ranked Clemson Tigers come to town. Clemson is oh-so explosive, and unfortunately, giving up big plays is one of the real problems this Blue Devils squad continues to struggle with.  Until they learn to make some plays of their own to keep the game from getting out of hand, Duke's struggles could continue against teams the quality of the Tigers.
I honestly feel this Duke team is actually better than they realize.  The key will be for them to realize it, so they can turn games around when things are not going well. If N.C. State can pull an upset over Florida State, Duke should be able to hang with a team like Clemson.  For this to happen, Duke will need to play every down as if it is the last one.
Fortunately, two other teams on the schedule in Georgia Tech and Miami look a bit more beatable, but nothing will be easy as teams scramble to close the season on a high note to reach a desirable bowl game.  The Blue Devils will also need for the fan base to let go of last weekend's disappointing loss to Florida State and come out for the final two games of the careers of players like Conner Vernon to support them and thank them for where they have led this program.  Coach Cut made no secret of how he believes the fans helped in the big win over North Carolina, and the Devils will need that kind of support again.
By mid-week it will be November, and yet the Duke football team is playing in games that mean something.  It's been a long time coming, so now is the time for all to realize the opportunity that is at hand.  With that said, don't let last weekend's loss tarnish the Blue Devils' terrific season to date.  Turn out and support this team.  A big win will quickly ease the pain of Florida State.