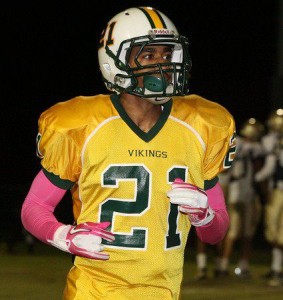 The Blue Devils are headed to a bowl game in a few weeks in Charlotte, but over the past two weeks, the Duke coaching staff has been hot on the recruiting trail as they look to finish out their class of 2013. This weekend is the first of a few key official visit weekend for the Blue Devils, and BDN has the scoop. [private]
News came out this week to confirm Duke's early enrollees in this class. With Ross Cockrell as the only cornerback returning with game experience, Duke will be thin at that position next year, and will need for young players to step up. The good news for the Blue Devils is that they'll have both Evrett Edwards, one of the top DB prospects in this class, and Quay Mann, an underrated in-state prospect with great speed, both on campus for spring practice. BDN can confirm today that both Edwards and Mann will enroll at Duke in January.
Joining Edwards and Mann on campus this spring will be QB commit Parker Boehme, out of Sandalwood High School in Florida. Last year, the Blue Devils brought in another Jacksonville area dual-threat QB prospect in Thomas Sirk. Sirk ran the scout team for much of the 2012 season, and thanks to his January enrollment, is likely to compete for snaps in 2013. Duke hopes that Boehme can also accelerate his learning curve with an early enrollment, and he'll be hosted by Sirk on his official visit this weekend.
In all, Duke will host 12 verbal commits and 2 prospects on campus this weekend for official visits. In addition to Edwards, Mann, and Boehme, fellow class of 2013 commitments RB Joseph Ajeigbe, WR Johnell Barnes, OL Gabe Brandner, OL Austin Davis, WR TJ Douglas, CB Bryon Fields, S Jake Kite, and OL Sterling Korona will be on campus.
The Blue Devils will also host LB Dominic Zanca, a 6'1" 235 pound prospect who had previously verbally committed to Derek Dooley and the Tennessee Volunteers. Zanca has starred at Lake Brantley High School in Florida, and has already officially visited Tennessee and Purdue. He is also a potential January enrollee.
Big Wakulla OL Chris Griffin will also be in town this weekend for an official visit. The 6'6" 275 pound prospect from Crawfordville, Florida had previously offered a verbal commitment to Georgia Tech, but will be in town this weekend to check out the Blue Devils, who have remained in touch throughout the fall.
Future official visitors of note include WR DaeSean Hamilton, LB Jake Roh, and LB Jarrad Davis (Auburn commit). LB Joe Walker, a junior college transfer from California, will take an official visit to Oregon this weekend. He previously had visited Duke, Texas A&M, and Syracuse. He intends to enroll in January and will likely make his decision within the next week.
[/private]
Needless to say, it's a big weekend for Duke football in Durham, and with the excitement of a bowl game in the air, Coach Cutcliffe and his staff have plenty to show off. Duke will host their second big official visit weekend next weekend. BDN will continue to keep our members updated with the latest on #dukegang2013.