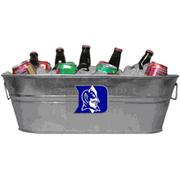 So, how was National Beer Day? Yeah, I bet. If only we could have that every weekend...oh wait, it's Beerfest in Raleigh this weekend. Sweet. It's also time for Football Friday.
Since the Blue Devils managed to go an entire week without a commitment, there's not much new on the recruiting front to talk about. The Spring Evaluation period kicks off this weekend, and with several top prospects coming off the board over the past few weeks, the coaching staff will be out in full force to check in on prospects and extend new scholarship offers. BDN Premium Members will be the first to know about the latest on Duke's recruiting efforts. You see what I just did there?
Spring practice is officially in the books, but the team continues to work to improve on an individual level. The spring semester is winding down and we wish the best to all our departing seniors, and a strong finish to the academic year to all our student-athletes. In just a few short weeks, the newest members of #dukegang will move into campus, and the preparations for the 2012 season will begin in earnest. With that in mind, it's time to kickoff our look at 2012 Duke Football schedule. The scheduling gods didn't do Duke any favors, as the Blue Devils will face one of the toughest schedules in the ACC and the country. It all starts with the home opener against a tough FIU team on September 1st in Durham.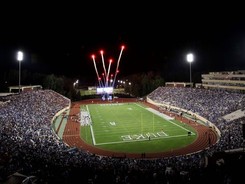 September 1: FIU at Duke
Under Head Coach David Cutcliffe, the Blue Devils are 2-2 in their season openers, pulling out victories against James Madison and Elon, while losing twice to pesky Richmond. This fall, Duke opens their season with a FBS opponent for the first time since a 2007 defeat to Connecticut.  In 2011, the Blue Devils traveled to South Florida in week 5 and pulled out a thrilling 31-27 victory against T.Y. Hilton and the Golden Panthers. FIU went on to finish the season 8-5, earning the program's second ever bowl game. For the second offseason in a row, Head Coach Mario Cristobal turned down multiple BCS coaching opportunities to remain at FIU. In 2012, the Golden Panthers remain a program on the rise, despite the losses of Hilton and QB Wes Carroll; with a favorable schedule, they should be expected to compete for another Sun Belt Championship.
Offensively, FIU may not be as explosive as a year ago, but return enough starters to remain a formidable threat to score points. The Golden Panthers return their top rusher in Kedrick Rhodes, and four starters along the offensive line. Two young QBs, sophomore Jake Medlock and redshirt-freshman Laranzo Hammonds, are the frontrunners to take over for Carroll, and Hammonds may even see time in an occasional Wildcat scheme. Moreso than a year ago, the Golden Panthers will look to have a lot of success on the ground, making them an excellent early season test for the Blue Devils' defensive line. Other than Hilton, the Golden Panthers return all of their top receivers, led by senior Wayne Times. A year ago, the Blue Devils allowed 568 total yards to this offense, and if it weren't for a late fumble forced by Jordan DeWalt-Ondijo, may have come home with a loss. This year, the Duke defense will have to be more effective than last season's "bend but not break" effort against a very deep and experienced Golden Panther offense.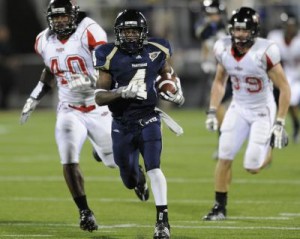 When Duke traveled to FIU a year ago, the Blue Devils' coaches were concerned about the tremendous speed of the Golden Panthers' defense. Sean Renfree and the Duke offense were up to the challenge, putting up 31 points and 384 yards of total offense. Most encouraging, however, was that the Blue Devils finished the game without giving up a sack or a turnover. As they prepare for their 2012 season opener, the Duke coaches will have many of the same fears, as the Golden Panthers return 10 of 11 starters on defense. Overall, FIU's defense was inconsistent in 2011, but did finish the season by holding their final 6 opponents to no more than 20 points. With another year's experience, this defense will be a stout challenge for the new up-tempo Duke offense. In particular, the Blue Devils will have to contain a speedy pass rush led by senior DE Tourek Williams. The secondary is just as formidable, highlighted by senior safety Jonathan Cyprien. In all, the Golden Panthers should have 16 upperclassmen on their defensive 2-deep entering the fall.
This isn't a pretty picture we're painting, here, is it? Much like a year ago, the Blue Devils will have to come out of the gates ready to play if they expect to start the season with a win. A year ago, a less talented but confident Richmond team was able to steal a win in Wallace Wade Stadium. Coming off two straight bowl appearances, the Golden Panthers will be just as confident, and seeking revenge for last season's loss in Miami. Over the past few seasons, we've seen how crucial a good start can be for this improving, but still fragile, Duke program. This season will be no different, and if the Blue Devils have any hope of improving upon their 3-win total of the past two seasons, they will have to play at a high level on September 1. It should be a great atmosphere in Wallace Wade Stadium, filled with the hope and optimism of a new season, and it should also be a highly competitive game on the field. We can't wait for kickoff. WE ARE DUKE.