One of our most popular features among premium members at Blue Devil Nation is our famous Duke Basketball Team and Recruiting Update. With the growth of our football coverage and Duke's exciting 3-1 start, BDN offers up another installment of our Duke Football Team and Recruiting Update. Join BDN Premium today for all the latest on #dukegang. Go Duke!
[private]
Duke is already a third of the way through the 2012 season, and are right where most expected them to be at 3-1, despite a serious rash of injuries. Playing through those injuries, the Blue Devils have taken care of business at home, winning all three games by wide margins. The team now enters the most crucial stretch of its schedule with some confidence, and an opportunity to prove they are ready to compete for a bowl invitation. It all starts with Wake Forest, a team that has dominated the Blue Devils over the past decade. This is a game that many, both around and within the program, circled on their calendars some time ago.  The Duke staff will have the Blue Devils well-prepared for Saturday's matchup in Winston-Salem for what could be a turning point for the program.
Though ACC play has not yet begun, after four games, we have a pretty good idea of what this Duke team is. Led by two outstanding seniors in Conner Vernon and Desmond Scott, the Duke offense has the ability to put up points quickly. Among their many quantifiable accomplishments, including Vernon's impending all-time ACC records, these two seniors are flat-out winners, and their leadership has gone a long way in changing the culture of Duke Football. Behind the two seniors, Jamison Crowder has proven himself to be a consistent big-play threat in just his second season in Durham. Redshirt-senior Sean Renfree will at times look like an All-ACC quarterback, and on other series resemble a first-year starter. The Blue Devils will need more consistency from him as they enter ACC play, and they will need more consistency from their running game. Jela Duncan and Josh Snead have been the Blue Devils' most effective runners to this point in the season, but Juwan Thompson, Shaquille Powell, and Patrick Kurunuwe have also proven their worth, particularly as skilled blockers. Expect the staff to continue to divide the snaps fairly evenly among the five backs, as Duke looks to stay healthy and fresh at the skill positions, especially with the bye week not coming until week 10. Duke still remains thin and young at tight end, and this weakness is often overlooked when examining Duke's running game struggles, but it's an important factor to keep in mind as it certainly affects the blocking schemes.  As young tight end David Reeves and others develop, though, it will only help the Blue Devils in 3rd down and red zone situations, and indeed in the entire running game. Overall, Duke is an improved red zone team this year, almost entirely due to the return of Brandon Connette, who has proven capable of throwing, running, and catching a TD from anywhere inside the 20. After an offseason trip to Ethiopia, the Duke offensive line can now boast that they have allowed the fewest sacks in the ACC through four games, which is an accomplishment considering how often Duke likes to throw the ball. As they continue to build their on-field chemistry and as young players like Lucas Patrick gain experience, this group will improve more. The staff feels like this offense has yet to put together a consistent 60 minutes of football, and are hoping to see the unit peak just in time for conference play.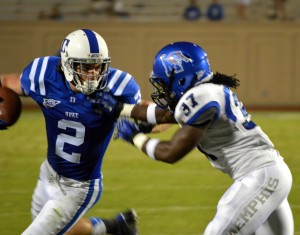 Defensively, Duke has appeared to be dominant at times, but looks can be deceiving.  The defense did record 17 tackles for loss against NCCU and Memphis, holding both opponents to less than 20 points. Against two pretty good offenses in FIU and Stanford, however, the defense gave up a ton of yards, allowing an average of over 400 total yards in those two contests.  Injuries have particularly impacted the Blue Devil defense, where a number of starters have already missed significant time. Against ACC competition, this defense is unlikely to turn in dominant performances like the second half against Memphis, but they have proven capable of making enough plays to keep the Blue Devils in the game. Ross Cockrell and Lee Butler have established themselves as two of the best cornerbacks in the conference; it's their veteran play that has directly resulted in a reduction of big plays for Duke's opponents compared to recent years.  A healthy Kenny Anunike, along with an athletic defensive line rotation of Jordan DeWalt-Ondijo, Dez Johnson, and Jon Woodruff, has proven capable of getting into the offensive backfield, but still have to prove they can be factors against ACC offensive lines. The middle of the defense has also been effective using rotations, and Jamal Wallace is a player who appears more comfortable each week after sliding inside this year. If Wallace can continue to develop alongside Sydney Sarmiento, who is playing his best football as a Blue Devil, then Duke's defense up the middle will be much improved. The defense would also get a huge boost if it could get a few guys back from injury, but it appears that a cautious approach will be taken with Kelby Brown (after his 2nd ACL repair), while Justin Foxx (hand surgery) and Jamal Bruce (broken foot) remain sidelined indefinitely.
For a team with a first-year kicker and a redshirt-freshman punter, the Blue Devil kicking game has been outstanding. Ross Martin and Will Monday appear as good as advertised, and as they continue to build their confidence, Duke's special teams will continue to improve. Injuries have taken their toll on kick and punt coverage, but the return of players like Jordon Byas (knee surgery), Brendan Fowler (upper body injury) and Britton Grier (broken arm) should go a long way to improving the performance of those units.
It won't be easy, and the Blue Devils will never be 100% healthy this year, but Duke has proven it can overcome its injuries and flaws, and this team has an opportunity to make some noise in the ACC Coastal Division. It all starts on Saturday at 12:30 PM, as Duke looks to end a 12-year losing streak to the Demon Deacons.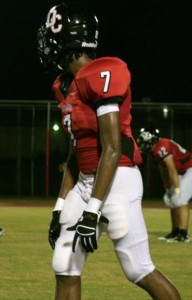 #dukegang2013
The Duke staff was thrilled to add WR Terrence Alls and RB Joseph Ajeigbe as the 14th and 15th verbal commitments in the class of 2013. Both players ranked near the top of the Duke recruiting board at their positions, and both have been heavily recruited nationally. Alls, as well as fellow Florida natives Johnell Barnes and TJ Douglas, figure to compete for immediate playing time at receiver with the graduation of starters Conner Vernon and Desmond Scott. Teams will be sorry they missed out on Alls and Barnes; they are both big playmakers at receiver. Be sure to keep up with all of the Blue Devil commits in our weekly Friday Night Lights column.
With 15 players committed and just 11 players in their final year of eligibility (Anunike and Farrell should both get an extra year), well, there are only a couple of scholarships still available in this class. With that in mind, the Blue Devils will only look to add prospects who the staff believe can come in and make a significant impact in Durham. Duke remains in hot pursuit of two top offensive linemen in J.D. Hinnant (Fountain Valley, CA) and Elijah George (Arbor View, NV). Both players have great size and strength, and a number of suitors nationally. The Blue Devils plan to get both on campus for official visits later this fall. Duke hopes to welcome WR/DBs DaeSean Hamilton (Mountain View, VA) and Jake Roh (Chaparral, AZ) for officials as well.
Did you know that Duke will not graduate a single defensive lineman this year? They will add Mike Ramsay, a true diamond in the rough from Georgia, in 2013, but would love to bring in a game changer like Jaylen Miller (Gaffney HS) from South Carolina, who already has eight sacks in his senior year. Miller plans to take officials to Duke, Wake Forest, Florida, NC State, and Kentucky.
#dukegang2014
Each year under Coach Cutcliffe, the Duke staff has worked hard to secure commitments from the majority of their recruiting classes prior to the fall, and that has held true with the class of 2013. While there may be both costs and benefits to that strategy, probably the biggest advantage is that it allows the staff to get an early start on its 2014 recruiting efforts. The Blue Devils got on the board early with a summer commitment from LB Zavier Carmichael from Mobile, AL. Last week in a big 49-0 win for St. Paul's, Carmichael returned a fumble 35 yards for a touchdown. Carmichael is part of a defense that has posted three straight shutouts, helping St. Paul's to a #6 ranking in the state. Needless to say, the Blue Devils are excited to add a defender with Carmichael's skill set to their linebacking corps.
Getting a recruit on campus is never a bad thing, especially when you average nearly 50 points a game over your first three home contests. Being among the first to offer a scholarship to a prospect isn't a bad thing, either. Duke has been able to do both so far with the class of 2014. Chicks dig skill players, so we'll start there. QB Kendall Hinton, a 5'10" 180 pound prospect, leads a Southern Durham team coming off a 36-7 victory over Person. Duke was the first to offer 6'3" WR Josh Cabrera, who has helped Northside HS (Jacksonville, NC) to an undefeated start and a #3 state ranking. Cabrera moved to Jacksonville, NC this year after starring at Lee County HS in Georgia last year. TE Avery Edwards, who hails from Ryan Kelly's alma mater in Raleigh, has picked up  offers from all four in-state ACC schools. Duke has also hosted and offered three big junior linemen in Greenville DT Kentavius Street (6'4" 260 pounds), Florida OL Reilly Gibbons (6'6" 270 pounds), and Mocksville OL Trip McNeill (6'5" 290 pounds). There's still a long way to go in these recruiting battles, but Duke is off to a good start with this six-pack of top prospects.
#dukegang2015
Really? Yes, the Blue Devils have already begun evaluating this year's high school sophomores, and have even extended a few verbal scholarship offers. With over 800 days until their National Signing Day, it's safe to say there's a long way to go in their recruitments. But still, getting these guys on campus, offering them a scholarship, and building a relationship can't hurt. RB Will Cameron, a teammate of Hinton's at Southern Durham, is one player the staff is very high on. RB Bryce Love, the younger brother of 2013 RB Chris Love, is another local prospect (hailing from nearby Wake Forest, NC) who has already been extended a scholarship offer. It's probably a bit early to get too attached to either Cameron or Love, but they're two prospects to keep an eye on.
Thanks for being a part of Blue Devil Nation, and thanks for your support of Duke Football. Go Duke!
[/private]