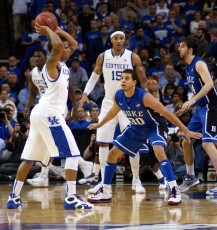 Seth Curry's shooting kept Duke in the game in the first half, and the senior hit all the big shots down the stretch, finishing with a team-high 23 points, helping Duke hold off a late Kentucky rally and beat the Wildcats 75-68 in Atlanta's Georgia Dome.  The game was touted as an intriguing early season matchup not only between two storied programs, but between Duke's experienced, senior-led lineup and Kentucky's latest crop of fresh-faced freshmen.  In many respects, that's the game we got.
Curry and Mason Plumlee were the anchors for the Blue Devils.  Matched up against highly regarded freshman big man Nerlens Noel, Plumlee taught the youngster some lessons about what an all-court game from a mature big man looks like.  Mason scored on traditional, back-to-the-basket post moves; he scored several hoops after receiving the ball 12 to 14 feet from the basket and having to make dribble moves to get to the bucket; he hit one midrange jumper; and he even hit all four of his free throws.  The Duke big man finished with 18 points on 7-of-8 shooting, and was just a load to handle.  Oh, and he passed well out of double- and triple-teams, finding teammates for open jumpshots.  Mason was stout defensively as well, as he challenged all kinds of Kentucky shots all night, and came up with key blocks on Noel and Archie Goodwin down the stretch. Plumlee had his minutes somewhat limited by foul trouble -- including a bad decision on a reach 20' from the basket to get his fourth -- but he returned with four fouls at about the ten minute mark of the second half and made it to the last 34 seconds, at which point the game was decided, before fouling out.  And in that time frame, he remained aggressive.  It's just that he's learned to play aggressively without fouling, against tough competition.  He could never have done that a couple of years ago.
But it was Seth Curry, moving well and showing no ill effects of his leg injury, whose savvy and skills prevented Kentucky from completing their comeback.  After Noel scored on a lob from Goodwin to cut Duke's lead to 60-50, Curry hit a tough five footer from the right baseline.  After a Goodwin jumper, Seth got into the lane and got his floater over Noel to fall.  Two more Kentucky hoops closed the gap to 8, and then Julius Mays cut it to 5 with a three pointer and Goodwin drove to the hoop and scored to make it a three point game with 3:25 to play.  Nervous time.
No, Curry time.  Seth drove the lane, was fouled by Goodwin, and nailed both free throws.  Goodwin scored on a second chance opportunity at the other end, but Seth got into the lane and made a very smart head fake, got Noel into the air, and hit a tricky scoop shot to put Duke back up by 5.  After Tyler Thornton (another upperclassman in the game at crunch time) hit two free throws and Goodwin one in response, Seth dribbled through Kentucky's desperate fullcourt pressure, was fouled again, and hit two more free throws to seal the deal and send the largely partisan Wildcat crowd home just a tad unhappy.  Just a smidge.
In addition to the scoring, Curry was a real steadying influence out there for Duke.  He played 34 minutes without a turnover, and made very few bad decisions at either end of the floor.  I think there's a reason that Mike Krzyzewski likes seniors.
There were lots of other contributors as well.  While Ryan Kelly didn't have a big scoring night, he did score 10 but more notably, had a number of excellent defensive plays.  The ones that show up in the boxscore are steals and blocked shots, and Ryan had those too.  He had a nice overplay into the passing lane in the first half, leading to a steal, and he then took it other way all the way to the hoop, drawing a foul.  Late in the first half, Ryan blocked Alex Poythress' shot on a drive, and on the very next possession Poythress tried to make up for it by shooting a step-back J.  Kelly blocked that one too.  And he made both those blocks despite having two fouls on him already.  Ryan was often matched up against shooting forward Kyle Wiltjer, but Wiltjer couldn't shake him, only getting up five shots in 32 minutes.  No factor.
Quinn Cook, Tyler Thornton, Rasheed Sulaimon, and Josh Hairston all made their marks on this game.  Cook didn't have spectacular numbers, but he got 30 minutes at the point -- that will make a lot of Duke fans happy right there -- and he was steady.  While I would have liked to see him be a bit more aggressive in driving the ball, in particular against Kentucky walk-on Jarrod Polson, Cook only committed two turnovers (one by dribbling off his own leg), and didn't force much.  And while he wasn't perfect by any means -- a rushed shot here, getting beaten off the dribble there, a bad pass or two, he was nevertheless steady in the halfcourt, he pushed the ball well in transition, and he did what Coach K asked him to do:  run the team and get the ball to guys in comfortable spots.  Plumlee, Kelly, Curry, Sulaimon, even Hairston -- Quinn found all of them for open looks over the course of the night.  Perhaps best of all was that K let Quinn play through the mistakes he did make.  No quick hook tonight.  Gotta be good for the kid's head.
Thornton also played his role quite well.  Sure, he had a couple of poor passes and a rushed shot or two, but he had a nice steal of an in-bounds pass in the first half, he took a charge against Nerlens Noel when he saw that Mason was out of position -- showing excellent presence and toughness -- he took a rebound away from Wiltjer; he had a real nice pass to a cutting Seth Curry that resulted in two Curry free throws as Duke built its second half lead, and he hit two big free throws in the last minute, driving nails into UK's coffin.  He had one turnover in 20 minutes of action.  It should be noted as well that the 6'1" Thornton was matched up defensively for most of his minutes against the ultra-athletic and physical Alex Poythress, who goes 6'7" and 240 lbs.
It really says something when you shoot 3 of 14 and yet you still played a solid basketball game, but that's the case with Rasheed Sulaimon.  In his first action under the truly bright lights, the freshman exhibited the type of all-court game that Duke fans have been hoping he'd bring to this year's team.  Six rebounds and five assists, both team-highs, in his first big game?  I'll take that.  What I really like about this kid is that he is confident.  He was not afraid to shoot the ball, and shoot it early, even after having one swatted by Noel, and even when they weren't falling.  He didn't force anything, but he wasn't afraid either.  That is contagious.  He passed the ball well, including finding Seth for a perfect 3, he bodied up against physical Kentucky players, and he just brings an athleticism and a swagger that Duke needs.
As Coach K noted after the game, Josh Hairston had a couple of huge plays tonight.  In addition to his usual hustle, and despite his being beaten by the obviously bigger and more athletic Noel a couple of times, still he took a charge against Mays, forced Noel to take a couple of bad shots, and got us an extra possession with a hustle rebound in the corner.  He bagged five boards in only 14 minutes of action.  More obvious were the two hoops he scored midway through the second half.  On both, Seth drove the lane and did whatever he needed to do to just get the shot up on the board over the defenders, trusting that with all the defenders trying for the blocked shot, Josh would be there to clean up with a putback.  Which is exactly what happened both times.  Big hoops.
Let's not take anything away from Kentucky.  Four of these kids were playing in just their second college game.  They brought energy and passion, and played aggressively most of the night. Nerlens Noel, while skinny, is athletic and has excellent shot blocking instincts.  His offensive game is a work in progress, consisting mostly of dunks and putbacks, but he did make some moves with the ball and against a formidable defender like Mason Plumlee he got 16 points and 8 rebounds, and got Mason in major foul trouble.  Not too shabby.  Archie Goodwin is a very athletic, strong, and talented 2-guard.  He takes the ball very strong to the hole.  He's raw, and he made some mental mistakes tonight, but he has a lot of potential.  He seems like the kind of player who if he could get some real solid coaching on how to play the game and think the game, the sky would be the limit.  But the guy who was most impressive was Alex Poythress.  Kid just did it all.  He hit jumpshots (including a 3-pointer), he drove to the hoop, he finished through contact, he got putback jams, he rebounded well, both by getting and holding position and by using brute strength to his advantage.  Wow.  Finished with 20 and 8.  No way Kentucky is competitive in this game without him.  He's got an NBA-ready body right now, and it's the beginning of his freshman season in college.  Did I say "wow?"  Something kinda sorta tells me he would've looked, like, Amazing In A Duke Uniform.  Bygones.
As talented as Kentucky is, they played like freshmen at times tonight.  They were unfocused for some lengthy stretches on offense.  They took some silly chances and jacked up some ill-advised shots.  But you know what, Duke did some of those things too, even with their experience.  And we did things like commit lane violations on free throws, more than once, just giving points away.  I could do without that the rest of the year, thank you.  But when Kentucky threw a press at the Devils a couple of times, Duke was totally prepared and handled it without getting even a little bit rattled.  The Blue Devils were poised enough to actually increase their lead during the time Mason Plumlee was on the bench with four fouls.  Then, down the stretch, it was Duke who made the plays under pressure to hold off Kentucky's charge.  Duke demonstrated that it has talent and it has experience.  Unlike last year, the Blue Devils have balance and flexibility to their lineup, which will only increase as Amile Jefferson, Alex Murphy and Marshall Plumlee work their way into the regular rotation.  And they have leadership, being provided primarily by the three seniors and Tyler Thornton.  That's a lot to have going for you.
No reason to be overconfident, though.  Duke had an excellent start last year too, remember, beating the likes of Kansas and Michigan State early.  The season ended up going sideways on us at the end.  Who knows what will happen on this journey?  We'll likely get better.  So will Kentucky.  Don't know much else, except the identity of the holder of the bragging rights in this rivalry, which many view as two programs with diametrically opposed cultures, being run by coaches with two very different philosophies of what it's all about.  In this rivalry, tonight, the winner and still champion is Duke.