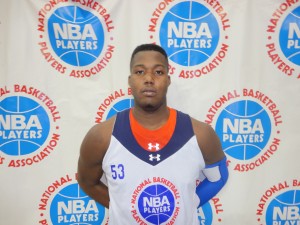 One of the most intriguing players at the recent NBA Top 100 Camp was Robert Carter.  Analysts do not have a lot of chances to catch his games in that he plays for the Atlanta Xpress, a newly founded AAU team which is an offspring of the Atlanta Celtics.  The 6-8 power forward prospect from Thomasville, Georgia told BDN that he liked to remain faithful to his team and that meant not playing in some of the major events, like the Nike EYBL circuit.  Carter said that both Nate James and Jeff Capel have been in recent contact and that they will take a look at him during the open July recruiting period.  Hear what the colorful Carter had to say in another lengthy BDN interview where we give fans the opportunity to familiarize themselves with one of the nations top prospects.
This is the first time I've been able to see you play this season and you look pretty good in the post out there.
Yeah, I like to bang a little bit but this camp ... I thought was going to be able to come in here and work  ... I mean, you know how many bigs there are in my class.  So, I came here ready to improve but you know how these camps are.  They haven't got that many plays to get the bigs the ball ...
Yeah, it's a guard oriented thing ...
The guards come down and do whatever they want, so ...
This camp (NBAPA Top 100) is not that strong for point guards.
You see that's the thing.  We were winning because other teams didn't have good [private] points but you've still got to get the ball in the post.  Every time I touched it ... I almost scored every time I got it in the paint.
What camps are you slated for the rest of the summer?
I'll go to the Amare Stoudemire Camp and I might go to the Lebron James Camp, but not for sure, we'll see.  I'll be getting ready for the July period.
I haven't seen you play a lot this season in that your AAU team doesn't make a lot of major events.
I could play in the Peach Jam but I try to stay loyal to my team.  We're not on the EYBL schedule and all but I like to stay loyal to where I am.  I'll play in other events and the coaches will come there.
Describe your game in your own words.
I would say I have an inside/out game.  I'm skilled and I'm athletic but I haven't always taken advantage of that so I am working on that.  But if I'm bigger than you?  I am going to take you inside.  But if you're bigger than me, I'm still inside but I'm going to face up on you and bring you out.
Bump and move ...
Yeah, make you move your feet, yeah.
What will you take away from this camp?
It's a good camp and I've been here for two years now.  If you've got a good coach you can learn a lot.  Like I said, my class has a lot of bigs, so if you have a coach that uses his bigs, it can be a good camp.  This year?  I got to run a lot and averaged maybe 8-10 a game, got some boards.
What are you looking for in a school?
Somewhere I'm comfortable.  Somewhere where I can play.  I want a coaching staff that will tell me how I will come in and play and explain my role.  I don't want to go in there guessing whether I am going to do this or do that.  So, I want a coach that has a vision for me and who will help me improve and get tot he next level.
Do you have a list of schools?
No, I don't have a list.  But like you said, back to the question where you asked what I liked about the camp. I like meeting and playing with players that are as good as you are and show you what you have to work on.  I like the presentations as well and meeting and listening to former players that have been in your shoes.  So made it and some didn't.  I liked hearing Kareem Abdul Jabbar and it was the first time I'd seen him in person and then Chris Washburn who was one of the best and then ...
He took a tumble ..
Yeah, so it's good to see the game from there eyes and it helps you know what to do.
Coaches could start calling on Monday.  Did you get a few calls?
Yeah, I got some calls. (lowers his voice and seems to not like talking of the recruiting process)
You don't sound to enthused about that.  Are you getting too many calls or tiring of the process already?
Yeah, you talk to a lot of schools and try and see which ones I want to pursue.
So, you're getting serious now?
Yeah, a little bit.  I've been talking with my AAU Coach and parents but it's not like I'm ready to site down and talk to them about it.
Where did you first learn your basketball skills?
My Dad.  He played for Miami and overseas and back in the day.  Way back in the day.
You're making me feel old.  How old is your Dad?
He'll be 53.
See!  I'm in my ...
Naw, I didn't mean it like that ... how old are you?  You don't look that old.
Alright, yeah, yeah ... let's move on ...
(laughing) Yeah, but he was really good and taught me a lot of stuff early.
Like what?
Post moves and how to move my feet.  He taught me a lot at a young age.  He showed me a lot.
I'm from ACC Country.  Are any of those schools involved with you?
Yeah, yeah, all of them.  I've always liked the ACC and it's one of the best conferences in college basketball.  If you really want to get to the next level it's a league you want to play in.
I suppose some feel Miami has the inside track since your Dad played there?
I like Miami and they have been on me for a long time.  But we'll see how things go and all.
What about Duke?
They're good.  I mean they're one of the best schools in history and anytime they start recruiting you, you have to take a look at them, even ... even if you don;t like them.  I like them but ...
Yeah, they're sort of like the Yankees in that some like them or hate them.
Even if you do, you have to look into them because they're Duke University and one for the best and it may be the best situation.  I'm looking into them.  I mean, Nate James, he called me and we talk about it and they said they were going to be out there watching me this spring.
They just added Jeff Capel to the staff ...
Oh yeah.  He's been calling me.  You see he was recruiting me at Oklahoma and when he came over to Duke he started or told them how much he liked me and they or he is now recruiting me for them too.
UNC?
The Tar Heels are on me too. They're there.  They're another one of those big programs you have to listen to.
Did you have a dream school growing up?
Not really.  Me and my Dad just sat down and watched games and would pick certain ones to win after studying them.  So I never had a favorite team to watch.
Do you pattern your game after other players, say in the league or college?
Not really, because I think my game is different.  I'm just coming out of high school and can do some things and my game is still developing.
You just want to be Robert Carter?
Yes, I just want to be my own person.
What do you do off the court?
I live in a small town so there is not much to do but I am currently staying in Atlanta with my AAU coach.  I go to the gym and hang out at home, play video games when I am at home.
And what are you looking for in a college?
I just want to come in and play as a freshman and develop over time to get to the next level.
Is there anything you would like the world to know about Robert Carter?
That I'm a hard worker and deserve everything I stay in the gym and work harder than everybody.  A lot of people where I'm from do look up to me and I want to make sure I give it my all. [/private]