BDN goes one on one with sophomore point guard Tyler Thornton -

Single Game Tickets Go On Sale Oct. 6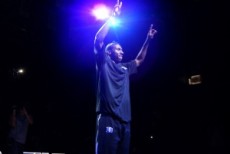 DURHAM, N.C. -- Tickets to the Duke men's basketball season opening event, Countdown to Craziness, on Friday, Oct. 15 are on sale now at www.GoDuke.com/tickets <http://www.GoDuke.com/tickets> . Countdown to Craziness begins at 7:30 p.m. and will be shown by ESPNU during its Midnight Madness coverage.
ESPNU's Midnight Madness special will feature extensive whip-around coverage from top college basketball programs around the nation beginning at 9 p.m. ET on ESPNU HD. ESPN platforms have been covering Midnight Madness events since 1993, with this season marking the fifth consecutive year on ESPNU.
Countdown to Craziness will feature the annual Blue-White game, a dunk contest, performances by several campus groups, new videos from Duke University Improv, as well as videos highlighting Duke's storied basketball tradition and the unveiling of the 2010 National Championship banner.
Single game tickets for the Cal Poly Pomona (Nov. 4), Elon (Dec. 20) and Alabama-Birmingham (Jan. 5) contests go on sale online at www.GoDuke.com/tickets <http://www.GoDuke.com/tickets>  on Wednesday, Oct. 6 at 8:30 a.m.
Blue Devil Nation Premium sat down to talk with Brian Zoubek where we discussed the Wisconsin loss and how the team bounced back  with a victory over St.  John's.  BDN will continue to bring locker room reports after all home games and some road affairs all season long.  We strive to get comments you will not hear elsewhere in an effort to bring yet another benefit to our subscribers.
[private] Just press [/private] play -