If you  failed to see or missed the ratings, the Duke-Butler National Championship game was a huge hit for CBS.  It's been a decade since any game has garnered the ratings of this seasons title game, yet we are to think all of the folks who tuned in are Duke haters?
The answer to the above question is of course not.  Much of the Duke hate spin has come from media types.  Even after the Blue Devils won the title, local and national media types were still making excuses and or trying to explain with flawed reasoning why and or how Duke won it all.  Do you think other schools would have faced such scrutiny?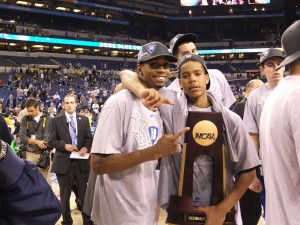 Much of the national media has grabbed onto falsehoods past concerning the men's basketball program.  As time passes some fans fall prey to this supposed hate train but, in reality, many fans around the country like Duke just fine.  Heck, even Sports Illustrated did some research on the issue in their commemorative magazine.  No matter who you were media wise, had you followed this team, you would have seen no sign of bad attitudes, pompous arrogance, entitlement or, well, the list is long as you well know.  In short, this team was more than a little likable.
Speaking of the Sports Illustrated Commemorative, it is well worth the time to buy it and read it.  I'm not quite as fond of the USA Today offering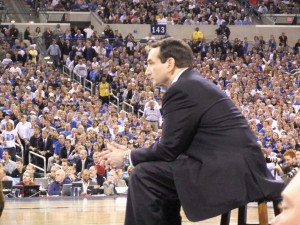 Yes, you could still hear some media .types whining after the game and I am talking about the national media room at Lucas Oil Arena.  Objectivity was is short order in some circles but that is to be expected.  One of those who constantly offers their opinion is a local radio host who ate enough crow this season to write a book on the subject of sticking ones foot in their mouth.  Has this person mellowed?  A little, but it is still painful to listen to one local loud mouth spout off opinions without an ounce of thought.
Everybody wants to know what Kyle Singler will do and I can't tell you, for it looks like it is too close to call.  I can tell you that his answer could come before the ink dries on this article.  Should the Blue Devils lose Singler, they will have lost four starters and that will be a rebuilding job despite the talent on hand.  If he returns, Duke could well earn the nation's top spot going into the season.  So yes, it is a big deal.
The Duke Men's Basketball Banquet on Thursday offers fans one last chance to say goodbye to Jon Scheyer, Lance Thomas and Brian Zoubek.  Trust me, it will be one heck of a show.  Let's hope the aforementioned Singler doesn't join the beloved departing senior class.
I doubt you'll see the men's basketball program appear on the television show Myth Busters.  But let's just scratch the surface for a moment if you will on what the episode would look like.  Duke plays their starters too much for an NCAA Tournament run.  Well, Duke rode the legs of their famished players to grab the Sears Cup.  Coach K stretched himself thin with Team USA and it has hurt Duke.  Uh, tell that to the recruits coming in.  Hey, Coach K!  Please stretch yourself thinner than ever this season.  Duke is too white, right?  Where did this one come from?  Duke is bringing in four athletes of color next season and just about everybody on the radar is of color, but look, Duke recruits kids not color.  Duke can't develop big men.  Well, Wojo should be standing atop a chair waving about a towel that would make Crazy Towel Guy envious.  Me thinks that Brian Zoubek, Lance Thomas and the brothers Plumlee were collectively the bruise brothers.  We could go on, but what's the use?  Media hate for Duke is alive and well despite a team of extreme character players who epitomized togetherness.
Recruiting?  It's that time of year around here.  We will continue to cover the AAU and other tournaments this season.  Andrew Slater and myself will be joined on occasion by some interns to bring you the best coverage available for our growing list of members.  Patrick Cacchio and I will kick off our football recruiting coverage this week as well.  The bottom line is that being a member of Blue Devil Nation Premium is to be a part of all the latest happenings often before they happen.  Want to know who the next prospect to sign will be?  Do you want coverage that set the bar last season?  Would you like to participate in the most rational Duke related  members-only message board on the web?  Try us out, for we are certain that once you have, you'll be with us for a long time.  At $100.00 per year, it's like having a daily Duke fix for about a quarter a day.  And our members will be the first to tell you that this is the place to be for premium coverage.
Lastly, I would like to thank not only our members, but our followers for making the Blue Devil Nation such an awesome site.  We loved tweeting from every game in Cameron as well as from the NCAA Tournament.  We were there every step of the way in a magical season, for that is what we are about.  We are hands on at BDN, wanting to be your eyes and we know what you want to see.  We look forward to serving the Blue Devil Nation for a long time and we are constantly trying to make this site better.
Join BDN on twitter and Facebook for a complete fan experience.  Join BDN Premium for full site access and be in the know on all things Duke.