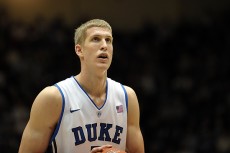 Coming off a solid 18 point win over Minnesota, the Blue Devils next face the Rams of Virginia Commonwealth, who upset Memphis by 13 later on Thursday in the Battle for Atlantis in the Bahamas.  Duke (4-0) enjoyed outstanding performances from Seth Curry (25 points on 8 of 11 shooting), Mason Plumlee (20 points and 17 rebounds), and Quinn Cook (a career-high 17 points) in controlling things against the Gophers, but will have to come back on short rest, and with (or without) a gimpy Curry, against VCU.
Of course, Duke and VCU have a history, and that history is not a pleasant one for Blue Devils fans, as the Rams knocked Duke out of the 2007 NCAA Tournament in the first round on an Eric Maynor bucket in the final seconds.  That signature win solidified VCU's status -- initially earned under coach Jeff Capel, Sr. and continued under Anthony Grant and then Shaka Smart -- as one of the top mid-major programs in the nation.  VCU's program is best known, however, for its magical run in the 2011 NCAA Tournament, when the Rams, after winning in the play-in game, proceeded to blow out Georgetown and Purdue to reach the Sweet 16, then took out Florida State and #1 seed Kansas to reach the school's first Final Four, where they finally bowed to Butler.  Coach Shaka Smart has been mentioned for virtually every significant coaching vacancy since, but has turned them all down to remain in Richmond.  Last season, the Rams were outstanding again, going 29-7 overall and 15-3 in the conference, winning the Colonial Athletic Association tournament, and reaching the third round of the NCAA Tournament (to me it's really the second round),  having upset #5 seed Wichita State before losing a heartbreaker to Indiana by a bucket. For the 2012-13 season, VCU has moved to the more prestigious Atlantic-10 Conference, so even referring to them as a "mid-major" seems to be a misnomer.
Despite losing last year's leading scorer, Bradford Burgess, this team is expected to immediately contend for the A-10 title.  The 2012-13 season has started out well for the Rams.  They beat Florida Gulf Coast (common opponent with Duke) by 23, lost by a bucket to Wichita State, and blew out Winthrop before the upset of Memphis down in the Bahamas.  As in past seasons, Smart runs a perimeter-oriented attack.  Perhaps the most talented Ram is 6'5" 215 pound sophomore guard Treveon Graham, averaging 14.5 ppg and 4.2 rebounds as he has moved into the starting lineup this year.  Graham went off for 26 against Memphis, including 4 of 6 from the 3-point stripe.  The floor leader is 6'3" 200 pound senior point guard Darius Theus.  Though Theus only averages 10 ppg, he dishes out over 5 assists per game and most importantly is a real floor general out there who excels at getting his teammates involved in the offense; he also is aggressive at the defensive end.  The third guard in the starting lineup is 6'4" 200 pound senior and 3-point specialist Troy Daniels, averaging 9.5 ppg.  Amazingly, 247 of Daniels' 299 FG attempts last year were from 3-point land.  The main man inside for the Rams is 6'9" 235 pound junior forward Juvonte Redic, averaging 14.3 points and 8 boards per game; he has to hold down the fort, as he is VCU's only true post player who can hurt you.  7'0" 250 pound junior center D.J. Haley has gotten most of the starts this year as well.  He's a big body on defense, but a non-scorer.  The Rams' top guy off the bench is 6'2" 180 pound junior guard Rob Brandenburg.  Averaging only 6.3 ppg coming into the Memphis game, he had 15 big ones against the Tigers, including two three's in the second half that helped thwart a Memphis comeback.  Sophomore guard Briante Weber is a nice player off the bench as well, but the other Ram to watch is freshman guard Melvin Johnson, a top 100 prospect who was released from his commitment to Miami, and then was recruitied by several Big East schools.  The sharpshooter is going to hurt somebody this year when they're not expecting it.
As usual, Shaka Smart's team plays very hard on the defensive end, applying relentless full court pressure.  They're averaging 14 steals per game.  That's a ton.  As usual, they are deep.  This year's team is shooting the ball well from distance as well, hitting 37% from 3-point range.  The gym on Paradise Island was no impediment against Memphis, as the Rams hit 13 of 22 three-balls to help sink the Tigers.
The Rams are going to present some real challenges for the Blue Devils.  Their guards are big and solidly built -- just the kind of guards who gave Duke problems last year, as they shot over the smaller Blue Devil perimeter players.  Having a savvy playmaker and penetrator like Theus is going to provide a test for Duke as well.  Can the Blue Devils guards move their feet and prevent penetration and the kickouts to VCU's array of shooters?  If Seth Curry is hobbling, as seems likely, or certainly if he doesn't play at all, the other Devils perimeter defenders are really going to have to pick up the slack.  Quinn Cook is likely to have the first stab at containing Theus, and at the other end he'll have to resist Theus' in-your-shirt D.  I assume that Rasheed Sulaimon will have primary responsibility for Graham -- that's a real challenge for the freshman, but one I'm sure he relishes and, frankly, I think it's one he can handle.  Ty Thornton will probably get his cracks at Graham as well.  On the inside, Redic is the real deal, and he's a load in there.  But Mason Plumlee has been playing at an All-American level, and if he continues to do so, Duke will be in great shape in this game.  But he's going to have to be on his game against a strong and aggressive opponent like Redic.  If Redic guards Mason, the Blue Devil big man will have a couple of inches on him for starters, and his length and athleticism will provide additional advantages, but Redic will make him work hard for everything -- at both ends.  Cook is also going to have to protect the ball against top-flight pressure, and if Curry doesn't play, then an even greater responsibility for handling that pressure will fall on Quinn.  In that situation, I would expect Ryan Kelly, a very good ballhandler for a 4-man, to help out as a release.
Look, Duke has a better team, but it's a game the Blue Devils can lose.  I didn't really think Minnesota had the horses to beat Duke, but VCU does.  If Mason is off his game or gets in foul trouble, if Seth doesn't play, if we have trouble with their drive-and-kick game or their pressure D -- any of these could spell trouble.  But the bottom line is Duke has more margin for error than does VCU.  Duke has the best player on the floor in Plumlee, and may have the next best (or even two) as well.  When push comes to shove, I expect Duke to get to the winners circle here, but I also expect VCU to play them very tough.