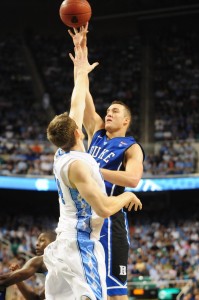 The news went public this week that Miles Plumlee has been invited to the NBA Combine in Chicago, Illinois. This is a great opportunity for the eldest Plumlee to show off his skills and the plan is to impress the numerous team scouts that will be in attendance.
Plumlee settled on Mark Bartelstein of Priority Sports and Entertainment as his agent and the two have been setting up private workouts with NBA teams. With respect to privacy, we'll not mention specific teams scheduled, but I can tell you that several are on his list according to those close to the situation.
Bartelstein represents 43 current NBA players including Danny Granger of the Indiana Pacers. In an interesting side note, Plumlee has been working out with former Duke players who transferred in Olek Czyz and Eric Boateng who are also with the agency. Another player on the fringe, Robbie Hummel is also in the group.
While some players elect to sit out these events and take their chances, Plumlee believes he has a chance to turn a few heads with good play and he expects his measurements to be solid as well. Plumlee was a former high jumper in high school and is considered to have above average athletic abilities.
Like most other young men, Plumlee has his eyes set on the NBA but may consider other options but only after he gives his best effort to get in the league.
Plumlee graded out as one of the best players in college basketball on one list of production per minute which makes him an intriguing prospect to many and a player who will surely be inked by some team, drafted or not.
While some feel he may go the free agent route, Plumlee has different ideas and believes he can work his way into the second round. Just recently, Jeff Goodman of CBS Sports rated Plumlee the 49th best prospect in the draft which would put him late in the final round of the draft.
Much of the combine will be televised by NBA TV, so you can watch Plumlee compete for a spot at the next level. The NBA Draft consists of two rounds with 60 total picks. This year's draft will once again take place in Newark, New Jersey on June 28th and will be televised by ESPN starting at 7:00 on the east coast.
More Duke Draft Notes of Interest - Duke Coach Mike Krzyzeweski has had a total of 13 second round draft picks since being at Duke and recruited all but two of those players, Gene Banks and Kenny Dennard. He has a coached a total of 23 players, who have been drafted in the first round which is the most of any active coach. Since the inception of the lottery, Duke has had 18 players selected in those coveted spots. The draft went to just two rounds in 1989 when Danny Ferry was selected in the first round. Duke is expected to have another lottery pick in Austin Rivers this coming season and they of course had the first overall pick a season ago in Kyrie Irving who also earned the NBA Rookie of the Year. When Austin is picked in this year's draft, he will be the fourth one and done player drafted in the Krzyzewski era at Duke. Irving joined Art Heyman (1963) and Elton Brand (1999) as the top overall picks in the draft.