[private]
Good seats remain for a Duke-Iowa clash in Cameron Indoor Stadium -
Blue Devils Host Iowa In Big Ten/ACC Challenge On Thursday...
Coming off playing three straight contests away from Cameron Indoor Stadium, the 12th-ranked Duke women's basketball team will return home on Thursday, Dec. 4 to host Iowa in the ACC/Big Ten Challenge at 7:00 p.m.
Fans can hear the Blue Devils live on the radio on WDNC AM 620 with Steve Barnes (PXP) and Morgan Patrick (Color)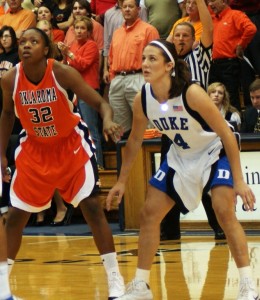 calling the action.  The contest will feature live video on ACC Select.  For more information on ACC Select, head to www.accselect.com.
Prior to the contest, senior Chante Black will be honored for becoming the 24th player in Duke history to reach the 1,000-point mark, which occurred on Nov. 16 versus Maine.  In the rankings, Duke is listed No. 12 in the Associated Press and No. 14 in the USA Today/ESPN Coaches Polls.
Media Info
What: Iowa at Duke ( ACC/Big Ten Challenge)
Date: December 4, 2008
Location: Durham, N.C.
Venue: Cameron Indoor Stadium (9,314)
Tipoff: 7:00 p.m.
Radio: WDNC AM 620
Radio Talent: Steve Barnes (PxP), Morgan Patrick (Color)
Online Audio/Video: ACC Select   www.accselect.com
Livestats: www.GoDuke.com
Noting Duke...
Over the last four games, Duke has averaged 16.8 steals a contest ... the Blue Devils have forced an average of 29.5 turnovers during the last four games ... so far on the season, senior Chante Black owns 14 blocked shots, which is more than Duke's five opponents have accumulated against the Blue Devils ... Black was selected to the DePaul Invitational All-Tournament team, after averaging 13.5 points, 8.5 rebounds, 2.5 assists, 2.0 blocks and 1.0 steals in two games.
A Look At Iowa...
Iowa enters the contest with a 4-3 overall record and is coming off playing three games in the Paradise Jam in St. Thomas.  The Hawkeyes defeated Texas Tech before falling to South Florida and California.  Megan Skouby (17.0 points, 4.6 rebounds), Wendy Ausdemore (11.3 points, 6.6 rebounds) and Kristi Smith (10.4 points, 2.0 rebounds) have led Iowa so far on the season.
Lisa Bluder is in her 25th year as a head coach and owns an overall record of 508-243.
The Series With Iowa...
Duke and Iowa will meet for the first time in school history.
Duke Versus The Big Ten...
The Blue Devils own an overall record of 14-8 against teams from the Big Ten Conference -- Illinois (0-3), Michigan (2-0), Michigan State (2-0), Minnesota (0-1), Penn State (5-1), Purdue (4-3) and Wisconsin (1-0).
Storylines...
•  In her 17-year coaching career, Joanne P. McCallie owns an 8-6 record against Iowa.  All 14 contests were while McCallie was the head coach at Michigan State.  Coach P has won four straight and seven out of the last eight against the Hawkeyes.
•  Duke will play its next two straight contests against Big Ten opponents -- Iowa and Michigan.
•  After outrebounding its opponents the first four games, Western Kentucky outrebounded Duke, 41-40.  The Blue Devils continue to hold a 14.2 rebounding advantage, which ranks seventh nationally.
•  In Duke's first ACC/Big Ten Challenge last year, the Blue Devils fell in a heartbreaker, 86-84, at Penn State.  As a conference, the ACC won the challenge by an 8-3 ledger.  Coach P posted a 69-45 record against the Big Ten, while she was the head coach at Michigan State.
What Is Next?...
Duke will host Michigan on Sunday, Dec. 7 at 2:00 p.m., as the Blue Devils are playing three straight home contests.  Following the contest with Wolverines, Duke will be off for exams until Dec. 16 versus Stanford.
ACC Select To Air Contests...
Duke's next two home contests will be aired live on ACC Select, which provides audio and video online at www.accselect.com.  If you cannot make it to Cameron Indoor Stadium in person then head to the web site to watch the Blue Devils face Iowa (Dec. 4) and Michigan (Dec. 7).
Point Guard Shortage...
With injuries to Jasmine Thomas and Chelsea Hopkins, the Blue Devils have lost two of their top point guards to run the offense.  Thomas, who is a sophomore from Fairfax, Va., opened the season starting at the point guard slot the first four games and Hopkins, a freshman from Las Vegas, Nev., has been playing an extended amount of time at the point position off the bench.
Thomas suffered a sprained MCL of her left knee in practice on Nov. 26 and is expected to miss two weeks.  Hopkins was injured in the second half of the Western Kentucky game with a lateral meniscus injury.  She will have surgery on Thursday, Dec. 4 and a timetable on her return will be released following surgery.
With Thomas and Hopkins injured, junior Keturah Jackson started at point guard in the last game and is expected to do so again versus Iowa.
Jackson Comes Up Big...
Junior Keturah Jackson hit two of the most important free throws of her career at Western Kentucky in the last game as she nailed two with 10.1 seconds remaining.  The points gave the Blue Devils a 59-56 lead and Duke went on win by the same ledger.
So far on the season, Jackson is averaging 4.6 points, 3.0 rebounds, 1.0 assists and 0.6 steals.  Jackson is averaging 5.0 points, 2.5 rebounds, 1.0 assists and 1.0 steals in her two games started, while hitting 3-of-6 field goals.
Blue Devils Return Home...
In two games this season in Cameron Indoor Stadium, the Blue Devils have averaged 87.5 points, hit 42.4 percent of their field goals, pulled down 56.5 rebounds, averaged 13.5 steals, 17.5 assists and 8.0 blocked shots in victories against Oklahoma State and Maine.  Senior Chante Black has averaged 22.0 points, 8.5 rebounds, 4.0 blocks, 1.5 assists and hit 70.4 percent of her field goals.
In three games on the road, Duke has averaged only 67.7 points, hit 38.0 percent from the field, 26.5 percent from downtown, averaged 45.3 rebounds, 10.7 assists, 5.0 blocked shots and 15.0 steals, while posting a 2-1 record.
ESPNU Reporter...
Blue Devil senior Abby Waner was the sideline reporter for the recent North Carolina at Duke football game on ESPNU this past Saturday.  Waner has received excellent reviews for her work on the sideline so far this season as she was also the reporter for the Virginia at Duke game on Sept. 27 and the Miami and Duke contest on Nov. 18.
Waner also serves as a features host for David Cutcliffe's Duke Football Show.
Tough Defense...
The Duke defense has been stellar to open the season as the Blue Devils are holding opponents to 30.4 percent shooting, which ranks second in the ACC and sixth nationally.
Since Coach P arrived at Duke, it's defense has held 13 opponents to under 30.0 percent shooting and 30 opponents to under 40.0 percent shooting out of 40 games.
In The NCAA Stats...
The NCAA has released its first set of national statistics with the Blue Devils ranking in the top 20 of six categories -- sixth in field goal percentage defense (30.4), seventh in rebounding margin (14.2), sixth in steals per game (14.4), 14th in scoring margin (23.6), 18th in scoring defense (52.0) and 14th in blocked shots (6.2).
Senior Chante Black is 17th in blocks per game (2.8), Abby Waner is 52nd in steals per game (2.8), Chelsea Hopkins is 59th in steals (2.8) and Jasmine Thomas is 21st in assist/turnover ratio (2.83).
Both Iowa and Michigan are two of the top free throw shooting teams in the nation as they rank 17th (76.9) and 22nd (76.7), respectively.
[/private]