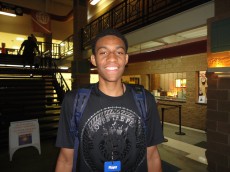 On an overcast and rainy December afternoon, Jabari Parker, a soft spoken and measured young man from the South Side of Chicago, saw the light, committing to Duke University on ESPNU. After a three year pursuit of the reigning National Gatorade Player of the Year, the Blue Devils' staff's persistence and message won the day, culminating in, perhaps, Duke's best small forward prospect since Grant Hill roamed the Gothic Wonderland in Durham, North Carolina.
6'8" Jabari Parker has led Simeon Academy, a vocational high school deep in the south side of Chicago, whose alumni includes four NBA players (most notably former NBA MVP Derrick Rose), to state titles in each of his three seasons in the highly competitive state of Illinois. This past season, after averaging over twenty points, nine rebounds, five assists, and three blocks, Parker was named Gatorade's National Player of the Year, a rare distinction for an award that has traditionally been designated to players in their senior class. In addition to seeking out excellence in a given field of play, the award takes into account a player's performance in the classroom, where Parker is in the top five percent of his class, and in the community, where Jabari has worked on behalf the Salvation Army, Operation PUSH, and the Hyde Park ward of the Church of Latter Day Saints.
Giving back to the community has been something that his father, Robert "Sonny" Parker, a six-year NBA veteran with the Golden State Warriors, ingrained in his children, including his youngest, Jabari. In 1990, he began the Chicago-based Sonny Parker Youth Foundation, a non-profit which seeks to offer year-round recreational and educational after-school programs for Chicago kids in grades K-12, in order to provide alternatives to gang and drug-related violence that still plague parts of the Windy City.
Although there already was projected to be quality depth on the wings in Durham next season, the addition of Parker, a 6'8" skilled, cerebral, and versatile wing, provides the Blue Devils with the opportunity to add an instant impact freshman who is a constant threat, on or off of the ball, and to create mismatches in a manner similarly devised by Coach Mike Krzyzewski in the 2012 Olympics in London. In terms of international experience, Jabari has been an integral part of USA Basketball at the junior level winning a gold medal both at the 2011 FIBA Americas U16 Championship in Cancun, Mexico, where he won the tournament's MVP, and with the United States U-17 team at the 2012 FIBA U17 World Championship in Kaunas, Lithuania this July, during which he broke his right foot.
For the past several months, Jabari has been recovering from the fracture in his right foot, but he made his return to the hardwood in order to compete against future Duke teammate 6'5" Matt Jones and his DeSoto (TX) HS in Texas on a nationally televised game. The return was premature and Parker demonstrated a shell of his potential as his explosiveness and timing were off. Following the trip, Parker has decided to take further time off in order to allow his foot to fully heal and his timing to recover.
Coach Mike Krzyzewski of Duke University and his staff have consistently been recruiting the Simeon star for the better part of three years, including twice within the past ten days. Coach K and his staff have seen Jabari compete for three-time defending state champion Simeon Academy and the robust Mac Irvin Fire AAU program, where Parker formed a potent one-two punch with 6'11" Jahlil Okafor, his close friend, fellow Duke recruit, and USA Basketball teammate. Jabari Parker, for his part, twice visited his future campus: once on an unofficial visit during his sophomore season along with Shabazz Muhammad for a game against Virginia and, most recently, for his official visit during Duke's split-squad Blue-White game with his mother, Lola, and father, Sonny, while utilizing crutches.
Parker provides the Blue Devils with a skilled 6'8" wing that offers the staff the versatility of being able to play inside or out with his mixture of skill, athleticism, and basketball acumen. At Simeon, he's dropped some of his baby fat through cardio work and an increased focus on his diet. Though his father has been largely hands-off in Jabari's development, he's been there to offer advice through the prism of a former high-flying professional wing. The Celtics fan enjoys watching and playing "team ball" and has tried to watch game film of prior NBA greats, including Julius Erving and Larry Bird, in order to incorporate aspects of their games into his own. With a blue chip piece the caliber and position of Parker, there are hopes in the Blue Devil fan base of Jabari Parker delivering for Duke in a manner similar to current Knick Carmelo Anthony when he joined a talented returning Orange core in his masterful season at Syracuse University. Although Jabari is not publicity-seeking, he was the May cover story of a Sport Illustrated article declaring him the best high school basketball player since LeBron James and focusing on the role of his Mormon faith. Parker has learned to embrace the high expectations, while using his platform to remain socially conscious.
For a young man who appreciates both history and selfless people, his recruitment was run in a very straightforward, "old school" approach. In the end, the Blue Devils staff was able to edge out two coaching staffs, Michigan State Spartans and the Florida Gators, with national championships on their resume, a school that had strong religious ties, BYU Cougars, and an up-and-coming coach at arguably the top university on the West Coach, Stanford Cardinal. With Jabari Parker, the most talented incoming Duke recruit since the reigning NBA Rookie of the Year Kyrie Irving, along with Semi Ojeleye and Matt Jones, Coach K and his staff have worked hard to corner the market on high-quality wings with slightly different core strengths in the 2013 class.