[private]Duke cruised to a 95-42 victory over Lenoir-Rhyne in their last exhibition game before the season starts this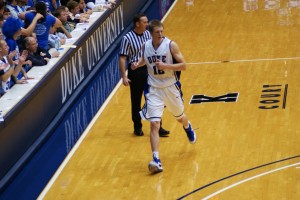 coming Monday.  Kyle Singler dropped 22 points on 9 of 11 shooting from the field.  Singler also grabbed 8 rebounds and dished out 3 assists to lead the Blue Devils. 
He was helped by Nolan Smith who tallied 14 points on 7 of 10 shooting.  Brian Zoubek joined in the field goal accuracy party as well, going 6 of 8 from the field, totaling 15 points to go with 8 rebounds.
Duke started slowly, but manhandled Lenoir-Rhyne the rest of the way.  Thirteen Blue Devils saw action in the lopsided win. 
Duke will take to the court for real against Presbyterian at 7:00 in Cameron on Monday.  This is the opening round of the 2K Sports Hoops Classic benefiting Coaches for Cancer.  Duke will then turn around and play the winner of the Georgia Southern-Houston game on Tuesday.  Both games will be televised on ESPNU.
Should Duke win out, they will participate in the semifinals on 11-20 in Madison Square Garden.[/private]