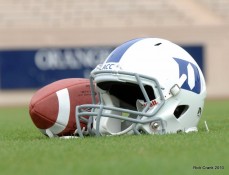 Site: Coral Gables, Fla.
Stadium: Sun Life Stadium
Surface: Natural Grass
Capacity: 74,916
Radio: Blue Devil IMG Sports Network; Sirius XM Radio (Channels 92 & 190)
TV: RSN - Rich Waltz (Play-by-play), Keith Jones (Analyst) and Jenn Hildreth (Sideline)
Internet: GoDuke.com; theACC.com
Tickets: 1-877-375-DUKE
Series: Miami, 7-1
Last Time: Miami's defense recorded five interceptions, including two by DB Vaughn Telemaque, in a 28-13 win over Duke in Durham, N.C. Miami RBs Mike James and Damien Berry combined for 195 yards rushing in the win.
Duke
Heads South Again to Face Miami
• Duke makes its second trip of the season to Miami, Fla., this time to take on the Hurricanes in Coral Gables.
• Duke also took on FIU in Miami on Oct. 1 and came away with a 31-27 win.
• The Blue Devils are 1-7 all-time against the Hurricanes with their lone victory coming in Coral Gables in 1976.
• The teams have faced each other every year since Miami joined the ACC in 2005.
• In the last meeting, Miami forced seven turnovers and compiled 448 total yards in a 28-13 win on October 16, 2010 in Durham ... Duke's lone touchdown came on a one-yard dash by QB Brandon Connette while S Matt Daniels led the defense with 12 tackles.
• Duke has three losses this season (Richmond, Wake Forest & Virginia Tech) by a combined eight points.
Second-Half Effort Falls Short vs. VT
• Despite a defensive effort that shut out the Hokies for the entire second half, Duke fell, 14-10, to Virginia Tech last Saturday in Wallace Wade Stadium.
• Duke's defense limited the Hokies to zero points, seven first downs and 132 yards in the second half and did not allow them to advance past Duke's 38 yard line. The Hokies punted on all six of their second half drives and went three-and-out three times.
• The 14 points scored by the Hokies were 17 below their per game average (31.0) entering the weekend.
• A rushing TD by Virginia Tech RB Josh Oglesby and a passing score from QB Logan Thomas to TE Eric Martin was enough to give Virginia Tech the win ... The Hokies held Duke to a single field goal in the second half.
• Duke was led by RB Desmond Scott's 72-yard, one-touchdown performance on the ground while WR Conner Vernon caught four passes for 88 yards.
• On defense, S Matt Daniels spearheaded Duke's effort with 13 tackles, two interceptions and two PBUs. LB Kelby Brown also added 13 tackles for the Blue Devils while DE Jamal Wallace carded two tackles for loss including the first quarterback sack of his career.
Record Book Watch
• Senior WR Donovan Varner needs just six more catches to tie Clarkston Hines' all-time receptions record at Duke. Varner ranks second with 183 grabs. Junior teammate
Conner Vernon is right behind Varner with 179 catches.
• Redshirt senior K Will Snyderwine compiled four points last week and ranks fourth on Duke's all-time scoring chart with 207 points … Randy Gardner is third on the list with 221 points.
• Varner has at least one catch in 33 straight games to match the third-longest streak in Duke history … The school record of 35 is held by Scottie Montgomery.
• Vernon's 21 career games with 5+ catches are tied for the school's all-time record with Clarkston Hines ... Vernon's nine games with 5+ receptions in 2009 matched the school's single-season record held by Wes Chesson (1970) and Roger Boone (1987).
• Junior RB Desmond Scott became the 39th player in Duke history to run for 1,000 yards in a career last week against Virginia Tech.
• Duke has 16 rushing TDs through eight games this season, marking just the fifth time since 1995 that Duke has logged 15+ rushing scores in a season.