[private]The Duke players and staff barely had time to unpack their bags after two victories in New York before taking on Montana early this afternoon in Cameron Indoor Stadium.  Duke had little problem i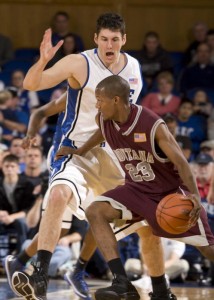 n disposing of their opponent in route to 78-58 a victory.
Once again, Duke was bolstered by its defense and balanced offensive attack.  Four players managed double figure scoring for the fourth time in five games this season.
Leading the way was Nolan Smith and Gerald Henderson with 14 points each.  Smith has been successful at taking over the point guard role this season while "G," as he is known by teammates, is starting to assert himself.
Kyle Singler chipped in 13 points and Jon Scheyer went for 12 as Duke improved to 6-0 on the young season.
Brian Zoubek continued to get his timing back after off season surgery, having a solid effort of 8 points and 7 rebounds.
Zoubek and the Devils out rebounded the Grizzlies 42-26, holding them under 60 points for the season.  For that matter, the Blue Devils have held all of their opponents, save Rhode Island to under 60 this season.
The win gave Krzyzewski his 809th career victory and Duke won 63rd consecutive game against non conference opponents at home.
Duke looks to go 7-0 on Friday versus Duquesne in Cameron Indoor Stadium.  Make no mistake that the players and coaches alike, will take advantage of a much needed Thanksgiving break.
It's unusual for a team to play six games in November, so the break is coming at a much needed time.  Despite a day or two off, you can bet that Coach K will quickly gravitate toward game tape shortly after a feast during Holiday gatherings.
Duke has shown that they will be a team that thrives on defensive pressure first while letting its offensive chemistry develop.   All things considered, the team is right where it wants to be early - undefeated despite putting its best game on the court yet.
Note - This game was originally scheduled after Thanksgiving, but Montana could only play the game at this time.
Today's K-ments -
I think today we did a good job against a team that played really hard against us. To me, it capped off a great week for us. You play eight games in four days, and three of the days you're in New York with not a lot of practice time. I thought our kids played hard for all four games, and they played hard again today. We were able to look at a few things today just in our substitution. There wasn't a substitution pattern, there were things we were trying to look at as far as who was out there at this particular time instead of subbing en masse. We had 10 guys in double-figure minutes, and that was by design to take a look at a bunch of things. And we wanted to give Greg [Paulus] some recovery time, because he's just been playing injured. Hopefully the three or four days we can give him will bring that injury along a little bit better. It's just kind of staying there and that's hard for him because he wants to play so badly. All of sudden now Jon [Scheyer] was handling the ball, Elliot [Williams] was on the ball and things like that, so it was good for us to take a look at those things."
On Greg Paulus injury -
"He's never recovered. He's played the last three ball games hurt. You can see it, I can see it in his shot, in how he extends. It's just not good yet. It's a bad bruise and we had an MRI taken against yesterday just to make sure there wasn't anything in there that we hadn't seen, and everything they thought was still the right way. It's part of your body that gets hit a lot in our game. I think it was a wise decision, and it was tough for him to make it because that kid wants to play all the time, but let's hope it helps."
"I just want him to keep developing. He's got a tough position, and it wears on you mentally, not just physically, when you're responsible for running a team. Last year he didn't have to do this as the primary guy and all of a sudden this is the fourth game of the week and he's going to have different people there, and Greg is not going to play for him or with him. I got on him a little bit saying 'Remember what's going on today' and I thought he responded real well and had that burst scoring wise. In the second half, I just reminded him again. How do you get better mental toughness? You do it by not just practice, but you do it by going through these situations. I thought he did a good job today."
On the freshmen's development, especially Miles Plumlee and Elliot Williams -
"Elliot brings an enthusiasm to play. You can tell right away that he wants to be really good. That doesn't mean the other guys don't want to be really good, but you can see it. He showed that up in New York. I was really impressed with how Elliot played up in New York on that stage. He looked like he belonged. When I watch tape, I see some things that you don't see. Sometimes things just jump off the screen, and his stance really jumped off the screen up in New York. He was so wide and moving so well. He can be really good. In Miles' case, Miles has a lot of ability and I think when you're a big guy, it's such a huge difference from playing in high school to college. The physicality of the game, which distracts you, but he's got a lot of ability. We just have to keep giving him minutes, and playing with Brian [Zoubek] in practice like that is good for him. And playing with Kyle and Lance, all of sudden the familiarity of playing that way will develop. He's a kid that could really shoot up quickly once he gets more comfortable on the court."
On Brian Zoubek's confidence -
"Brian's primary thing was his injury. Brian's a good basketball player. All of sudden he doesn't have that [injury], he's lost some weight and he's running better. Brian runs well for a guy his size. He wears down a little bit, because you're running a pretty big body. I'm really proud of the way Brian's working at this thing."
On the break -
"They'll have Monday off and we'll come back Tuesday to practice. I didn't know it because we were in Maui last year that school ends on Tuesday here, so Wednesday becomes a really good day for us. Then it's Thanksgiving, and then we play and we start another stretch until Michigan and then it's exams. When we come back we have to look at that period from Tuesday's practice until when we get back from Michigan as another segment. We've ended this segment pretty well and then we go into another one."
[/private]