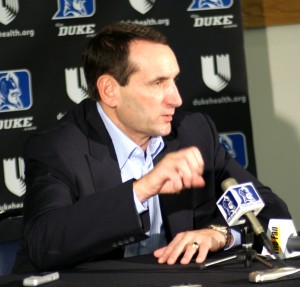 Game 35  •  NCAA Tournament First Round  •   East Regional
2Duke (28-6, 11-5 ACC) vs. 15Binghamton (23-8, 13-3 America East)
Thursday, March 19, 2009  •  9:40 PM ET  •  CBS
Greensboro Coliseum (22,404)  •  Greensboro, N.C.
 
Blue Devil Bits
Duke has won three straight games and enters the NCAA Tournament 28-6 overall. The Blue Devils earned the Atlantic Coast Conference automatic bid by claiming the program's 17th league title on Sunday. 
The Blue Devils earned the No. 2 seed in the East Regional. Duke has claimed the No. 2 seed eight times in school history, winning the 1991 NCAA title from that position.
Duke is ranked sixth in the AP poll and fifth in the ESPN/USA Today Coaches poll. The Blue Devils have now been ranked in the top 10 in 36 consecutive AP polls.
The Blue Devils are making their 14th straight NCAA Tournament appearance and the 33rd overall for the program. Duke is 86-29 all-time in the NCAA Tournament.
Junior Jon Scheyer was named the ACC Tournament MVP after averaging 21.7 points, 4.0 rebounds and 1.7 assists per game in wins over Boston College, Maryland and Florida State. Scheyer was 16-of-31 (.516) from the field, including 12-of-25 (.480) from three-point range, for the tournament. He is the 16th Blue Devil to win tournament Most Valuable Player honors.
Kyle Singler and Gerald Henderson were also named to the ACC All-Tournament first team. Singler contributed 18.0 points, 8.0 rebounds and 3.0 blocks per game, while Henderson added 17.0 points, 2.7 rebounds and 3.3 assists per game.
l Duke committed just 9.0 turnovers per game in the ACC Tournament, including a season-low four in the championship game win over Florida State.
 
Numbers Game
Duke has 86 NCAA Tournament wins to rank fourth all-time. Mike Krzyzewski is the winningest coach in NCAA Tournament history with 69 tournament wins.
The Blue Devils are 21-6 in the NCAA Tournament as a No. 2 seed. Duke is 6-0 against No. 15 seeds.
Duke has won nearly 80.0 percent of its games when playing out of the East Region in the NCAA Tournament. The Blue Devils are 53-14 out of the East with National Championship runs in 1992 and 2001.
The Blue Devils are 28-4 all-time in NCAA Tournament games played in the state of North Carolina. Duke has won eight straight tournament games in its home state.
Duke is 10-0 in NCAA Tournament games played at the Greensboro Coliseum. The Blue Devils also played NCAA Tournament opening round games in Greensboro in 1986, 1989, 1992, 2001 and 2006. 
The Blue Devils enter the NCAA Tournament with the No. 1 RPI and Strength of Schedule according to CollegeRPI.com.
Duke has an NCAA record 289 wins this decade. The Blue Devils have nine more wins than the next closest team (Kansas) since the 1999-2000 season.
Mike Krzyzewski is one win shy of matching Ed Diddle for fifth place on the all-time coaching wins at one school list. He enters the NCAA Tournament with 758 wins at Duke.
Kyle Singler, Gerald Henderson and Jon Scheyer have each scored over 500 points this season, marking the seventh time in school history (1978, 1986, 1990, 1999, 2002, 2005 & 2009) that feat has been accomplished.
Sophomore Kyle Singler leads the Blue Devils in scoring (16.7 ppg.), rebounds (7.7 rpg.), blocks (36) and steals (53). He is looking to become the first player in Duke history to lead the team in all four categories.
Duke players have scored 20 or more points in a game 32 times this season. Kyle Singler (11), Jon Scheyer (10) and Gerald Henderson (10) have combined for 31 of the team's 20-point efforts. Lance Thomas had Duke's only other 20-point effort.
Jon Scheyer has scored in double figures in nine straight games. He has scored 20 or more points in four of the last nine contests.
Gerald Henderson has reached double figures in scoring in 25 of the last 26 games for the Blue Devils. The Merion, Pa., native has nine 20+ point games during that span.
Jon Scheyer is averaging 20.2 points per game and 3.3 three-point field goals made per game over the last nine contests. He also has 21 assists, 15 steals and just 10 turnovers during that stretch.
Kyle Singler and Jon Scheyer are a combined 53-of-116 (.457) from three-point range over the last nine games. Duke is averaging 8.6 threes per game in that stretch.