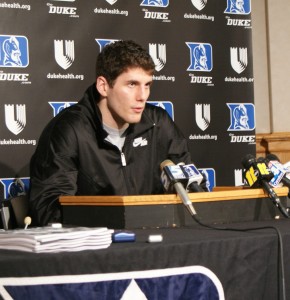 How did you like going up against Soloman Alabi of Florida State?
Yeah.  I really enjoy playing against guys my size.
What did you learn from the Belmont game last season?
Actually, Belmont was a good team and they played really well, but for us, it was definitely a lesson not to look forward to the next game.  Everybody is hungry and a champion out there for the most part.  I know Binghamton is, so they know how to win.  It'll be a good game.
Has the team learned anything from going out within the first two games the last two times out?
If we haven't learned from the last two years, then it's pretty stupid of us.  It's different this year obviously.  Look what we have accomplished so far and we're not done and are ready to move on.  We're definitely more confident this year.  It's a lot harder when you come off two losses to North Carolina and Clemson.  This year it is a completely different story.  I think we are just happy to be playing.  There is not much of a difference in what we do each   day.  But, I think we are in a better place mentally and physically.  We're not as worn down as we were and are ready to go.
What kind of role do you see yourself playing in the tournament?
I think I can play a key role.  It's a little bit harder for me to play against some of the smaller teams, like Maryland where there center goes out and shoots threes a bunch.  I mean going in against Florida State - it was a huge role for me.  And if we advance, there are Texas and Pitt ... there is a lot of good teams out there with big guys. 
Can you talk about Lance Thomas and his contributions?
His play has  been huge.  He is literally our best defensive stopper from position one to five.  That's a huge key for us.  It allows for us to be really strong when we switch off and not have any downside.
In Atlanta, there were lots of Carolina fans cheering against you and Greensboro could be much the same, does that bother you?
I think it's tough.  There are so many Carolina fans around here.  But I think that we feed off of that and we like it.  We play like environments like that a lot and we hear it, whether it is during the day or outside of basketball.  We are just looking forward to taking care of business and that's how we are going to make our statement.  It's nice not to have to wait on a plane to get ready because it takes a toll on you.  Just to be able to go on the bus spend some time with the team and get ready to play.  So, being close is huge.
Concerning Coach K's adjustments and playing close games -
I think it's been really important in that a couple of the games we had against BC and Maryland.  We might have lost them last year and having that experience and not panicking when they hit a few shots or come back and make it close.  We were down against BC but came back and we were ready to move on and move past them.  So, that shows some maturity.
Is the team looser going into the NCAA's?
The team is not as uptight.  Like, I said against BC it's easy to panic and worry about your shots or every little thing that goes on and it can effect your game.  What we do is try to concentrate on what we know we can do well and that's play defense and rebound and if we do that the offense is going to come around.