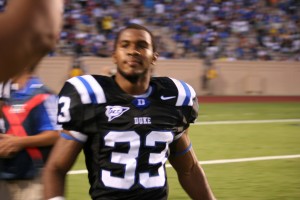 NCCU at Duke
7:00 PM ET
Saturday, September 15
Wallace Wade Stadium
Durham, NC
TV: ESPN3
Radio: Blue Devil IMG Sports Network, Sirus/XM 134
Duke in 2012: 1-1, lost at Stanford 13-50, Saturday 9/8
NCCU in 2012: 1-1, lost at Elon 14-34, Saturday 9/8
DUKE INJURIES
PROBABLE - LB Britton Grier (hand)
OUT - CB Jared Boyd (leg), LB Kelby Brown (leg), LB Kyler Brown (upper body), NG Jamal Bruce (foot), S Jordon Byas (leg),S August Campbell (upper body), TE Braxton Deaver (leg), TE Jack Farrell (leg), LB Brendan Fowler (upper body), DE Justin Foxx (hand), S Corbin McCarthy (shoulder), OG Lucas Patrick (ankle)
OUT FOR SEASON - WR Blair Holliday, DE Allen Jackson (shoulder), S Taylor Sowell (leg)
NCCU INJURIES
OUT FOR SEASON - RB Idreis Augustus (knee), WR Andrew Johnson
HOW DUKE CAN WIN
Duke is the more talented football team, and they have to play like it. The Blue Devils will have to play with intensity from the opening kickoff, and assert their dominance early. The Golden Eagles allowed Elon to score the first 24 points in the game last week. In their week 1 win, NCCU put up 54 points on their own. The Duke defense will need to keep the Golden Eagles off the scoreboard early, putting to rest any hopes for an upset. Duke will be shorthanded on defense, which means that a number of young players will be given an opportunity to step up and make plays. With two freshmen offensive linemen starting, the Duke defense needs to control the line of scrimmage and pressure junior QB Matt Goggans. Offensively, the Blue Devils should be able to move the ball with ease. The offensive line will have to bounce back after a poor performance and contain former Blue Devil John Drew and the Golden Eagle front seven. Duke's running backs should be ready to have a big day, which will open things up for Conner Vernon and Jamison Crowder through the air.
HOW DUKE CAN LOSE
If Duke gets off to another slow start on Saturday, the Golden Eagles will seize the chance for an upset. The Blue Devils have to get off to a fast start in all three phases, and they have to take care of the football. Playing shorthanded, Duke would prefer not to be in a close game late on Saturday. Duke's defense gave up 50 points to Stanford last week, and this NCCU team has already shown that they can put up points, scoring 54 points in their week 1 win. Senior WR Geovonie Irvine is a key player for the Eagles, and Duke will have to contain him both on offense and special teams. John Drew will be looking to disrupt his former teammates' offense, which coughed up four turnovers against Stanford last week.
WHY DUKE WILL WIN
The Duke offense has too many weapons for the Golden Eagles to contain. The Blue Devils know they are better than their week 2 performance, and will be out to prove it against their crosstown rival. Duke's running backs will have a big day, and fans will get a chance to see Shaq Powell and Jela Duncan go to work in the second half. Wearing their black uniforms and with Blair Holliday in attendance, the Blue Devils cruise to a victory, 48-21.