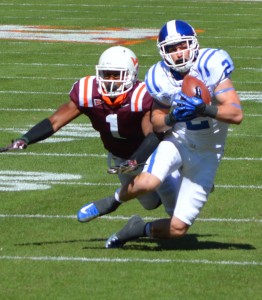 North Carolina at Duke
7:00 PM ET
Saturday, October 20
Durham, NC
TV: ESPNU
Radio: Blue Devil IMG Sports Network
Duke: 5-2 (2-1 ACC), lost at Virginia Tech, 20-41
UNC: 5-2 (2-1 ACC), defeated Miami, 18-14
Last year: UNC defeated Duke 37-21 in Chapel Hill
DUKE INJURIES
PROBABLE: NG Jamal Bruce (foot), DE Justin Foxx (hand), S Chris Tavarez (leg)
QUESTIONABLE: OT Takoby Cofield (lower body), QB Brandon Connette (shoulder), DE Dezmond Johnson (lower body), DT Jamal Wallace (lower body)
OUT: CB Jared Boyd (leg), LB Kelby Brown (leg), TE Braxton Deaver (leg)
OUT FOR SEASON: TE Jack Farrell (leg), WR Blair Holliday, DE Allen Jackson (shoulder), S Corbin McCarthy (shoulder), S Taylor Sowell (leg)
NORTH CAROLINA INJURIES
OUT: TE Sean Fitzpatrick, RB Connor Gonet, OL T.J. Leifheit, LB Darius Lipford, RB Travis Riley, PK Miller Snyder, WR T.J. Thorpe
*UNC only lists players who are out on their injury report
HOW DUKE CAN WIN
The Tar Heels have two losses on the season, and in each of those games, they've allowed over 400 total yards to their opponents, including over 300 yards passing. The Blue Devils have to follow that blueprint and move the ball through the air against a relatively weak Tar Heel secondary, but that's not the entire story. Yes, Duke has a potent passing game with terrific receivers in Conner Vernon, Jamsion Crowder, and Desmond Scott, but when you look at their first 7 games in 2012, it's their ability to run the ball that has been the difference. The Blue Devils have eclipsed the 100 yard rushing mark in 5 games this year - they've won all 5. In their two losses, Duke had a combined total of 49 rushing yards. Duke has to come out and establish a balanced offensive attack. North Carolina has shown that they can and will give up yards and points. The Blue Devils must take advantage. If Sean Renfree eclipses the 300 yard mark passing AND Duke totals over 100 yards rushing, Duke wins this game.
HOW NORTH CAROLINA CAN WIN
Obviously, if the inverse of the above is true, UNC will win. If UNC shuts down the Blue Devil running game, much as Virginia Tech and Stanford have done, then it will be another long night in Wallace Wade Stadium for Duke fans. Duke was dominated at the line of scrimmage on both sides of the ball last week, and they will have to put up a much better effort against the Tar Heels. North Carolina will look to put Sean Renfree on the ground, and have already totaled 17 sacks on the season and allowed just 4. Of course, North Carolina can put up points themselves, led by electrifying RB Gio Bernard. Bernard ran for 165 yards against Duke last year, and he is likely to put up numbers again this year. The key for UNC will be to try and take advantage of the Duke defense with explosive plays, much as Virginia Tech did last week. The Blue Devil defense allowed four touchdowns of over 40 yards last week against the Hokies. North Carolina has the playmakers to put up similar numbers, and they will be looking to score quickly and often against a seemingly vulnerable Duke defense. If Duke loses the line of scrimmage, allows explosive plays, and loses the field position battle, North Carolina will keep the Victory Bell.
WHY DUKE WILL WIN
Duke had a golden opportunity to end a streak at Virginia Tech last week, but failed to finish after opening a 20-0 lead. This is a talented Duke team, and the game on Saturday comes down to how well Duke plays more than what North Carolina is able to do. Gio Bernard and the Tar Heel offense will put up points. Duke has to minimize explosive plays, improve their tackling, and compete much harder at the line of scrimmage than they did last week. The Blue Devils have to establish a balanced offensive attack that keeps the North Carolina defense on their heels. Most importantly, it's time for Duke to seize their moment. The Victory Bell returns to Durham for the first time since 2003. The goal posts in Wallace Wade come down. The Blue Devils are going bowling for the first time since 1994. GTHC. Duke 38, UNC 35