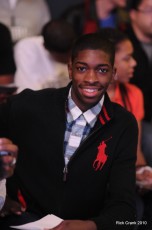 In our latest team and recruiting update we go behind the scenes on the happenings around the program and take a look at key prospects and talk of the off season for the team as well.
If anyone tells you they know what is up with Amile Jefferson then they're faking it for nobody does. Not even our staff knows when he will pull the trigger and before you freak out, nor do others. By not contacting media, Jefferson has shrouded his recruitment with mystery and that means a ton and I mean a ton of speculation and rumors. What is [private] concerning is that people have pointed to this class as a failure, yet Jefferson is still on the board. That said, Anthony Bennett dissed Kentucky but in reality his grades are so poor money couldn't buy him into some schools. We told you in the last update Kentucky was a serious player for Jefferson but it is not a lock yet unless you give into the latest speculation. This one will be over within the next two weeks and possibly by Friday. This one has gotten a bit tedious but I would not be shocked to see him in Durham next year. Jefferson will not make or break Duke this coming season but he would be a solid addition and a good fit with the university.
Duke got in at just the right time on Austin Nichols and have made an impression but this one will go on longer than some think, meaning a quick verbal is unlikely. The Nichols clan want to visit several schools and will take their five official visits. Duke is probably the slight leader here and are in great early shape. His AAU teammate Robert Hubbs likes Duke as well and sent out several DVD's of his game to various programs, Duke being one of them. His AAU coach says he likes the Duke system and that's always a good thing. Coach K liked him enough to make a quick offer after a couple of views. Duke feels he brings athleticism and potential to the table. Both Memphis are players have been invited to Team USA U 18 and 17 trials and Coach K will be able to watch them due to his status with the USA program.
How will this effect Al Freeman? Duke feels that Hubbs brings a totally different game to the table, so not at all in their eyes. You know I have been severely unimpressed by Freemans' game in my views but Duke and everybody else knows he is not used right in the Boo Williams system. A team with three (Troy Williams, Anthony Barber) supposed studs has not played .500 ball in the EYBL of late and to make matters worse, only one of the three studs has showed mild improvement from a year ago. The problem with the way the current players are being used is that none of them are working on their weaknesses or improving. Two of the aforementioned, Freeman and uu0will tumble in the next barrage of rankings if you put a lot of emphasis on that.
My gripe with Freeman is that he failed to show a connection with his back court mate, Anthony Barber. When his shot doesn't fall, nothing else is happening, meaning a stat line of goose eggs. I am old school and feel kids need to let the game come to them on offense and all else will work out. Freeman never seemed to get this and was clearly frustrated after one game where he dissed the media. I found myself asking Dave Telep if he saw the offer to Freeman from Duke and he said no. Some how, I forgot that it was Dave that had him ranked so high and may well have said nice things to Duke about him. The point is that Telep knew he was flopping on the big stage and probably felt a little, well, who knows, but this is not a knock on Telep who I get along with very well. In fact, I get along in grand fashion with all the national recruiting media.
I also had a chat with Jason Jordan who admitted he was trying to corner the market or get exclusives with prospects. Well, that is a recipe for criticism or disdain and he gets it a lot from what I was told. But he does his own thing and is innovative so it is hard for me to fault him. I did joke that I was peeved a bit at less and less access to Julian Randle. Actually I was only half joking;)
The offers will slow down now but more will be made in time. As you know the staff will be heading to Las Vegas soon and Coach K has been there since Nike EYBL Boo Williams ended and will be back in Durham by mid week. I had a nice little conversation with Coach about Team USA where we touched on injuries and players who will compete for the team. I can tell you that he is excited as ever to represent the United States and will go all out to win Gold.  FWIW, Coach will have been on the road for like three straight weeks, so yes, he is working hard.
I was impressed with Tyus Jones and have now had about 8 views of the kid dating back to three years ago and yes, this is where I throw out that we were the first Duke site to interview him. Every time I tried to get to Jones, something would happen in Hampton and I finally caught up to him after a 30 point effort but he was so tired that I decided not to run the interview and actually felt bad I asked him for one at all. Jones is a smooth operator and has great court vision. With his big man out, he single handedly took over the game controlling the tempo and that has put his team in contention to make a run at the NYBL finals. He is a scorer that would rather pass but what an efficient player he is. Michigan State Coach Tom Izzo stood where he could be seen in three straight games. And what a stat stuffer Jones is tallying 34 point
A player I really liked was Ish Wainright who is a tad under sized but and enforcer around the paint where he takes up a lot of space. His offense is limited but his defense is incredible and he wants any and all assignments thrown his way. I have seen some say he is comparable to Semi Ojeleye but that baffles me. Size wise they are both thick and muscular but their games are very different and makes me wonder who guys watch out there at times. Andrew nailed his game as being ESPN ready, meaning dunk or three point launch for he had little mid range game and a mildly suspect handle. He wanted the ball in his hands and has really high arch on his jump shots. It takes a minute to see a guy this big drain them. He is a good but not great defender who needs work on how to play off ball in an efficient manner. Duke has yet to offer but they could any day now. Still, I feel it comes down the road at this point in that they want some more views of him and have a lot of offers out already. When the staff is in Vegas, Nate James will become the guy who tracks him.
Rasheed Sulaimon will be on campus by July 1st and maybe Jefferson should he pick Duke. While a lot of people knock the recruiting class. there has been way too much staff criticism for my taste and yes, they can read these boards. Cut it anyway you like it, but our freshman class consists of Marshall Plumlee. Alex Murphy and Sulaimon. So, we gain them on the court and lose Miles and Austin. Gbinije did not contribute enough to be missed ans not that is not a crack on him. So, when looking at next season, we gain three, maybe four and lose one. It's not as gloomy as some are making it out to be ..
Murphy has been working with Will Stephenson in the weight room with Marshall Plumlee and both have put on 15 pounds or more of muscle. And it will be nice that they know the Duke system having seen a year of it from the bench. Plumlee will back up Mason while Murphy will push hard to make the starting lineup. And if you go back to our interview with Murph, he told us then he may play for the Finnish team and that has now been finalized.
Jabari Parker was not in Hampton, making our interview with him the latest info out there, but Julius Randle was and man is he a beast. Nobody could stop him on the block, yet he played outside a while lot, handling the ball for much of the game in crunch time and he loved driving the baseline and using angles on the rim. He told me that he was expanding his game mainly because he faced nothing but triple teams if he hung close to the paint area. Duke is most certainly on his list and will make the final cut and Jeff Capel and Coach K keep in regular touch with him. As I said on the message boards, I now feel Duke can pull one but not both in that they are likely to want to be the main freshman on campus. It is not impossible to get both and Duke will try but realistically they pull one of the studs and that's fine by me. Now the question is which one pulls the trigger first. Randle was slimmed down, quicker than last season and just a gifted player. When said he was like a bull in a china shop, he got a good laugh out of it.
A player that I have been meaning to talk about but haven't is 6-8 Justise Winslow of Houston Hoops. He is in the class of 2014 and is scheduled to visit Duke in an unofficial manner before summer is out. I need more views of Winslow to give an accurate breakdown. Duke is very liquid at this time and names like Johnathan Williams and Nicholas King of Bluff City and many others have sparked some curiosity from the staff.  Back to Winslow, I spoke to him and he is very excited Duke is showing interest.
We have several interviews coming from Andrew and a couple I will add to talking with some of the same kids, so you can look forward to that. I appreciate the patience the last few days when I have been dealing with a few matters and then ISP issues. We'll get back to normal soon enough. We will likely go to a new message board in the near future and this will take place before we finalize new site changes. The reason is for there to be just one registration process when joining and one that will work in concert with the site. I will be asking members for input on some of the changes.
Depending on how Mason Plumlee and Ryan Kelly perform at the Amare Stoudemire Camp. they may head to other Nike events. Andrew and myself will as always be very active as the weather warms. I am glad to say I will cover the Nike Global Challenge this season with it being on the east coast and Peach Jam for sure and others. You will, as always. get a lot of bang for your buck on the AAU trail where we set the pace for others to follow.
There was a bit of board tension last week and some of it goes unseen to you folks. I get a lot of PM's which often include ultimatums and that makes it very difficult to me to please everybody. Another thing to remember is that not all members post but they still have comments on occasion. BDN has been very professional and tame compared to others in the past and we want to keep it that way. I ask all members to take any and I mean any problems to mods and not air grievances with other posters on the board. And the mods can help you a whole lot quicker than I can. While I am at it, Susan is the contact person for any issues with log in issues, not myself. There are several places on the site which mention this but it still somehow goes unseen. In short, e-mailing me will delay the process. Another thing if you are a premium member and not on the message board, it is a separate registration. Once you register PM myself (for this only) or Susan and we will check your payment and get you up and running.
Thanks for being a member of BDN and while this was not one of our more informative updates, it should hold you over until the next one. We will open a new Q and A thread to feel the gaps on players I did not mention here. [/private]