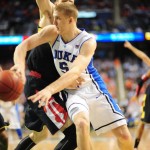 GREENSBORO, N.C. - You can prepare all you want to, marvel at your latest accomplishments, hear that you will likely be a number one seed in the coming NCAA Tournament and so on, but if you don't bring it on game day, you will soon be home watching other teams on television. That's the case for Duke Basketball after an upset loss to a Maryland team that looked hungry, while the Blue Devils looked bloated from having gotten their money's worth at a Las Vegas buffet.
The team was talking the talk, confident after demolishing  archrival North Carolina six days earlier, and the stage seemed set. Duke was playing in its home away from home, the Greensboro Coliseum, where they had not lost an ACC Tournament game in nine years. But it wasn't long before it dawned on many that Duke was about to lose their second consecutive ACC Tournament game in similar fashion, in a setting where their comfort in their surroundings seemed irrelevant.
A season ago, Duke stumbled out of the gate in the NCAA Tournament in its own backyard, losing a shocker to Lehigh. One would think lessons were learned from that game, but after last evening's second consecutive loss to the Terps, Duke suddenly looks shaken and they are once again home early, never having time to unpack their bags at a tournament site.
Fortunately for Duke, they'll play another day, but if they do not right the ship and find the mental and physical toughness it takes to advance, it will be another disappointing end. And that just doesn't seem like the end a team led by three seniors is destined for.  But those same seniors are in need of a little soul searching themselves after last night's performance, where Duke never even held a lead in a game they had all the reason in the world to be up for.  After all, it's been awhile since Duke has lost consecutive games, much less conference games, to anybody.  And now they've done so in what was the team's first ACC quarterfinal loss since 1997.
Maybe it's time for some tough love and reflection for this Duke team.  They'll have plenty of time to wallow in the misery as they await the pairings show early Sunday evening. And in all likelihood, they'll be knocked from that number one perch, and if that happens, the second game of the NCAA Tournament will feature an opponent as tough or tougher than was Maryland.  And at this point, even winning the first game is not guaranteed.
Earlier this season, Duke looked like the best team in the nation, and their chemistry was something to marvel at.  The efficiency with which the team played was nowhere to be found on Friday against Maryland.  But it wasn't just efficiency and chemistry.  Some of it was more basic basketball.  Poor shooting.  Effort on the glass.  Don't get me wrong here. Maryland deserves a lot of credit for the way they played and instead of folding their tent as they easily could have, they showed fight.  But Duke was not prepared to combat the effort.  "We weren't the Duke team that's played most of the season, so I'm disappointed with our performance," said Coach Krzyzwski.
Last season, some blamed the late collapse on injuries, others on team chemistry, but now it is time to let go of excuses.  The players cannot point fingers, and they haven't.  But they each need to take responsibility too.  For Duke to rebound from this loss, they have to know the four letters on their chest will not win a game.  The Blue Devils must learn, or re-learn, that they have to treat every team and every player they face with the utmost respect in order to beat them. They have to get back to the basics of Duke Basketball, meaning on game day they play as hard as they have prepared, and the seniors have to lead.
Let's face it: 27-5 is still the mark of a pretty good team, but in this day of short attention spans and "what have you done for me lately?"  how this team and the seniors will be remembered depends now on how they respond to two consecutive tournament losses. The three senior leaders' legacy in is their collective hands.  They're the ones who have to right this ship.  Duke must rekindle its fire, or I'll be unhappily expanding on this article again soon.