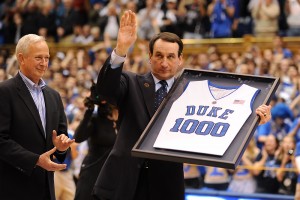 Durham, N.C. - The Blue Devil Nation celebrated Coach K's 1000th game and birthday with a convincing 77-56 win over Maryland on Saturday afternoon in Cameron Indoor Stadium.  All fans remained seated after the game as Krzyzewski addressed the crowd before he left for the locker room to talk with his Blue Devil team that now sports a 9-2 record in the ACC and 21-4 overall.
It's been quite a week for these Blue Devils, for they beat the two rival teams in Maryland and North Carolina on their schedule and in the process held them both in check.  In fact, both teams combined scored only 110 points for a 55 ppg average.
But then today, Brian Zoubek must not have gotten the memo saying he wasn't in the big three, for the lanky senior had career highs of 16 points and 17 rebounds, prompting several cheers from the frenetic Cameron Crazies.
"He should be getting a lot of credit with what he's done as a basketball player from when he was a freshman to where he is now.  He's a guy who has found a way to enjoy his basketball career which is a great thing.  It's nice to see that happen to people when they are doing a great job," said Krzyzewski of Zoubs, as he is called by his teammates.
Duke held Maryland in check from beyond the arc, where they allowed just two three-point baskets and for most of the game they held Greivis Vasquez in check before he reeled off several baskets in the Terps comeback effort.  Vasquez finished the game as the Terps high scorer with 17, while Cliff Tucker chipped in with 12.
Jon Scheyer led all scorers with 22 points and Smith, who was cold from the field, still tallied 14 points to go with a team high 6 assists.  Kyle Singler added 10, Mason 7, Thomas 4 and 2 each for Miles and Kelly to round out the Blue Devils' scoring.
Duke scored 18 points off 14 Maryland turnovers and 20 points on second chance buckets.  Duke led by 24 at one time but let off the gas in the final couple of minutes, winning by 21 over their assigned rival.  Another huge stat for Duke was their 18 of 22 free throws.
Duke has won six consecutive games against Maryland in the series and Duke has won 13 games by 20 or more points this season.  Duke held 44-37 advantage in rebounding and four players scored in double figures for the 14th time this season.
The Blue Devils will travel to Miami on Wednesday for a game televised on ESPN.  Stay tuned for the BDN Duke Locker Room Report.