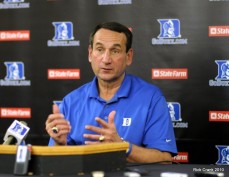 The Duke Blue Devils leaned on their staple man to man defense in a convincing 79-45 win over out-manned Miami of Ohio on Tuesday evening.  Duke held their opponent to 33% shooting and scored 17 points off of forced turnovers on their way to their second win of the young season.  Here are some of my thoughts on the contest.
Cameron was still rocking
I can be a little tough on the Cameron Crazies in that I have seen four decades of their exploits, but this season they've been outstanding.  So much so, that I decided to lead with this.  Coach Krzyzewski just stepped away from the podium and he had nice things to say about them as well.  So, major props to the crazies from BDN for my ears are still ringing and I'm not kidding one bit when I say that.
Incredible Defense & Rebounding
Duke absolutely suffocated the Miami offense holding them to 45 points.  It was literally hard for Miami to find any open looks save a couple of backdoors.  Krzyzewski has to be happy with his defense in the early season but he was quick to point out that Duke would play heavyweights next week and that will be a much better barrometer of where his defense is on the young season.  Miami sent one offensive player to the board and sent the other four players back on defense to stop Duke breaks but that allowed  the Blue Devils to dominate the glass to the tune of 48-22.
Seth Curry was smooth as silk
I wanted to reserve judgement on Seth Curry until I watched him play in real games.  I wondered and possibly even doubted his ability to score at a higher level than his days at Liberty.  I am sold now.  When Curry is hot get out of the way, for if you foul him he'll drain free throws to the tune of 6 of 6.  Curry ended the game as Duke's leading scorer with 17 and he was 3 of 4 from the three in shots that barely moved the net.  Imagine for a second, a scorer like this coming off the bench all season long.
Poor Colgate, they'll see a lot of Irving
Duke's standout freshman Kyrie Irving was saddled with early foul trouble and played a mere seven minutes in the first half.  He had a nice flurry in the second half and ended the game with 13 points, 5 rebounds and 13 points but I got the impression from his look that he wanted more and he'll get a lot more when Colgate rolls in on Friday, that I promise.  He may be humble, but he is hungry like a bear.
Ryan Kelly gets the start
Duke elected to start Ryan Kelly in place of Miles Plumlee and he answered with 7 points and 3 rebounds.  Krzyzewski said he wanted to use some different combinations and that's what tonight's game was all about.  As I said in the pre season, Duke will have several players start as the season progresses.
The first meeting with Miami but a former Red Hawk had Duke ties and beat the Heels
That was a mouthful, huh?  This was the first time the two schools met on the basketball court, but back in the 70's Duke had a kid named Dave Elmer that transferred to Miami.  Well, after sitting out a year, he went into Carmichael Auditorium at UNC and led his team to an upset win over the Tar Heels coached by Dean Smith.  Just an aside ..
Double-Double for Mason Plumlee
Sophomore Mason Plumlee was manly grabbing 14 rebounds to go with 10 points this evening.  It was clear from the start that Mason wanted anything that came off the boards.  And those dunks!  I'd have nightmares if somebody threw one of those down on me.  Krzyzeswki said he thinks Plumlee is capable of those numbers all season long.  His 14 boards were a career high as well.
And to wrap up the post game report, here are Coach K's comments after the game in their entirety -
Just press play -