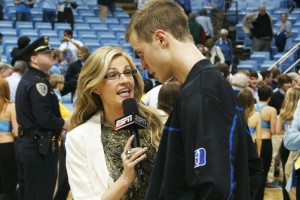 Chapel Hill, N.C. - The Duke Blue Devils defeated their arch rival North Carolina 64-54 on Wednesday evening.  It wasn't a pretty win but, if you are a Duke fan, the result was quite lovely.
Duke held the Tar Heels to their lowest point total during the Roy Williams era.  North Carolina shot just 37% from the field as they dropped to 2-7 in conference and 13-11 overall.
The Blue Devils knocked down four buckets in a row down the stretch and that propelled them to their 20th win of the season against 4 losses.  More importantly, Duke is in first place in the ACC with a 8-2 mark.
Duke senior standout Jon Scheyer nailed 5 of 9 three pointers while the Tar Heels were just 5 of 19 beyond the stripe.  When Duke needed a score, Scheyer seemed to be there.
Kyle Singler continued his torrid three point shooting as well, missing just 1 of 5 enroute to 19 points and 9 rebounds.  Nolan Smith was the only other Blue Devil in double figures, with 10 points to go with his team high 4 assists.
North Carolina was led by Will Graves with 13 points but Ed Davis was shut down by the Blue Devil defense, scoring just 4 points.
We'll have much more coverage coming, including interviews, so check back in a bit later.