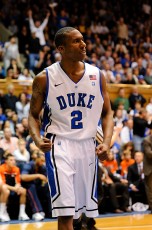 DURHAM - Duke Coach Mike Krzyzewski said it best, "It was just one of those games where our shots weren't falling, but our second half defense saved us."  The Blue Devils found themselves trailing 31-25 at the half but they righted the ship after being down nine in the second half.   They went on to outscore the Cavaliers by a 24 point margin, closing the game out with a 76-60 win.
It was a night when the three point shot wasn't falling until late where Duke sophomore knocked down three of them in the second half.  Dawkins' play came at a time when Duke needed a lift.  Dawkins had just turned to the Cameron Crazies and exhorted them before he went in on a slashing drive, scored and was fouled.
Dawkins' 14 points were huge for a Duke team that needed a scoring lift from someone other than seniors Kyle Singler and Nolan Smith.  But it was Smith who really sparked the Dukies with a stat line of 29 points, 7 rebounds, 6 assists.  Smith's big play was a tomahawk dunk which shifted momentum for Duke where it stayed.
The Virginia defense was tough all day in that they were quick to the ball and doubled down each time Duke would try to go inside.  Mustapha Farrakhan led the Cavaliers with 15 points, but he was effectively shut down after the first half.  Joe Harris added 15 as well.
Duke also got 16 boards from Mason,  wh Coach K praised for grabbing everything near him in the post-game meeting with press.  We'll have more on the game a bit later.
Sidebar - Dawkins scored in double figures for the 10th time this season.  Duke now has a 30 game winning streak in Cameron.  Mason Plumlee's 16 boards were his career high.  Smith leads the ACC in 20 plus point games this season.  Smith has 9 steals in the last two games.