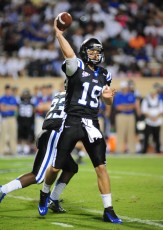 There is plenty yet to play for Duke Football despite it's loss to Georgia Tech in a game which cost them any hope of winning the Coastal Division in the ACC.
Coming into the season, few thought the Blue Devils would be bowl eligible and those few that did projected nothing more than a .500 mark and or a 6-6 record.
Miami travels to Durham next week in the home finale for the Blue Devils and while the ACC only recognizes head to head tie breakers for the division title, a win would guarantee Duke a 3rd place finish with the same concept.
If Virginia Tech were to stumble against Virginia, then Duke would finish in 2nd place. Either scenario is a show of extreme progress for a bowl starved program and one the staff can point to on the recruiting trail.
A win over the Hurricanes would also give Duke a 7-5 mark, a winning season and the most wins for the program since 1994 and considering Duke was unlucky enough to draw Florida State and Clemson from the other division on their schedule, this would be quite an accomplishment.
Let's not forget how a win might possibly help with a bowl scenario as well. Duke for all intents and purposes probably out of the running for the Chic Fil A Bowl but a win still makes them a much more attractive invite.
And depending on other results, Duke still has an outside chance for the slot in Atlanta.
With a victory, Duke may well secure a berth in the Music City Bowl in New Years Eve in Nashville against a tough Vanderbilt team from the SEC. or perhaps Missouri.
That is more attractive to the fan side of me than say, the Belk Bowl in Charlotte which would be the likely destination if they were to finish with a loss and go 6-6.
While the Sun Bowl is El Paso, Texas is still a possibility, my feeling is that playing to be closer to home for the overall fan base is something worth playing for as well.
And then there is still the a chance for Orlando but a win on Saturday against Miami guarantees more varied opportunities
If that weren't enough incentive for Duke Football and the fan base which will need to turn out on a Thanksgiving Holliday weekend where the students are for the most part gone for the break, then maybe setting a few more records in Wallace Wade are in order.
Sean Renfree and Conner Vernon are still setting school and ACC marks and there is a chance for records to fall. I am sure their teammates want to reward these two seniors.
Speaking of seniors, this will be the last game for a bevy of them in Wallace Wade, so a send off with a win is in order for the class that brought Duke Football back to relevance.
Another thing Duke will be playing for is a break through win. The last time Duke beat Miami was in the year 1976. To put that into perspective, I was starting high school and many of you reading this were not even born.
The Duke program could use a win over what is still considered a storied program in Miami, a former football power that is still significant today and one playing for the division crown.
I had the chance to visit Coach David Cutcliffes office a couple of times over the years and when there I always look at those breakthrough commemorative footballs he has displayed.
I have covered Duke Football in each of those wins starting with his first over James Madison when the program was starved for anything positive.
There is also one for his first ACC win over Virginia in that Duke was not even competitive in conference when Cutcliffe arrived in Durham. Then there is one for a road win over N.C. State, a rare thing for a program until recently.
I am pretty certain without another visit to Cutcliffes' digs that a Wake Forest game ball was added in that the victory this season broke a long streak.
And surely there is a game ball for the win over rival North Carolina where Duke fans were elated that their team ended a long streak and brought the Victory Bell back to Durham for a year.
So, yes, Duke has plenty left to play for  when Miami comes to town and there is no short-changing how important a victory would be for the seniors who turned the programs fortunes around.