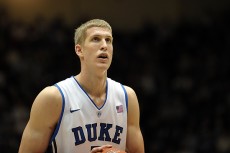 Welcome to the first installment of our Blue Devil season preview.  This first segment will cover Duke's senior class of Mason Plumlee, Ryan Kelly, and Seth Curry, a class that without question will be counted on to lead this team both physically and emotionally as it begins its journey.  Coach K has long preached the importance of seniors, not only because of their on-court experience and knowledge of how to play Duke basketball, but also because of their understanding of the Duke culture and the leadership qualities that so many have developed by their senior years.  It has become increasingly rare in the modern basketball landscape to find a top team that has the luxury of starting three solid seniors, but Duke will be one of the fortunate few this season.
It has been a bit of an unusual ride for this class.  Plumlee and Kelly were freshmen on Duke's 2010 national championship team, and both were role players.  Mason played behind not only frontcourt players Brian Zoubek and Lance Thomas, but also his brother Miles, and consequently only averaged 14 minutes per game, in which he scored 4 points per game and grabbed 3 rebounds.  Kelly was the ninth man on that team, averaging only 6 minutes and 1.5 points.  While both had their moments where they showed promise, and undoubtedly enjoyed one of the great thrills of their lifetimes by being part of a national championship team at Duke, both were reserves, neither was anywhere close to the player he is now, and most fans, when reminiscing about that team, talk about the contributions of Smith, Singler, Scheyer, and Zoubek more so than the two freshmen who played off the bench.
Despite his limited role on the team, Mason Plumlee was tempted by the lure of the NBA, which – especially for big men – drafts substantially on potential.  His length, jumping ability, and athleticism attracted NBA scouts, even though he had not established any kind of consistency yet as a basketball player.  Mason realized, though, that he was nowhere near ready for the NBA, and wisely returned to Duke for his sophomore year.
That 2009-10 season was also a strange one for Seth Curry, because he couldn't even don the uniform.  Seth sat out that year as per NCAA requirements, as he had transferred to Duke from Liberty University, so all he could do was practice.
The trio's sophomore year saw their roles increase significantly, but the season ended on a sour note.  Mason started 32 games, playing 25 minutes per game, scoring 7 ppg on 59% shooting, and most importantly, establishing himself as a big-time rebounder, as he grabbed 8.4 in those 25 minutes of action.  Ryan started 27 times as a sophomore, got 20 minutes of burn, and scored 6.6 ppg on 51% shooting.  Curry, following the freak injury to star point guard Kyrie Irving, got 19 starts, sharing the backcourt with Nolan Smith, and scored 9 ppg but only on 42% shooting.
All three sophs had forgettable nights in the shocking blowout loss to Arizona in the NCAA tournament, as Mason took only five shots, he and the other bigs were beaten consistently on the defensive end by Arizona's frontcourt players, Ryan went scoreless in 14 minutes, and Seth played only 9 minutes before going down with a hip injury, and did not return.
Similar story in the big picture for this group in their junior years.  All three took big steps up in terms of their games and their roles, but again the season ended in a way that few could have imagined with the stunning loss to Lehigh in the first round of the NCAA tournament.  Mason established himself in 2011-2012 as one of the top big men in the ACC, playing 28 mpg, scoring 11 ppg and grabbing 9 boards per outing.   He was named 3rd team all-ACC.  He was again tempted by the NBA, but considered not only the low first round projection by many scouts, but also his desire to get his degree, to lead Duke to a championship, and to play with his younger brother Marshall in deciding to return for his senior year.  Kelly got stronger and grew into the starting stretch-4 role, scoring almost 12 ppg, getting 5 rebounds per game, and leading the team in 3-point shooting at almost 41%.  Ryan was the MVP of the Maui Invitational, where he scored 17 ppg and led the Devils to the championship, beating Kansas in the finals.  His season, though, ended prematurely when he injured his foot in practice before the ACC tournament, and the team wasn't the same without him.  Seth started all year alongside Austin Rivers, and was the team's second leading scorer at 13 ppg.  Coach K initially sought to use Seth at the point, but it was not a natural fit, and Seth struggled in the role early.  Once Seth's ballhandling responsibilities were reduced, the rest of his offensive game improved, and he ended up making 3rd team all-ACC as well.
So what should we look forward to from this group of seniors in 2012-2013?  What does the team need from each of them?
Mason Plumlee should be the best big man in the ACC, and indeed one of the best in the country.  The middle Plumlee brother worked hard in the offseason to try to make it happen.  While he worked at Barclays in Chicago, he also found time to attend the Amare Stoudemire Skills Academy, and was then invited to the prestigious LeBron James Skills Academy in Las Vegas, before finishing up at the Adidas camp.
Coach Krzyzewski has stated very clearly that he expects Mason to be the key to the success of this year's team.  Other guys will be key, but Mason will be THE key.
What does that mean he's going to have to do? On the offensive end, he's probably going to need to score more than 11 ppg, and if the perimeter guys can do a better job than they did last year of feeding the post, he should be able to accomplish that.  Mason worked hard in the off-season on his shooting, and expects that to pay off.  Last year Mason demonstrated a smooth and effective jump hook with both hands – although better with the right hand than the left.  When he shoots it in rhythm, it's a thing of beauty.  It's just that he didn't take it very often.  If he can feel more comfortable in taking that shot, and add even just one additional move – a drop step? – he will be devastating down low.
One obvious area in which Mason needs to improve is his free throw shooting.  The first half of last year was simply awful, but Mason shot much better in the second half, but still ended up at only 52.8%.  This was an improvement from the abysmal 44.1% he shot as a sophomore, but still, he left way too many points at the line.  As he's expected to be even more of a focal point of the offense this year, Duke is just not going to be able to afford that.
Mason rebounded the ball very well in 2011-12, with the 9 per game (third in the ACC), almost three of which were on the offensive boards.  He is a very athletic player with excellent springs, so nobody is going to simply outjump him.   With the minutes he's going to see this year, if he continues to fight hard for position, there's no reason he can't up that average to, say, 11 rebounds per game this year.
Mason has improved significantly at the defensive end in his three years, and I would expect that improvement to continue.  He was a fouling machine as a freshman, collecting a foul every 6.6 minutes.  That improved as a soph to one foul per 9.8 minutes, but he fouled out five times that year.  Last season he fouled only once every 11.2 minutes, and only fouled out once.  Coach K often preaches the importance of being able to play good defense without fouling.  Mason clearly struggled with that as a younger player, but has learned how to do it – with a better understanding of the scheme, more effort, better positioning, and better decisionmaking.  He's going to need to stay out of significant foul trouble again this year, as his untested younger brother Marshall – currently out with a fractured foot – is the only other player on the roster who is both comfortable and physically equipped to play in the pivot at both ends.
The Blue Devils are going to need one more upgrade from Mason this year.  He's going to have to become more of a leader.  At times in his three years in Durham, he has seemed content to let others be the leaders, to rally the troops; Mason has seemed reluctant to get into a guy's face – teammate or opponent – and some have wondered about his passion.  While that latter concern is, in my mind, misplaced, it's true that he has not been particularly demonstrative on the floor; he hasn't grabbed this team by its collective lapels and said, "follow me."
He's going to need to embrace that role more this year than he ever has.  Sure, there are two other seniors, and Tyler Thornton is a leader on the team too, but there is a psychological component to teams in which the other players on the team want the best player on the team to be their leader.  They look to him and often take their emotional cues from him.  When the best player is more passive, his teammates sometimes have a harder time bringing their energy.  Sometimes it takes even a great player some time to grow into the role of leader, and to be comfortable in it.  Now is Mason's time.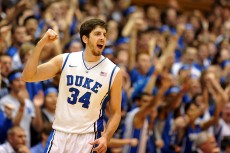 What about Ryan Kelly?  What is the team going to need from him, and what can we reasonably expect from Ryan – whose foot injury late last year is completely healed --  this year?
First, it should be said that while Ryan took some major strides last year, he did not rest on his laurels this summer.  He attended the Impact Academy in Las Vegas in June for several weeks, then the Amare Stoudemire Skills Academy in Chicago in July and finally the LeBron James Skills Academy in Las Vegas in August, all of which included many, many elite players looking to improve their games further.
Taking the last point concerning Mason first, Ryan does seem to be a bit more of a natural leader than is either of his fellow seniors.  He has been more vocal, and the other guys appear to understand that coach views him as a type of "coach on the floor," which is a bit unusual for a big guy as opposed to a point guard.  Ryan is a smart player and a mature guy (not that Mason isn't – not at all), and one who the other guys look up to.  Which is probably why he was one of the team's captains last year, and will be again this season – along with Mason.
With the loss of Miles Plumlee and the injury to Marshall Plumlee – and who knows how ready Marshall is going to be in any event – Ryan is going to be called upon to bring some different things to the table.  Last year, while Ryan was the most accurate three point shooter on team, at almost 41%, almost 41% of his field goal attempts were three pointers as well.  He could continue to hunt his outside shot when Mason was out, because Miles would man the post.  Now, when Mason sits, among the other big guys, Ryan is going to possess Duke's best combination of size, strength, and shotmaking ability.  I think he's going to have to use the stronger body he has developed in order to give Duke some semblance of an inside presence on offense when Mason Plumlee is not on the floor.
That is not to say that Ryan is, or should try to be, a true banger.  That's not who he is, not his game, and not his body.  His ability to stretch defenses with the threat of his three point shot and his sense for proper offensive spacing are important.  The team's swoon at the end of last year in his absence is testament to that fact.  But he's going to have to mix it up a little more than he did last year.  And not just with the ball in his hands.  Defensively and on the boards, too.  Ryan did not always play good position defense or help defense last year, and sometimes he was seen to be loafing around screens or not going as hard as he could've after 50-50 balls in and around the paint, whether they be loose balls or rebounds.  Ryan is 6'11" and 230 pounds, not the skinny 200 pounder he was when he arrived on campus in 2009.  Duke is going to need more than 5 boards per game from him.  Seven or eight would be most welcome.  All in all, Ryan is going to need to pick up his intensity in all these areas; he can't just be a shooter.  If he does so, I think he can be an all-ACC player.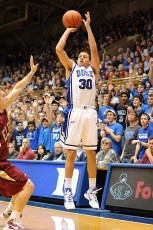 It's going to be interesting to watch Seth Curry this season.  He's the leading returning scorer on the team, and the second best returning three point shooter, after Ryan Kelly.  He's the most experienced backcourt player on the squad.
In an apparent contradiction, Seth may feel both liberated and pressured bit this year.  He won't have the burden of the point guard experiment on his shoulders; that has been cleared, and he won't have those responsibilities, if all goes according to plan.  He also may have more of an opportunity to shine in the shooting guard role with the departure of Austin Rivers, who had the ball in his hands a lot.  Seth will have the green light to be aggressive at the offensive end.
But despite his having a number of terrific moments and many solid games, doubts about Seth crept into Blue Devil nation (with a small 'n') last year.  His ballhandling was questioned during the point guard experiment.  His ability to create his own shot was questioned. And most significantly, his defensive abilities were questioned.  Seth has quick hands and pretty good instincts, which is why he led the team in steals.  Undoubtedly, Seth's 6'2" 180 lb. frame was problematic at times defensively, especially when he was paired with either Tyler Thornton or Quinn Cook, along with Rivers.  The perimeter was short, and a number of bigger, more physical guards had their way with Duke's backcourt, as they were able to simply shoot right over the Blue Devil guards or overpower them.  In addition to that, the Duke guards collectively did not do a great job of applying ball pressure, and they did not move their feet well in order to keep opponents from penetrating into the lane.
Remedying that aspect of Duke's defense from a year ago is going to be one of the keys to the Blue Devils' success this season.  Seth isn't going to get any taller.  But he can put additional focus and effort into the game at the defensive end.  If he can stay in his opponent's shirt and force tougher passes and force tougher shots and not allow his man to penetrate and distort the defense, that will go a long way to help improve the whole team's defensive performance.  The idea at this point is for Quinn Cook and Tyler Thornton to largely man the point.  They're going to have to pick it up defensively as well.  But at the 2-guard, Duke has to improve defensively.  Many fans anticipate freshman guard Rasheed Sulaimon to be a strong defensive player from the jump.  If that turns out to be true, and either because of physical stature or effort and ability Seth is not able to turn it up defensively, the calls for increased time for Sulaimon will grow a bit louder.
Seth has said that his focus in the off-season was working on his ballhandling and getting into the lane a bit more.  I would be surprised if we didn't see an improvement in those areas.  Personally, I think Seth is going to re-dedicate himself to the defensive end, and make an impact there as well as with his scoring.  He's a kid with a lot of pride and a real work ethic, and he knows that if he can round out his game by improving his ballhandling and his defense, he can really go places.  And he'll take the Blue Devils along with him.  Possibly complicating this outlook is Seth's having suffered a leg injury recently.  The exact nature of the injury is a bit murky, but Coach K indicated that it may bother him all season.  If Seth can play through that, I expect him to have a terrific season, and along with the other Duke seniors, cap his career by leading this Blue Devil team to significant post-season success.