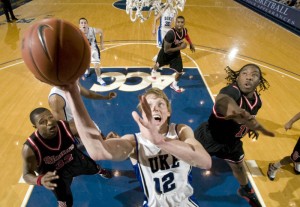 Durham, N.C. - Nothing cures a loss like a win and Duke got one today over a pesky St. John's team by the score of 80-71 pushing their record to 7-1 on the young season.  During the post=game interviews it was clear that the residual effect from a close loss to Wisconsin still lingered.
In fact, Kyle Singler was adamant in not addressing the loss, wanting instead to concentrate on today's win.  Singler once again led the Blue Devils with 17 points to go with his 8 rebounds and 4 steals.  He was helped by the rest of the fab three in Jon Scheyer and Nolan Smith.  Scheyer didn't shoot the ball particularly well but still managed 15 points. More importantly, he dished a team-high 6 assists without turning the ball over a single time.
Nolan Smith was banged up after the Wisconsin game,  but many of his 16 points came during key stretches in the game.  But the bright spot for Duke was the play of seniors Lance Thomas and Brian Zoubek, who combined for 24 rebounds and 15 points.  Both struggled against the Badgers but served notice that it was but one game.
Duke had several runs in the game, the biggest being in the first half where they scored 17 straight points after trailing 15-14.  There was a second half run of 12-2 as well.  Despite those runs, St. John's would never roll over.
It should be noted that the Red Storm also lost Justin Burrell to injury early in the game and Anthony Mason Jr. was out with a hamstring injury.  Duke defended D.J. Kennedy well, holding him to 2 points before he got into a groove and finished with a team-high 18 points for St. John's, who suffered their first loss of the season.
The Duke team was visibly drained after the game where Krzyzewski said his team got back to Durham at 4 A.M. after the loss to the Badgers during the Big Ten - ACC Challenge.
While the win wasn't a work of art, it was just what Duke needed to settle in before a much needed ten day break where the team will take exams.
Stay tuned for the locker room report and interviews from Nolan Smith, Kyle Singler, Brian Zoubek and Lance Thomas.
Tidbits - Coach Krzyzewski exhorted the Cameron Crazies before the game and spoke of getting them in the spirit in order to lift his team.  It worked well, for Cameron was good today.
- Nolan Smith has scored in double figures in every game he has played this season.
- Scheyer is shooting 90 plus percent from the free throw stripe this season and his 5 for 5 made attempts makes his season total 38 of 42.  Again, no turnover today for Scheyer.
- Miles Plumlee's block brings his total to a team-high 12 for the season.
- Duke extended its non-conference home winning streak to 73 straight.
- Duke has not lost a game in December since Michigan in 1996.
- Singler 4 steals was his personal season high.