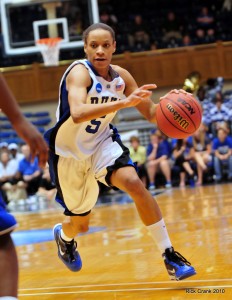 DURHAM, N.C.—Sixth-ranked and second-seeded Duke (29-5) advanced to its 12th NCAA Regional over the last 13 years as the Blue Devils downed 21st-ranked and seventh-seeded LSU, 60-52, on Monday night in Cameron Indoor Stadium.  Junior Jasmine Thomas registered 15 points and senior Bridgette Mitchell added 12 for Duke, who held LSU to only 28.6 percent shooting in the second half.
The Blue Devils will next play in the Memphis Regional on Saturday, March 27 against the winner of the West Virginia/San Diego State contest.
For a full recap, click on www.GoDuke.com
Blue Devil Postgame Notes   *  LSU *  NCAA Tournament  Second Round  *  March 22, 2010
With The Duke Victory:
Improved to 29-5 overall on the season.
Advanced to the NCAA Regionals for the 12th time out of the last 13 years.
Moved to 42-16 all-time in NCAA Tournament play.
Won its 14th straight home NCAA Tournament contest in Cameron Indoor Stadium.
Improved to 8-3 this season against ranked opponents.
Owns a 16-2 overall record in NCAA Tournament action in Cameron.
Coach P improved to 15-13 all-time in the NCAA Tournament.
Moved to 26-13 all-time against Southeastern Conference teams.
Improved to 16-1 this season at home and matched a school record with 16 home victories in 2009-10.
Is now 10-3 all-time when seeded No. 2 in the NCAA Tournament.
Coach P improved to 39-4 in Cameron Indoor Stadium.
Improved to 135-10 in Cameron Indoor Stadium over the last 10 years.
Is now 30-1 in Cameron Indoor Stadium the last two years.
Moved to 2-1 all-time against No. 7 seeds in the NCAA Tournament.
Improved to 4-3 in the series history against LSU.
Junior Jasmine Thomas
Finished the game with 15 points, five rebounds, three steals and one assist in 36 minutes.
Notched double-figure scoring for the seventh straight game and the 30th time this season.
Started her 58th straight contest.
With her five field goals attempted, now owns 484 for the season to rank fourth on Duke's single-season list.
Junior Karima Christmas
Registered nine points, six rebounds, one assist and one steal in 31 minutes.
Double-figure scoring streak was snapped at five straight games.
Senior Keturah Jackson
Notched eight points, two rebounds and three steals.
Senior Bridgette Mitchell
Collected 12 points, six rebounds and three steals.
Snapped a nine-game streak without scoring double-digits.
Scored the most points since Feb. 11, 2010 when she had 12 points against N.C. State.
Junior Krystal Thomas
Notched six points, two blocks, three rebounds, one assist and one steal in 22 minutes.
Blocked two or more shots for the fifth straight game.
Senior Joy Cheek
Had eight points, five rebounds, one assist, one block and one steal in 32 minutes.
Other Duke Notes:
Allowed a season-high 52.4 percent shooting in the first half.
Held LSU to only 28.6 percent field goal percentage in the second half.
Playing in its 16th consecutive and 17th overall appearance in the NCAA Tournament.
Improved to 25-0 this year when shooting over 40.0 percent from the field.
Moved to 21-0 this year when holding opponents to 60 points or under.
Was outrebounded, 15-11, in the first half and finished the game with a 32-27 rebounding advantage.
Outrebounded LSU, 22-12, in the second half.
Forced 22 LSU turnovers, which marks the 23rd time this season an opponent has 20+ turnovers.
Had only three offensive rebounds in the first half but came back in the second to post nine to finish with 11.
Registered 13 steals, which marks the ninth straight game with 10 or more steals for the Blue Devils.
Hit only 1-of-10 three-point field goals.
Held a 14-0 advantage in bench points.
Advanced to the Memphis Regional where it will play the winner of the West Virginia/San Diego State contest on Saturday, March 27, 2010.
Duke Head Coach Joanne P. McCallie
Opening Statement:
"It was a tremendous basketball game. There were so many ties, lead changes, and so much excitement. Very physical play out there, a terrific basketball game overall. LSU is a terrific basketball team and I am really proud of our team. Especially, the second half defense with the field goal percentage that was forced. The way our team stayed together as a unit and the way our team communicated and stayed together. Particularly, some of the plays that were made by various people, certainly the players sitting to my right here Karima Christmas, Bridgette Mitchell, Jasmine Thomas, and I have to add Joy Cheek to that list. They made big plays and very strong finishes and we were very happy to outrebound LSU because they are a terrific rebounding team and we were down in the first half in that area. We are very excited and looking forward to moving forward."
On senior class play on the game…
"I think Keturah [Jackson] is someone who was 6-of-6 last game and 4-of-5 this game. She is focused, she is relaxed, and she is quite sure of what she can do out there. She has been through a lot in her career injury wise, in particular her shoulder injury and I think she is such a committed person of integrity that she is going to take advantage of every opportunity. She is quite but remarkable.
"For Bridgette, she is kind of our city slicker, our tough hard nose. She has a lot of energy and she has become one of the best bench because of her energy because we rotate our starters. You have to love her on the bench because she is so loud and she comes in with her energy and hits those dagger shots and everything else. It was great to see her attack the way she did."
"Joy is just a very focused player, she has very high IQ about basketball. I know she was upset about her play early in the game but she didn't hang her head. She is not one to let things get to her. She let it fuel her to play better."
Senior, F/G, Bridgette Mitchell
On her offensive mindset for the game…
"I think that my teammates did a good job of finding me when I was open. All the guards we practice dribble pull-up jump shots all the time, so it was nothing different it was just open for me tonight."
On playing in Cameron Indoor…
"Cameron Indoor is always amazing. It is always a great place and to be here for the first and second rounds of the NCAA tournament is a blessing and we just embraced it.
Junior, F/G, Karima Christmas
On the team's defense …
"I think we were really trying to pressure the guards. We knew that if we put a lot of pressure on the point guards and put a lot of stress on getting it to No. 23 [Allison Hightower], that they would make some mistakes and we capitalized on those."
Junior, G, Jasmine Thomas
On what allowed the team to pull away toward the end of the game
"I just remember there was that play where we went up 46-43 and we had a stop and a rebound and we walked the ball up the floor. I think it was that moment that we really realized that it was time take control of the game and stop trading baskets. Take our time on offense, get good possessions, make second shots, and play good defense."
Senior Forward Joy Cheek
On Duke's toughness down the stretch:
"Physically and mentally … I think it shows because we played in a lot of close games … out of conference games early in the season and then late. And I think winning those games is a lot of credit to mental toughness because you've got to be able to fight through. You're tired, we pressed the whole game, we're a running team and I think mentally we're able to finish those games because we're a lot tougher mentally. And physically because we prepared in the off-season and during the season in the weight room, getting extra running, things like that. So I think when [Head Coach Joanne P. McCallie] says that we're tough out there, she means both mentally and physically."
On the difference that propelled Duke to victory:
"I think it's just digging it out. You just have to fight. We didn't want it to be our last game. People stepped up and made big plays, we played really well. Jasmine [Thomas] played well, Karima [Christmas] with her drives to the hole … We're a veteran team also – mostly made up of juniors and seniors, so I think that also is a plus for us, that we've been there, done that. And we have that mental toughness to make those big plays at the end."
On how this game compared to last year's loss against Michigan State:
"I think those games last year helped us this year, because we knew where we fell short. Last year when we played, we got mentally beat and we got physically beat – we got knocked out at Michigan State. They were a lot tougher than we were. Mentally, coming down the stretch, they made bigger plays. That was a tight game, and it could have easily gone either way. And I think they were in the game more than we were, physically and mentally. And I think that prepared us this year because we know how that feels to be on the other side."
Junior Forward Karima Christmas
On Duke's physical aggressiveness throughout the game:
"I think we just all wanted to get the hustle plays, get the loose balls, come up with the ball and just give us another opportunity to score on it. So everybody was going after the ball, pursuing the ball."
On how key rebounding was in the game:
"It was difficult because it was an even match. They box out, we box out. The height wasn't that much of a difference. So we just kind of had to battle it out and come up with key plays and rebounds."
On Duke's improved offensive rebounding in the second half:
"We only had three in the first half. We knew we had to do it because that's one of our main things. We get points off of our offensive rebounds, so we knew that was one thing we had to come out and [do]."
"Just put it in your head that you need to get the ball, pursue the ball more. Being able to get in front of them because they're boxing us out, so being in a position to get the ball."
On the team's mindset heading into the next round of NCAA Tournament play:
"[We are] just taking it one game at a time. We find out who we play tomorrow, and just getting our scouting reports and doing what we have to do to get it done."
Junior Guard Jasmine Thomas
On the team's mindset in the final minutes of the game:
"I think that always has to be the mentality when you're playing against a good team, is trying to be scrappy and come from behind because you can get caught up in the fast play and make mistakes like they want you to."
On Duke's lead in the closing minutes:
"We finally got control of the game. And it was all stops down the stretch and more rebounds … During the whole game, we couldn't really buy a rebound put-back, but we got some down the end of the game."
On the team's preparation heading into the next round of play:
"You need a day to rest so you can be ready to keep going. But you definitely take tomorrow off, you take that time to … catch up on work and be ready to be back at it."
On the team's determination after losing in the second round of the tournament last year:
"It's nothing that we didn't think we could do, but I think just after what happened last year and in the past, it's good to get back to this point so we go on to prove ourselves from here."
Senior Guard Keturah Jackson:
On finishing her career in Cameron with a win:
"That's the whole story right there. Not so much it being my last game in Cameron but really just wanting to extend the season as long as we can. And I just wanted to contribute any way I could, and if it's hustle plays, then that's what it was. I don't think I was thinking to make the play – I was just playing in the moment."
On her composure during the game:
"I think that's just something that our team needs. We've been in this situation many times, we've been in close games. The ACC [Tournament] first round, we won by one point, so we've been in this situation many times. I think it's just the confidence I have in my team and our coaching staff, that we've faced everything so we can overcome this too."
On switching from man-to-man to zone defense and how it helped Duke stop LSU's Allison Hightower:
"I think [LSU is] a very good penetrating team, so the zone helped us to pack down the lane. [We had] just a lot of communication in the zone and in defense. When you have a player like [Hightower], we just have to talk a lot, and that's what got the job done for us."
LSU Head Coach Van Chancellor
Opening Statement:
"I'm really proud of our team. This is the proudest I've been of our team all year, even though we lost the game. I thought we left it all on the floor today. I thought our kids came to play and we gave it everything we had. Duke's just got a great team and they got a really good team here. Their style of play and playing here with all those fans on top of you, the way they press you, they cause a lot of problems. We hung in and played hard and played as good as we could. We gave it everything we had. When I coach, and I've coached a long time, I like to coach teams that give me everything they got; I thought we did that tonight. It felt like a Sweet 16 game that puts you on to the Final Four, that's how the intensity was. We did something tonight that was uncharacteristic, we don't ever do it. I've been at LSU for three years, and we' have led the SEC in assists-to-turnovers. We just don't turn the ball over that much. We're not a turnover-prone basketball team. Part of that tonight was self-inflicted. And then part of it was, give it up to Duke they just have so many athletes that are about 6'1" and those arms make them play about 6'3". Give them credit. They hung in; we fought them. They did a nice job. Joanne [McCallie] has done a nice job of kind of changing this team into a multiple defensive team and that gives them an opportunity. I do think this, we did a great job on the boards till the very end, but I thought that was because we gave out. That was one of my concerns, rebounding, but I was pleased with that. Let me just say this, I came to LSU in '07 and if Allison Hightower had transferred, LSU's program goes rock-bottom. Allison Hightower stayed and we built this program around her for three years."
On Allison Hightower:
"I'd probably say she's been the ultimate teammate. She's a lot different than she is around me. She's funny and she does a lot of things to make them laugh and they just love her to death. You can see how they feel. We're going to take about three players to replace her. And they're going to have to get a whole lot better coach."
On trying to extend the lead:
"I never did think we had to build a cushion. We had two shots … we got two unlucky breaks. We opened up right off the bat, right at the start of the second half and Boogie [LaSondra Barrett] has the ball and we're about to pass for Allison for a lay-up and she loses the ball and fouls and I had to take her out of the game. That was with about 12 minutes to go. We got two really good looks and missed. Then we lost one key rebound. I never did think we needed a cushion. I thought we were going to have to make shots. Maybe I was wrong there. It felt like at that time that we were matching them play-for-play. When you come down in a close basketball game, one possession right after the other, you get the ball about two feet from the basket and it goes up on the back rim and pops out and the other kinda spins around, that's hard to overcome emotionally. Especially when they're going down on the other end and really being tough and sticking it back in."
On matching up against Duke's different defensive schemes:
"They played us man and I wanted to start down there and tell Joanne [McCallie] to stay in the man. Cause when we were in man, we were running a little play we have and we were running our motion post exchange and Hightower was getting one shot after the other. When they went to that 1-2-2, zone, they're so big in it, it makes it look like they have six players out there. That's hard to get in the gaps of it. When we got in the gaps of it we turned the ball over. Forget everything else, you turn the ball over 22 times against a team this good on the road, it's hard to overcome. I don't care what else you do. We did pretty good, points in the paint, points off of turnovers wasn't too bad. You cannot give a team 22 more possessions, of course we forced them into 19 turnovers so that's plus-3 and that's kinda where the game is."
On three players playing 40 minutes:
"I thought the two little missed shots at the end of the game … we told them ahead of the game, they got to play 40 minutes and take a two-minute break. I mean they're not but 20 years-old. You're not working down coal mines of West Virginia. This is basketball, play. I wanted them not to think that. I told the staff I wasn't subbing. What hurt was, my back-up point guard got a concussion and I couldn't play her. So when I couldn't play her, I have two freshmen on my bench. I wasn't going to put those two freshmen in, I'm going to tell you that now. Play till you drop. We'll carry you to the hospital after the game. We got a week to before we play again. That was a psychological ploy. I did not think that hurt us. You got a key turnover late in the game where she might've got nudged but she said it wasn't too bad. Then you missed a little shot. Just the turning point of a close game. If you didn't care who won, I bet it was a heckuva game. So happens I just care who won it."
On what LSU needs to make a Final Four run:
"One great shooter. One person who can just out there and stick the ball in anytime from any place. I got one coming in. I need to recruit one more. Where do you think Duke is? How far are they from going to a Final Four? They're pretty close. We're pretty close to them. Would you think Duke's pretty close? I can think of only one problem with Duke, I wish that dang athletic director of mine hadn't hired Joanne [McCallie]. I wish he hired a mad coach. You want to know the truth. I'm kidding. I wish Al Brown had gotten the job at Michigan State and he wasn't here with her too. We're just wishing, let's wish for everything."
On the defensive scheme for Jasmine Thomas:
"Jasmine Thomas is the best point guard we've seen all year. But I thought the difference maker for Duke tonight was (Bridgette) Mitchell. Jasmine Thomas did about what I thought she'd done. I'm not taking anything away from her. She did about what I thought she'd do. She hurt us, but I thought we did a good job on her. Mitchell was the one that hurt us. She made some dagger shots. I was surprised. Duke's going to go to Memphis and play better. Sometimes when you play at home you want to win at home in front to your fans and it puts a lot of pressure on you. But if you haven't seen Tennessee play, ohhhh. Lord they're big. They're built like a men's basketball team in height. I wanted to make sure you understood that."
Senior Guard Allison Hightower
On hitting shots early in the game:
"I felt good about it. My teammates were screening for me and getting me the ball. I was really fortunate to knock them down early. Once I started getting the ball, they started biting on it and paying me a lot more attention and it opened up for everybody then."
On Duke's defensive pressure:
"Duke's defense is really tough. They're aggressive, they're very long, very quick. I give credit to their defense. They're very tough. You get tired if you go hard the entire game, but I give credit to their defense."
On playing her final game:
"I wasn't thinking about it on the court. I just wanted to continue to play. You can't really think about it. Just playing till the clock hits zero, so I just wanted to continue to play. It has set in; my college career is over. I hope that I can set an example for my teammates to continue to work hard, continue to do good on and off the court … just continue to be great people."
Sophomore Forward LaSondra Barrett
On the environment in Cameron:
"I think it's a lot. As you see, their fans motivate them. For much of the game, we had them pretty quiet, but every steal or and-one that they get, it really excites their fans. It's like a motivation for them. I guess we just have to keep fighting. We should have just kept fighting through that. It's a tough environment."
----
Official Basketball Box Score -- Game Totals -- Final Statistics
#21/-- LSU vs #6/6 Duke
3-22-10 7:11 PM at Durham, N.C. (Cameron Indoor Stadium)
--------------------------------------------------------------------------------
VISITORS: #21/-- LSU 21-10
TOT-FG  3-PT         REBOUNDS
## Player Name            FG-FGA FG-FGA FT-FTA OF DE TOT PF  TP  A TO BLK S MIN
22 Courtney Jones...... f  5-8    1-2    0-0    1  8  9   3  11  1  2  1  2  31
55 Lasondra Barrett.... f  5-12   0-1    2-2    1  2  3   3  12  3  4  0  0  31
01 Katherine Graham.... g  2-6    0-0    2-2    1  3  4   2   6  1  5  1  4  40
20 Destini Hughes...... g  2-5    0-2    0-0    0  2  2   1   4  6  6  0  2  40
23 Allison Hightower... g  6-16   1-2    6-6    1  2  3   4  19  2  4  0  0  40
02 Jasmine Nelson......    0-0    0-0    0-0    0  0  0   0   0  0  0  1  0   2
35 Taylor Turnbow......    0-1    0-0    0-0    1  2  3   2   0  0  1  1  1  16
TEAM................                         2  1  3
Totals..............   20-48   2-7   10-10   7 20 27  15  52 13 22  4  9 200
TOTAL FG% 1st Half: 11-21 52.4%   2nd Half:  9-27 33.3%   Game: 41.7%  DEADB
3-Pt. FG% 1st Half:  1-3  33.3%   2nd Half:  1-4  25.0%   Game: 28.6%   REBS
F Throw % 1st Half:  2-2  100 %   2nd Half:  8-8  100 %   Game: 100 %    0
--------------------------------------------------------------------------------
HOME TEAM: #6/6 Duke 29-5
TOT-FG  3-PT         REBOUNDS
## Player Name            FG-FGA FG-FGA FT-FTA OF DE TOT PF  TP  A TO BLK S MIN
13 Karima Christmas.... f  2-6    0-1    5-5    2  4  6   3   9  1  2  0  1  31
21 Joy Cheek........... f  3-7    0-2    2-2    2  3  5   4   8  1  5  1  1  32
34 Krystal Thomas...... c  2-3    0-0    2-3    2  1  3   2   6  1  4  2  1  22
05 Jasmine Thomas...... g  5-16   1-4    4-4    0  5  5   2  15  1  4  0  3  36
31 Keturah Jackson..... g  4-5    0-0    0-0    2  0  2   3   8  1  0  0  3  31
03 Shay Selby..........    0-0    0-0    0-0    0  1  1   0   0  0  1  0  1   6
15 Bridgette Mitchell..    6-11   0-3    0-0    2  4  6   1  12  0  3  0  3  27
43 Allison Vernerey....    1-4    0-0    0-2    0  2  2   1   2  0  0  0  0  15
TEAM................                         1  1  2
Totals..............   23-52   1-10  13-16  11 21 32  16  60  5 19  3 13 200
TOTAL FG% 1st Half: 11-26 42.3%   2nd Half: 12-26 46.2%   Game: 44.2%  DEADB
3-Pt. FG% 1st Half:  1-6  16.7%   2nd Half:  0-4   0.0%   Game: 10.0%   REBS
F Throw % 1st Half:  2-4  50.0%   2nd Half: 11-12 91.7%   Game: 81.3%    1
-------------------------------------------------------------------------------
Officials: Beverly Roberts, Joe Cunningham, Angelica Suffren
Technical fouls: #21/-- LSU-None. #6/6 Duke-None.
Attendance: 4044
Score by Periods                1st  2nd   Total
#21/-- LSU....................   25   27  -   52
#6/6 Duke.....................   25   35  -   60
Points in the paint-LSU 24,DUKE 26. Points off turnovers-LSU 18,DUKE 14.
2nd chance points-LSU 8,DUKE 12. Fast break points-LSU 3,DUKE 6.
Bench points-LSU 0,DUKE 14. Score tied-15 times. Lead changed-7 times.
Last FG-LSU 2nd-00:16, DUKE 2nd-01:24.
Largest lead-LSU by 7 1st-12:18, DUKE by 8 2nd-00:01.