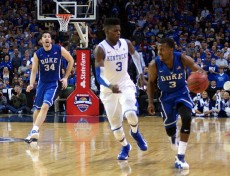 For the Blue Devils, the scene now shifts to The Bahamas, of all places, for the inaugural Battle of Atlantis.  First up is a matchup on Thursday with the Minnesota Golden Gophers, coached by Tubby Smith, who is now in his sixth year with the school.
The Gophers are coming off a 23 win season, though they did lose 15 games as well, a campaign that saw them make a run all the way to the finals of the NIT, where they were trounced by Stanford at Madison Square Garden.  Along the way to New York, Minnesota handled both Miami and Washington, so the run was no fluke.  The 23 wins was the most for a Minnesota team since 1990, and it resulted in a contract extension for Smith.
This season has started off smoothly for Minnesota.  They opened with three easy wins, against American, Toledo, and Tennessee State, and followed those up with a 15 point decision over the always tough Richmond Spiders.  So at 4-0 the Gophers have to be feeling pretty good about themselves heading into the matchup with Duke.
Minnesota lost big man Ralph Sampson III off of last year's squad, but brings back plenty of experience.  Senior forward Rodney Williams Jr. and junior guard Austin Hollins are the Gophers' leading scorers at 14.5 ppg.  The 6'7" Williams, who led Gopher scorers with 12 ppg last season, is shooting an absurd 73% from the field, while the 6'4" Hollins is very solid at 55%, including 44% from three-point land.  Williams is also the leading rebounder on the squad with 6.5 per game, backed up by 6'8" 245 pound forward Trevor Mbakwe, who is grabbing six boards per game. Mbakwe, who missed all but seven games last year after tearing an ACL, was granted a sixth year of eligibility by the NCAA.  The leading assist man for the Gophers is Andre Hollins, who is dishing out five per game, with a 2:1 assist-to-turnover ratio.  His 14 points and 7 assists in 32 minutes were key in the win over Richmond.  Sophomore shooting guard Joe Coleman, who is the third double digit scorer at 10 ppg, and 6'11" 260 pound sophomore center Elliot Eliason round out the starting five.
With Mbakwe back from the ACL, the Gophers feel like they finally have some depth on their roster that they can count on, unlike in recent years.  They're going to need it, as the Duke team they face down in the Bahamas has been developing quality depth of its own.  The perimeter rotation of Seth Curry, Rasheed Sulaimon, Quinn Cook, andTyler Thornton is going to put a lot of pressure on Minnesota at both ends, and it seems unlikely that the bulky Eliason is going to be able to handle the ultra-athletic Mason Plumlee underneath, especially when Mason plays with the kind of confidence he has been displaying thus far this season.  In fact, I would expect to see Duke keep Mason on the move against Eliason or Mbakwe, as neither is likely able to keep up with him.  Minnesota is a quality team, and they're well-coached of course by Tubby Smith, but they don't appear to have the type of breakout scorer or enough quality athletes to be able to actually beat a team like Duke.  What would be nice would be to see Plumlee to continue to dominate the floor at both ends, Quinn Cook to continue to find guys in the halfcourt and on the break, Ryan Kelly find his shooting stroke -- and his shot should be available against the interior-oriented Mbakwe, unless the Gophers use Mbakwe to try to contend with Plumlee -- and to try to get Amile Jefferson and even Alex Murphy more involved as well.  I see no reason why any of those things can't happen in this game.  That's not to say they all will, but several of them should, and the result should likely be a Duke victory.