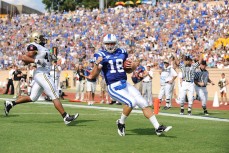 Only wins cure ills
Duke got a much needed victory on the road at Navy and nothing cures ills like a win.  Duke was in desperate need of a few plays going their way and that happened in a 34-31 road win.  The Blue Devils now know they can move the ball and that should bode well down the stretch.
Sean Renfree is back
What an amazingly effective performance from Sean Renfree where he missed a mere two passes and his receivers caught the ball for him.  Heck, even a drop went right through Conner Vernon's hands, but no biggie for the wideout had another big game.  Renfree got his confidence back and we knew all along that he was a much better signal caller than he showed in recent weeks.  This is a performance which you can build on and expect the effort to carry over down the stretch.
Don't knock Cutcliffe
Okay, Cut sat Sean Renfree late but one needs to look at the big picture before they complain.  Renfree had a great game and there was no way Duke would gamble and take a chance of him throwing an interception that would have thwarted the progress made with his confidence.  Instead, Duke ran down the clock behind Brandon Connette and it was the right thing to do when looking at the big picture.
Three and a half quarters
I will admit that I thought Duke was on the verge of putting together four full quarters and they almost did.  Navy rallied late and scored 24 points in the final quarter but had the defensive backs held on to sure interceptions and cut out untimely penalties that wouldn't have been the case.  Navy picked on one DB all day long but we'll not call him out and we hope he gets it together by the UVA game.
Speaking of the UVA game ...
Duke should compete with the Cavaliers and have a chance at a much needed ACC victory which is the next step in closing the season on a positive note.  Fans need to turn out and help their Devils this coming Saturday for a two game winning streak is a possibility.  Before you get to confident though, remember how close the Cavaliers played USC on the road and of course, they took care of Miami this past week in a huge upset win.
Kelby Brown has a bright future at Duke
Duke linebacker Kelby Brown has been a pleasant surprise for this seasons team, despite the fact that he is but a true freshman.   Brown is showing early signs of being a leader for years to come and he simply has a nose for the ball.
Matt Daniels is a player
The Duke secondary has struggled this season but Matt Daniels has been a constant and his huge tackle for a loss versus Navy helped the Blue Devils claim their second victory of the season.  Daniels is a playmaker and I have a feeling he has some big ones coming before the season ends.