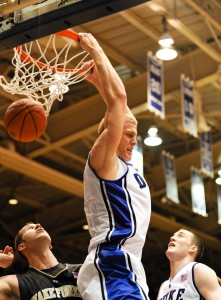 Game 30
[4 AP/4 Coaches] Duke (25-4, 12-2 ACC) vs. [22 AP/23 Coaches] Maryland (21-7, 11-3 ACC)
Wednesday, March 3, 2010  •  9:00 p.m.  •  ESPN
Comcast Center (17,950)  •  College Park, Md.
The Opening Tip
Duke (25-4, 12-2 ACC), ranked fourth in the AP poll and the ESPN/USA Today Coaches' Poll, travels to College Park to play Maryland (21-7, 11-3 ACC) at the Comcast Center on Wednesday, March 3 at 9:00 p.m. The game will air on ESPN with Dan Shulman, Jay Bilas and Erin Andrews calling the action. With a win on Wednesday, Duke would clinch its 12th ACC regular season title under Mike Krzyzewski.
The Last Time Out
Duke recorded its eighth straight win with a 67-49 victory at Virginia on Sunday. Kyle Singler scored 21 points and Jon Scheyer added 20 points in the contest. The Blue Devils have now had 14 games with two or more 20-point scorers in a game this season.
Scheyer went 8-of-14 from the field, including 4-of-7 from three-point range, and added three rebounds, three assists and five steals in the game.
The Blue Devils limited Virginia to 31.4 percent (16-of-51) shooting, including 16.7 percent (2-of-12) from three-point range. The 49 points matched the third-lowest point total allowed on the year.
Duke 77, Maryland 56 - Feb. 13, 2010
Duke topped the Terrapins earlier this season as Jon Scheyer netted a game-high 22 points. Senior Brian Zoubek added 16 points on 7-of-10 shooting from the field and a career-high 17 rebounds (eight offensive rebounds) in the win.
Numbers Game
l Duke is ranked fourth in the AP poll, marking the 53rd consecutive week ranked in the top 10. The Blue Devils are 43-7 all-time when ranked fourth in the AP poll.
l The Blue Devils lead the NCAA in three-point defense at 26.7 percent (108-of-405). Duke has held the opposition to 19.6 percent (21-of-107) shooting from behind the arc during its current eight-game win streak.
l Duke has outscored the opposition 195-63 from three-point range during its eight-game win streak. Jon Scheyer and Kyle Singler have 26 and 25 three-point field goals respectively in that span.
l The Blue Devils have won five straight conference road games and are the only team in the ACC guaranteed to finish the year with a winning road record in league play. Head coach Mike Krzyzewski collected his ACC-record 134th league road win on Sunday against Virginia.
l Kyle Singler is averaging 19.5 points and 3.2 three-point field goals over the last eight games. He is shooting 50.0 percent (25-of-50) from three-point range in that span.
l Jon Scheyer leads the ACC in three statistical categories and is the only player in the league to rank in the top 5 in seven statistical categories: scoring (third, 18.8 ppg.), assists (fourth, 5.3 apg.), free throw percentage (first, .887), three-point field goals (first, 2.9 3pg.), three-point field goal percentage (second, .409), assist-to-turnover ratio (first, 3.06:1) and minutes (second, 36.4 mpg.).
l Brian Zoubek is averaging 7.8 points and 10.6 rebounds (4.8 orpg.) since joining the starting lineup five games ago. He is second in the ACC in offensive rebounds (3.3 orpg) and ranks 14th in total rebounds (6.9 rpg.). Zoubek is three offensive rebounds shy of becoming the ninth player (12th time) in Duke history to grab 100 offensive rebounds in a season.
l Junior Kyle Singler ranks in the top 10 in eight statistical categories in conference play: scoring (fifth, 18.1 ppg.), rebounds (t-seventh, 7.1 rpg.), field goal percentage (ninth, .410), three-point percentage (first, .420), three-point field goals (t-third, 2.4 3pg.), offensive rebounds (t-fifth, 2.6 orpg.), defensive rebounds (t-10th, 4.4 drpg.) and minutes (third, 37.8 mpg.).
l Jon Scheyer has topped the 20-point mark in nine of Duke's 14 league games (tied for the most in the ACC). Kyle Singler is tied for third in the conference with seven 20-point games in ACC play.
Checking in on ...
#2 Nolan Smith - +9.0 ppg. increase from a year ago is second-best in the ACC ... shooting a career-best 41.0 percent from three-point range ... fourth in the ACC with 12 games with 20+ points scored ... double figures in 25 of 27 games played
#5 Mason Plumlee - Second on the team with 21 dunks ... fourth with 20 blocks ... season-high nine rebounds vs. North Carolina
#12 Kyle Singler - Five double-doubles and six games with 10+ rebounds ... averaging 19.5 points per game during current eight-game win streak ... 25 three-point field goals in that span
#20 Andre Dawkins - Fourth on the team with 30 three-point field goals ... shooting 37.5 percent from three-point range
#21 Miles Plumlee - Leads the team with 28 dunks ... shooting 56.9 percent (66-of-116) from the field
#30 Jon Scheyer - 20+ points in six of the last 10 games ... ranks in the top 10 of the ACC in eight statistical categories ... leads the league in free throw percentage, three-point field goals and assist-to-turnover ratio ... second in the ACC with 14 games with 20 or more points ... three-time ACC Player of the Week
#34 Ryan Kelly - 14 blocked shots ... one of five Blue Devils with 10+ blocks
#42 Lance Thomas - Leads the Blue Devils with 12 charges taken ... 5 or more rebounds in nine of the last 12 games
#55 Brian Zoubek - Four or more offensive rebounds 12 times ... averaging 16.6 rebounds per 40 minutes played ... seven double figure rebounding games