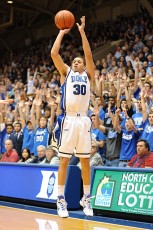 If you haven't been impressed by Duke (9-0) to date, then perhaps today's 90-67 win over a formerly undefeated Temple team will convince you that these Blue Devils are pretty good. With an eleven day break coming up, Duke Coach Mike Krzyzewski and his Blue Devils disposed of another undefeated and well-respected team in Temple.  And they made it look easy.
Duke, ranked second in the country in both polls, jumped out to an early lead and essentially never looked back.  Yes, the Owls made some runs at them, and they never said die, but there was little doubt which team was in control of this game from the outset. The Blue Devils used a 22-8 run in the first half that turned a 13-10 lead into a 35-18 advantage, and were never seriously threatened from there.
Once again, the Blue Devils featured a balanced attack, one in which all five players on the court have to be accounted for in that each can hurt you. Duke had four players in double figures and three of those were their three senior leaders, Seth Curry, Mason Plumlee, and Ryan Kelly. Curry led the way for Duke with 23 points and showed no ill effects from an ankle injury which had forced him to sit out of the Blue Devils last game versus Delaware. Plumlee had yet another league leading double-double with 16 points and 14 rebounds, while Kelly added 14 points and 10 rebounds for his third career double-double.  It is this trio that has perhaps been the main reason for the Blue Devils looking so efficient against an incredibly challenging schedule to date. But today, sophomore point guard Quinn Cook added 14 points and had 4 rebounds, steals and assists. It appears that his new-found consistency is here to stay.
Freshman Rasheed Sulaimon had eight points for Duke, so this team was close to having all starters going for double figures, as they scored a season high 90 points. While that may seem like a low number to constitute a season high, please remember the difficulty of the schedule Duke has played thus far.
The thing which impressed me about Sulaimon today was his willingness to defer to teammates. In fact, all the Dukies have done that all season long and it makes for some clean basketball, with the focus on winning.  Unselfish, clean basketball is a beautiful thing.
One again, in the win over Temple, Duke was efficient in many areas of the game.  They shot 60% from beyond the three-point stripe, going 12 of 20, and got to the free throw line 20 times.  The team committed a mere six turnovers.  Duke also caught Temple off guard a little bit by pushing the ball early when the opportunities were there.  This knocked the Owls back on their heels on more than one occasion.
The Blue Devils also played good defense for much of the game, forcing Temple to take more threes than they're accustomed to. Kahlif Wyatt and Scootie Randle, the Owls leading scorers, were held to 12 points between them.
Duke improved to 20-1 under Coach K in games played at the Meadowlands. The Blue Devils have won 11 straight at the venue dating back to a 77-75 loss to Arizona on Feb. 26, 1989.