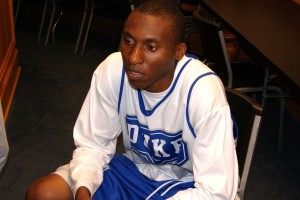 Game 6 * NIT Season Tip-Off Final
[7 AP/7 Coaches] Duke (5-0) vs. [13 AP/13 Coaches] Connecticut (4-0)
Friday, Nov. 27, 2009 * 5:00 p.m. * ESPN
Madison Square Garden (19,763) * New York, N.Y.
The Opening Tip
Duke (5-0), ranked seventh in the AP poll and the ESPN/USA Today Coaches' Poll, faces 13th-ranked Connecticut (4-0) on Friday, Nov. 27 at 5:00 p.m in the final of the NIT Season Tip-Off. Friday's contest will be aired by ESPN with Dan Shulman, Dick Vitale and Doris Burke calling the action.
The Last Time Out
Duke is coming off a 64-53 win over Arizona State on Wednesday in the semifinals of the NIT Season Tip-Off.
Senior Jon Scheyer led the way with 16 points, four rebounds and six assists, while Nolan Smith scored 14 points. Junior Kyle Singler added 13 points, eight rebounds and five assists in the win. Freshman Andre Dawkins contributed eight points, including a pair of three-point field goals.
The Blue Devils held Arizona State to 39.1 percent (18-of-46) from the field, including 28.6 percent (6-of-21) in the second half. Duke has now held the opposition below 40 percent shooting in four straight games.
NIT Season Tip-Off History
Duke is 21-2 all-time in the NIT Season Tip-Off, including an 9-2 mark at Madison Square Garden. The Blue Devils have won 11 straight games in the tournament. Duke won the first NIT Season Tip-Off championship in 1985 and also claimed tournament titles in 2000 and 2005.
Numbers Game
l Mike Krzyzewski (837) and Jim Calhoun (809) have combined for 1,646 career wins. Friday's contest marks the first meeting between 800+ win coaches.
l Duke is 26-2 in in-season tournaments over the past nine seasons. The Blue Devils have won 10 straight in-season tournament games.
l Duke is 24-14 all-time, including a 19-6
mark under Mike Krzyzewski, at Madison Square Garden. The Blue Devils have won four straight and 11 of their last 12 games at MSG.
l The Blue Devils are 101-10 in the month of November under Coach K. Duke has won 21 straight games in the month, dating back to a Nov. 21, 2006 loss to Marquette.
l The Blue Devils have won six of their last nine games and are 104-44 all-time against current Big East teams.
l Kyle Singler has scored in double figures in 20 straight games and in 64 of 76 career contests.
l Sophomore Miles Plumlee is averaging 10.2 points and 8.6 rebounds per game after recording 1.8 points and 1.4 rebounds per game a year ago. He has four double figure scoring games and two double-doubles on the year.
l Jon Scheyer has 27 assists and just two turnovers in 171 minutes of action on the year. The Northbrook, Ill., native has led the Blue Devils in assists in all five games and leads the ACC in assist-to-turnover ratio at 13.5:1.
l Junior Nolan Smith has reached double figures in scoring in three straight games. He is averaging a team-high 19.3 points per game, a scoring jump of +10.9 ppg. from a year ago.
l Andre Dawkins has a team-best 14 three-point field goals on the year. He is shooting 48.3 percent (14-of-29) from three-point range and has made two or more threes in four of five games. Dawkins ranks third in the ACC in three-point percentage.
l Senior Brian Zoubek ranks third in the ACC in offensive rebounds at 4.4 orpg. He also ranks 12th in the conference at 8.0 rebounds per game, despite playing just 15.0 minutes per contest.
l Duke has held its last four opponents under 40 percent shooting from the field. The Blue Devils are 296-9 under Mike Krzyzewski when holding opponents under 40 percent shooting.
l The Blue Devils limited Arizona State to 53 points on Wednesday and have now held three of their five opponents under 60 points scored.
l Duke leads the ACC in free throw percentage .722 (80-of-103) and ranks second in three-point percentage .422 (47-of-112).
l Jon Scheyer, Kyle Singler and Nolan Smith each played the entire 40 minutes in Wednesday's win over Arizona State. The trio combined for 43 points, 14 rebounds and 12 assists in the game