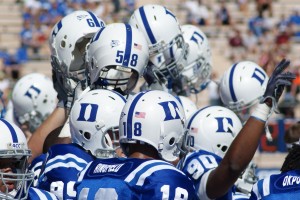 SCOUTING THE BLUE DEVILS
Last time out
Duke defeated Virginia in Charlottesville, 28-17 last Saturday. Thad Lewis, Will Snyderwine, and Conner Vernon were named ACC Players of the Week for their efforts in the victory. Lewis completed 24/40 passes for 343 yards, including a 42-yard touchdown to freshman Conner Vernon. The touchdown strike came against a strong pas rush during a crucial 4th quarter drive, putting Duke up 18-17 with 3:45 to play. Vernon finished with 7 catches and 103 yards to match his high school teammate, Donovan Varner, who finished with 7 catches and 113 yards. Despite the statistics, the Blue Devils' passing attack was constantly challenged by the talented Cavaliers' secondary, and it was Nick Snyderwine who accounted for much of the Blue Devils' scoring, including three first half field goals of 44, 28, and 34 yards. In a fitting conclusion, Snyderwine connected on his fifth field goal of the day, from 43 yards out, to seal the 28-17 win.
The Duke defense was again the unsung hero, holding the Virginia offense to 196 total yards. The Virginia rushing attack was never able to gather momentum, forcing the ball into quarterback Jameel Sewell's hands on key downs. The Blue Devils were able to pressure Sewell into poor throws in the windy conditions, holding the Cavaliers to 4 of 16 on third downs. The defense sealed the win with a forced fumble recovery for a touchdown late in the 4th quarter.
SCOUTING THE TAR HEELS
Last time out
North Carolina pulled off the improbable upset at Lane Stadium last Thursday night, 20-17. Kicker Casey Barth connected on a 21-yard field goal as time expired to give the Tar Heels the victory. As has been the case all season for North Carolina, the Tar Heel defense was dominant, holding Virginia Tech to 11 first downs and just 95 rushing yards (2.9 yards per carry). The Hokies were held scoreless in the first half, and 2 second half touchdowns by Tyrod Taylor proved to be too little, too late. Quarterback T.J. Yates and a balanced North Carolina rushing attack were good enough to control the clock in the second half, culminating in Barth's game-ending field goal. The rushing attack, led by Shaun Draughn and Ryan Houston, totaled 181 yards on 42 attempts.
Season
It has been an up and down season for the Tar Heels. Initially ranked in the top 25 with a 3-0 start, the Tar Heels then opened their ACC season with three conference losses to Georgia Tech, Virginia, and Florida State. The Tar Heel offense has struggled this season, relying on the defense to keep the team in games, and in some cases, win them, as was the case with a late fourth quarter safety in a 12-10 win at Connecticut.
After a devastating collapse to Florida State at home on national television, however, the Tar Heels responded with an impressive showing last week at Virginia Tech. They will look to continue their winning ways this weekend against the Blue Devils. Offensive coordinator John Shoop was able to get the ball to his playmakers, namely Greg Little, Shaun Draughn, and Ryan Houston, on key plays at Virginia Tech. Against the Blue Devils, expect a heavy dose of Draughn and Houston, with Little mixed in for his big play potential.
Injuries
Senior LB Abraham Kromah is listed as questionable for the Blue Devils. CB Lee Butler is expected to return after missing last Saturday's game. Of note, senior RB Re'quan Boyette was not listed on the injury report for the first time this season.
Carolina has been hit with injuries throughout the season; depth will be a concern for both teams at several key positions.
Trends and numbers
For the first time in a long time, both Duke and Carolina enter this game with winning records of 5-3. At 3-1, Duke controls its own destiny in the ACC Coastal Division and can set up a first-place showdown with Georgia Tech with a win in Chapel Hill.
UNC has won 18 out of 19 in the series. Duke's last win was in 2003.
UNC defeated Duke 28-20 in Wallace Wade Stadium last season, capping off David Cutcliffe's first year at Duke with a 4-8 record. The Tar Heels went on to lose to West Virginia in the Meineke Car Care Bowl.
Thad Lewis has thrown for over 300 yards in 4 straight games. Donovan Varner and Conner Vernon have both had 2 consecutive 100-yard receiving games.
The Blue Devils have scored first in their last 6 games, including four scores on their opening drives. A fast start in a hostile road environment will be important for the Blue Devil offense.
Closing Thoughts
The greatest rivalry in sports takes to the gridiron this Saturday in Chapel Hill. For the second straight week, the Blue Devils' high-flying passing attack will face a stiff test in the Tar Heel defense. Last week, the Blue Devils were able to find the end zone when it mattered, and will have to do the same against a terrific Carolina pass rush. The Blue Devil defense will have to continue to make big plays, keeping the ball out of the hands of the Tar Heel playmakers, by limiting the running lanes for Draughn, Houston, and Little. If you can't make it to Chapel Hill this weekend, be sure to catch all 4 quarters on ESPNU, as this latest matchup in the classic rivalry is likely to go down to the wire.