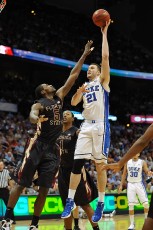 Goliath can rumble around his landscape and defeat a lot of foes along the way but once in a blue moon David will come along and take careful aim with his rock and slay the giant. 
In a sense that's what happened last evening when a not so well known Lehigh team knocked off the traditional power in an upset heard round the world.
Even late this afternoon, ESPN.com is still running the upset as it's top headline and poor Blue Devil followers have to turn on CBS and hear the likes of UNC alumnus Kenny Smith gloating in public despite the fact that media is supposed to act in an objective manner. 
That's the way it is when your team is coached by the winningest coach in NCAA history and a program that has set the standard or model of sustained excellence.
It will not get any easier for the Blue Devil Nation be it the team or fans for the haters and there are many, will take shot after shot at the supposed demise of Duke.
Make no mistake, this Blue Devils team should not have lost to a 15 seed in a Greensboro Coliseum that has been akin to Cameron West in the past several years. 
Many of those 10 of 14 ACC Tournament Championships happened in the facility and the Blue Devils seemed poised to face Xavier tomorrow but every now and then the basketball God throws you a curve ball and the pitch was a nasty one in this case leaving the Blue Devil locker room in disbelief.
This years team has been a victim of lofty expectations despite the loss of Kyrie Irving, Nolan Smith and Kyle Singler and there was really no way they could have achieved a lot more than they did.
This team never really developed that one true leader and that's something which is a must but some players personalities just don't fit the mold.
The Blue Devils hid a lot of weaknesses all season long and for the most part had a great season, finishing a game out of the regular season title and having won against a loaded field in Hawaii.
In the end, somehow, someway, the offense sputtered in a miserable fashion and an improved defense simply could not stay in the lane of victory while it was further developed with the loss of Ryan Kelly.
There were times in the loss to Lehigh where it seemed like the opposition was playing the vaunted man to man defense has played a part in so many wins at Duke and that was disturbing.
But one cannot take away a thing from Lehigh for they put it all out there for 40 minutes and played in a consistent and edgy manner the whole game and quite frankly, they did what it took to win by making huge players when they were needed.
Like the Florida State loss in the ACC Tournament, Duke just could not find a stop when they most needed one and the vision of a Mountain Hawk breaking down court for a dunk still haunts many.
But it is in a bitter defeat that some players find themselves and you have to experience the pain of a loss in basketball to enjoy the victories.
In recent years the Duke fan base has become spoiled beyond belief, demanding perfection and expectations come with the turf, but those same fans need to on occasion take a loss in in order to get hungry again and realize victories are not a given.
It tickles me how some feel sorry for themselves and lash out on message boards questioning everything from what  flavor Gatorade was the team drinking to some really out there conspiracy theories.
Yep!  A loss for Duke is a big deal and there is simply no short cut to deal with the pain but some average perspective should allow the fan base and the program to absorb this loss.
It's a sunny day in Durham on the outside, but there is a lot of clouds in the minds of many and sometimes, it's just the way it goes.
But Duke Basketball is alive and well and they'll be  heard from again. And maybe in next years tournament they'll be the one doing the heart breaking.
A friend once told me there are times when you simply need to pull yourself up by the boot straps and man or woman up.  This is one of those times when the entire Blue Devil Nation should consider following sound advice.
The joy of Duke Basketball hasn't gone away forever, just for a few dreary days.