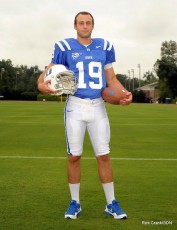 Blue Devil Nation recently  caught up with an upbeat Sean Renfree who spoke of his rushing touchdowns and overall play against Tulane.  This session was shared and a good portion of the questions were from my pal, Al Featherston of GoDuke.com
How does Duke keep this two game winning streak going?
We've got to keep working.  We have some injuries on the team, so we need young guys to come up and step into those positions which I'm sure they will.  If we continue to work and get better we can follow the momentum to the next game.
Were you glad that the Connette or Boone package was sacked in favor of you in the red zone against Tulane?
I don't think about it that way but we had success every time we were down there against Tulane.  We were able to run it, throw it and it helped that Coach saw we would be able to do that in the red zone against Tulane.  I don't know what their plan is this week, but haven't thought about it like that.
You had three running touchdowns in the last two games and three passing touchdowns ...
Right ... [smiling]
So you are trying to show what you can do in there?
Those runs are not really schemed up for me where I am suppose tp be running the football.  It's been a case of reading what the defense gives me and when you have to run, you run.  We've only had one call where I got the call and I pretty much went in untouched, so there was great blocking.
You seemed to be seeing the field really well in the win over Tulane.  Of course, you had good blocking but can you speak to that?
Yeah, just trying to me more composed.  Out guys were getting open so it wasn't hard to get those reads.  I just did my job and when the receivers are going to get open, it makes my job simple if I am accurate.
Is it easier to prepare for the coming week after a win or a loss?
Winning makes everything easier and you feel better he next day but it is a challenge for guys to respond, especially after a win.  You still have to make corrections.
Can you speak of Juwon Thompson and his averaging close to 5 yards per carry this season and how that helps?
It makes my job a lot easier and the line doesn't have to pass block on every play.  It makes us more multiple and keeps defenses on their toes.  If you run the ball successfully, it opens up the play action and we were able to do that a couple of times last week.
Now, if it were me, I'd have spiked the ball and whooped it up after those touchdowns.  You were just really cool about it, all business if you will. [joking] And then you ran back to the bench like it was no big deal.
Uh, [smiling] it wasn't about me on those touchdowns they were pretty easy and well executed from our guys.  And I don't want to hear anything from coach, so it wouldn't be good for me to get a 15 yard penalty or anything like that.  If our guys make big plays they don't celebrate, so I'm not going to either.
You're too humble, Sean [laughing]
Yeah, well. [laughing]
You would have had another touchdown if there were NFL rules.  The pass to Vernon would where he slides in untouched, that's an NFL touchdown.
Right, right, I didn't think about that.  I'm not too worried, we got it on the one and scored.
How important is it to get to over .500 against Florida International who comes into the game the favorite?
I think if we were to go 3-2 it would help.  We are going to have a break the week after and a bye week, so if we can go into that week on a positive and get everybody healthy that would be great.  But if we are under .500 we have to fight and in ACC play as well to get back even.  It would help us long term if we can get a win this week.