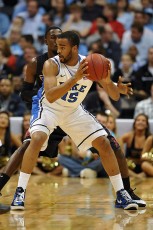 Game 34 • NCAA Tournament Second Round • South Region
[8 AP / 8 Coaches] Duke2 (27-6, 13-3 ACC) vs. Lehigh15 (26-7, 11-3 Patriot)
Friday, March 16, 2012 • 7:15 p.m. • CBS
The Opening Tip
• Duke received a No. 2 seed in the NCAA South Region and will face No. 15 seed Lehigh in the Second Round on Friday, March 16, at 7:15 p.m. in Greensboro Coliseum (Greensboro, N.C.).
• Jim Nantz (play-by-play), Clark Kellogg (analyst) and Tracy Wolfson (sideline) will call the game for CBS.
• Duke is ranked No. 8 in the AP Poll and No. 8 and in the ESPN/USA Today Coaches Poll. Lehigh is not ranked in either poll.
• Lehigh will be the 11th team Duke has faced this season that won its conference championship or its regular season division title. Duke is 8-2 in those games.
• Duke, Michigan State and North Carolina are the only teams in the NCAA to rank in the top 10 in RPI, Strength of Schedule, the AP and ESPN/USA Today Coaches polls.
• Duke is 4-0 all-time against Lehigh with the last meeting coming on Dec. 2, 1996, a 103-51 Duke win. Duke is 2-0 versus Lehigh under Coach K.
Duke in the NCAA Tournament
• Duke is 96-31 (.756) all-time in the NCAA Tournament, the highest NCAA Tournament winning percentage of any program. Duke's 96 wins are the third most behind Kentucky (105) and North Carolina (105).
• Duke head coach Mike Krzyzewski is the NCAA's all-time winningest coach in the NCAA Tournament with a 79-23 (.775) record.
• For the 14th time in the last 16 years, Duke received a top-eight national NCAA seed. As a No. 1 or No. 2 seed, Duke is a combined 68-16 (.810) with four NCAA Championships.
• As the No. 2 seed in the tournament, Duke owns a 23-7 record. Duke won the 1991 NCAA Championship as the No. 2 seed.
• Duke is 12-0 when playing NCAA Tournament games in Greensboro, N.C., and 32-4 when playing in North Carolina. Duke has won 16 consecutive NCAA Tournament games in North Carolina and won its 1992 and 2001 NCAA Championships after playing its first two games in Greensboro.
Numbers Game
l Duke has been ranked in the top 10 of the AP Poll for 93 consecutive weeks. The last time Duke was not ranked in the top 10 was on Nov. 19, 2007.
l Duke has not lost back-to-back games since February of 2009. The Blue Devils are 15-0 following a loss in that span (does not include season-ending loss in 2010-11).
l Duke is 10-5 against teams in the 2012 NCAA Tournament, including a 5-3 record against teams ranked as No. 1, No. 2, No. 3 or No. 4 seeds. Duke has knocked off No. 1 seeds Michigan State and North Carolina, No. 2 seed Kansas, No. 3 seed Florida State and No. 4 seed Michigan this season.
l Duke's 17 consecutive NCAA Tournament appearances ranks as the second longest active streak in college basketball.
l Duke has opened the NCAA Tournament in North Carolina 17 times and has reached the Final Four in 10 of those years. Duke has reached the National Championship game six times when playing its first round game in North Carolina.
l Miles Plumlee has at least 10 rebounds in six of his last nine games and is averaging 10.8 rebounds per game during that span. He also averages 8.0 ppg. during that stretch with two double-doubles.
l ACC Rookie of the Year and All-ACC first team selection Austin Rivers has scored in double figures 29 times this season. He ranks fourth at Duke in double-figure scoring games by a freshman and is on pace to become the third freshman to lead the team in scoring.
l Rivers has scored in double figures in 16 straight games since scoring a season-low four points at Clemson on Jan. 15. He is averaging 17.1 points, 4.3 rebounds and 2.3 assists per game in that span.
l Andre Dawkins averaged 9.3 points per game in the 2011 NCAA Tournament. Dawkins scored 13 points in the opening round against Hampton, six against Michigan in round two and nine against Arizona in the Sweet 16. Dawkins shot 5-of-13 (.385) from three-point range in those games.
l Duke head coach Mike Krzyzewski collected his first career victory on Nov. 28, 1975 when he led Army to a 56-29 win over Lehigh.
l Either Miles or Mason Plumlee has reached double figures in rebounding in 12 of the last 14 games. The tandem is averaging 17.0 rebounds per game, including 6.9 offensive rebounds per game, in that span.
l Seth Curry has made a three-point field goal in 13 straight games. He is shooting 42.5 percent (31-of-73) from three-point range and averaging 15.0 points per game during that stretch.
l Duke has played 20 games that were decided by 10 points or less this season. The Blue Devils are 16-4 in those contests.
l Four of the Blue Devils six losses this season have been by five points or less.