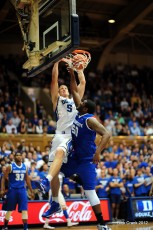 A couple of college basketball heavyweights will meet in the Championship Game of the Battle for Atlantis tomorrow evening. The Duke Blue Devils led by Coach Mike Kryzewski will take on the #3 rated Louisville Cardinals, led by Rick Pitino in as good an early season match up that one could want.
The last time Duke met Louisville was a gut wrenching loss in the 1986 National Championship Game where Purvis Ellison put an end to an amazing season and the first great Mike Krzyewski coached team.
The last time Mike Krzyzeski and Rick Pitino met, Duke won with the shot. Yes, that shot, the now famous Grant Hill to Christian Laettner pass where Duke would later advance to become the first team to win back to back National Titles since UCLA.
Don't be surprised if the pending heavyweight battle of elite programs is not an instant classic as well.
While there were certainly different teams taking the court in 1986 and 2012, you can bet that Duke fans would love for a little revenge. Of course, the stage will not be nearly as important, but yet still large enough for Blue Devil faithful to feel some retribution.
And with a win, Duke would be able to lay claim to winning a mythical state of Kentucky championship with their earlier victory over the Kentucky Wildcats in the Tournament of Champions.
In order for this to happen, Duke will have to find a way to shake free from a lengthy Louisville zone and some serious pressure from their guards.
Louisville comes into the game with a solid and convicting win over #13 Missouri and are led in scoring by Russ Smith. Past, Smith, the Cards get a lot of balanced scoring from a deep roster.
That contingent includes Smiths' backcourt mate and one of the nations best point guards in Peyton Slva and these two were big in the lop sided win over Missouri, as was Luke Hancock.
Hancock led the Cards in scoring including a couple of dagger buckets in the second half which squelched any hope for a Tigers comeback.
The Cardinals also feature Chase Behanen and Gorgui Dieng, two solid front court players who average 19 rebound per game between them. In short, I have seen their kids play on the AAU trail and in college and they're a very solid and talented group that will certainly present a major challenge for Duke.
But with the challenge also comes an opportunity for the Blue Devils to prove they're one of the nations top two or three teams with a win and even with a loss, by either program, both these teams are clearly final eight material.
Duke will need Ryan Kelly and others to make sure Luke Hancock does not get the same open looks he did against Missouri where his three pointers were vital in the easy Louisville win.
The Blue Devils will also need for Seth Curry who is battling a serious nagging injury to give it a go. Krzyzweski has said there could be times where this might not happen and Curry has been very consistent for Duke this season despite very little practice with the team.
This game will also be the biggest test to date for the Blue Devils backcourt where Quinn Cook must continue to distribute in the face of serious pressure defense. Cooks' nine assists against Virginia Commonwealth was quite possibly his best game to date. And then there is freshman Rasheed Sulaimon who will once again play on the big stage as a true freshman and his ability to do so will prove telling.
Duke has gotten a lot of good play from their seniors this season and there is no reason to think Mason Plumlee and Ryan Kelly will not continue that trend. Plumlees ability to hit free throws on a consistent basis has been a game changer when in close contests and Kelly has shown the ability to block some shots while waiting for his shot to start going down on a consistent basis.
One thing to look for will be fatigue or if Duke hits a wall for they played just seven players against VCU and mainly five. I feel certain they'll go to their bench more in this game but you never know.
Anyhow, strap yourself in for a good basketball game where we'll certainly learn more about Duke this early season.
At the end of the night, one of these teams will take sole possession of the #2 ranking, so there is a lot at stake for an early season slugfest.
So far this season, Duke has met every challenge and if they meet this one against Louisville, there will most certainly be a lot to talk about.
Some say Duke has not passed the eye test this season while others can only talk of the latest anti Duke rhetoric, flopping.
At some point they may recognize that Duke is still Duke and they continue to win consistently and low and behold position defense against team which drive aggressively is not always flopping.
Okay, maybe not, but a Duke win over another strong and talented opponent in Louisville would at least keep them at bay and force them to recognize this team is pretty good and ducking nobody.