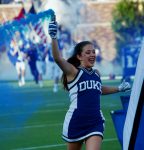 The Duke Blue Devils travel to Middle Tennessee State this weekend where both teams hope to end the contest with a winning record.  The game will kick off around 7:00 and will be carried by Facebook Live.
About Middle Tennessee State
Firstly, the Blue Raiders have a potent offensive attack.  They scored 21 points in a loss at Michigan to open the season before bouncing back with a 45-26 win over Tennessee State.
Rick Stockstill has built a solid program in Murfreesboro and his teams have scored 30 or more points 74 times under his watch.  This years team is led by quarterback Asher O'Hara (runs and throws effectively) and wideout Ty Lee.  Both are talented players who are but a small part of the offense which also poses a strong ground attack.
Middle Tennessee ran the ball effectively a week ago after a slow start in Michigan.  They went undefeated at home a season ago and the last time they faced an ACC foe, they upset Syracuse on the road two years ago.
On defense, the Blue Raiders start six seniors and three juniors which provide experience.
Intangibles
This weekends contest will be their annual blackout game where fans are asked to wear black.  The Blue Raiders are 8-3 in these contests reserved for their better opponents.
The weather will be hot.  It is plenty humid in the Triangle this time of year, but also very much so in the middle of the state of Tennessee.
Duke must stay aggressive throughout the whole game for looking at the Middle Tennessee schedule the past few years, shows they are capable of putting up big points in the late quarters.  In other words, they adjust well after the half.
About Duke
The Blue Devils will try to be more consistent on both sides of the ball this week.  On offense, they need to start faster than in their first two games.  On defense, they need to limit big plays and third-down opportunities.
Last week, Quentin Harris was fabulous against the Aggies.  This week he faces an opponent in between the talent of Alabama and N.C. A&T, so all eyes will be on how he performs.
Duke has multiple injuries and some key players or starters will be out for this game.  While the Alabama game was technically played on a neutral field, this will be the Blue Devils first road contest.
Our thoughts on the outcome
This is more or less a must-win game for Duke if they want to keep bowl hopes alive.  On the other side, Middle Tennessee State is looking at this as one of their biggest opportunities to knock off a power five school at home.  Both teams face a difficult schedule in the future after this game.  Middle Tennessee will travel to Iowa a week later and Duke preps for the ACC opener at Virginia Tech after an off week.
Look for Duke to get the Blue Raiders best shot and they are not a team that will wilt as mentioned earlier.  That said, Duke needs a good start and to play resilient and match their opponent's emotion.
I feel there will be an emphasis on getting the running game going for Duke this week, but it the game will come down to playing opportunistic defense and the passing game.
Middle Tennessee will give Duke some trouble with their offensive schemes, but the Blue Devils defense should stiffen up enough to allow the offense a chance to win the game.
The pick here is Duke 35 Middle Tennessee State 21
My season prediction record to date is 2-0 overall and 2-0 vs the spread.  Last week I had the exact point differential of 32 in the win over NC A&T.