[private]Cutcliffe's opening statement - It's easier to recruit after a win, I can tell you that!  I'm real proud of our team.  We made a lot of errors and I will take the credit for those which good football teams never make.  I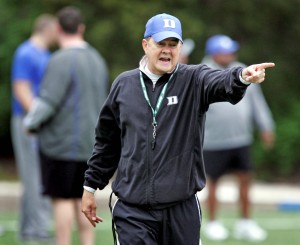 think if you ask our players though, the game was never in doubt.  We played with tremendous grit and determination.  Whatever adversity we might have faced - they were up for it.  The kicking game was off the charts, the defense tremendous and some very timely offense.  Again, if we hadn't of had the errors it could have been a really well played game - it should have been a very well played game.
 You talked about recruiting ... can you elaborate a little bit on what this means for recruiting?  (Mark Watson, BDN)
I think people that are out there in general, whether it's high school coaches or prospects understand that things are changing and that it's going to continue to change.  It means I'm proud of this team and what it's doing.  There is a lot of work left to do, we all know that, but I think people can see that we are going to have success here at Duke and that encourages a lot of people that want to see this program do well.
How important was it in terms of taking steps and progressing for those guys to be able to win that game on the road after back to back losses?  (Heather Dinich, ESPN)
I think it refers to everything we preach.  The more difficult it is, the better the opportunity.  We kind of take that approach in practice in that it's difficult to get through it.  There was never a doubt in mind that we were ready to play.  They took the challenge.
With injuries to Wright and Butler, did you have enough players to go to a Dime (defense) if you needed to? (Lucie Chavez, News and Observer)
We were really limited to five (defensive backs) that we have to play with .  We are looking into adjustments with concern to the rest of the season.  There are a lot of circumstances we have where we are thin.  We are thinning as the season progresses.
Are you getting any idea of how the injuries ...
We're getting some images on Leon (Wright) and Lee (Butler) That's all still day to day.
Are there other position groups where you are in that groove now?  (Brian Strickland, Herald Sun)
Well, we didn't take two receivers to Nashville, Chestnut and Kelly.  We have a few bumps and bruises there as well.  You just hope people stay well.  Eron has a torn ligament in his thumb and we are just going to be thin in a few places.  It's that time of the year.  I just told our team a little while ago that this is when we are all defined in college football.  Every team has injuries and some of the other kids don't feel great. This is the time of year where you have to be at your best.  Whatever teams that have some backups step up in key roles - that's the team that will be successful down the stretch.  Chris Rwabukamba did that for us on Saturday and he got a standing ovation for doing so.
On relationships with the media ... (Ben Cohen, Duke Chronicle)
I've had a good relationship with most of the media.  You get a lot of good people, intelligent people that you work with and I admire talented people.  The only thing I don't like is sarcasm.  I think people that are consistently sarcastic probably don't have much else to say in their life.  That's just a real negative way to do business.
These kids haven't won this many games in their entire career.  How long do you let them enjoy this win before you move on to Wake Forest? (Mark Watson, BDN)
We've already moved to Wake Forest.  We had a team meeting and I visited with them about that game.  We watch a tape on offense and defense.  After that's put to bed, it's 100% Wake Forest.  We'll go out tonight and work on Wake exclusively.  We might correct some mistakes where we are working on Duke tonight, because we had a number of them.  We are going to jump start into the kicking game and some situations with Wake tonight and then we will do a few two minute drills.  I want them to enjoy the win and hopefully they did it the right way.  Today should be a little bit upbeat.  They should have a little bounce in their step.  They've worked out with weights already.  I think we'll run them tonight ... I think after we run them that they'll move forward.  They're always looking forward to moving on after a Sunday night run.[/private]