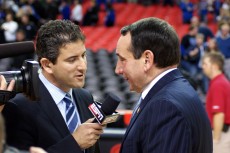 In this week's BDN Duke Basketball Notebook,, we take a look back at the Blue Devils' huge win over Kentucky and look ahead to what's up next. Duke pushed their record to 2-0 on the young season with a 75-68 win over the defending national champs and while of course it's still very early, some trends seem to be developing.
Duke defense much improved
Duke's defense last season was perhaps the worst its been in a decade or so. There was little doubt that a program which has taken great pride in this area would make adjustments in the off-season. Each year, Coach Mike Krzyzewski gets together with his staff to assess the roster and implement a plan for the season to come. Whatever strategic or tactical tweaks they made on the defensive end, as well as the motivational tools they chose, have worked well to date. The Blue Devils held Kentucky to 68 points, and they scored 18 critical points off turnovers in the high-profile win. Going into the game, Nerlens Noel was billed as a Shot Blocker Supreme and, having seen him play 20 or more time on the AAU circuit, I can tell you he is one of the best swat masters I've ever seen. Noel had 3 of Kentuckky's four blocks in the game. But the Blue Devils had six rejections of their own; three of those were from Ryan Kelly and two by Mason Plumlee. Kelly played his position well, and looks to have really imnproved on the defensive end. Each of the senior co-captain's swats came at a key moment in the game, and made the Wildcats re-think going at him. And for the record, Kelly also led Duke in steals with three of the team's six. Plumlee was mired in foul trouble in the 2nd half, yet still established himself as an anchor in the post. It's a safe bet that he'd have had even more impressive numbers were it not for having to sit for some key stretches.
Great minutes from Josh Hairston
The Blue Devils got 14 very efficient minutes from junior forward Josh Hairston, as he scored 5 points to go with 5 rebounds. His put-backs on a couple of misses in the paint were crucial in the Blue Devils' ability to hold off a big second-half Wildcats run. But what may have gone unnoticed is the solid defensive postioning he used against the much taller and longer Nerlens Noel that kept the Kentucky big man away from the basket.
Sulaimon struggled with his shot but little else
True freshman Rasheed Sulaimon went just 3 of 14 from the floor, finishing with 10 points, but nine of those came on three-pointers. Rasheed's defensive presence is much evident, as he is generally checking the opponent's best guard. Sulaimon also dished a team-high 5 assists, and his quickness helped him grab 6 rebounds from the guard spot. None of this surprises me, having followed Sulaimon and his high school and AAU career, and many media members I chatted with agree that he will only get better as time goes on. Sulaimon is an unselfish player, perhaps even too much so, which prompted Coach Krzyzewski to say in our post-game interview after the season opener that Rasheed needed to look for his shot more.
High profile wins are good wins
Any time you win a game like the Duke-Kentucky battle on the big stage, it's an accomplishment to be cherished. For the fans, it means bragging rights, and in reality these games are designed for them as much as they are for the coaches, though the coaches do get an early season barometer of what kind of team they really have. This win will look good in March, and let's face it, on the recruiting trail as well. Kentucky has pushed the NCAA rules to the limit in creating a factory to provide players a one-year pit stop to the NBA while Duke is still very much about education and basketball. So showing your style of doing things -- and still getting the wins -- is a big deal, and a statement to prospects around the country. The Wildcats are unapologetic for the way they do things these days, and fans turn a blind eye because they're winning, but Duke proved its staying power as well, and that one should never count out this program out.
Speaking of recruiting
Matt Jones, a 6-4 shooting specialist from DeSoto, Texas and Semi Ojeleye, a solid prospect from Kansas will soon be Blue Devils when the ink dries from signing day. The Blue Devils other target is the much heralded Jabari Parker who will likely make his decision this December which of course is right around the corner. So crank up the rumor mill and try to cipher through the muck or join Blue Devil Nation Premium where we will tell you just the facts. The aforementioned Jones can flat out shoot the rock and has length at 6-4 and his game has improved each of the many times I have seen him play. He'll be in the Triangle later this year, but more on that later. Semi Ojeleye has a college ready body already and he provides many options for Krzyzeski in that they do not really have a player like him on the roster. Both young men have very high character, a Duke trait and they will both be welcomed additions in Cameron.
Florida Gulf Coast up next
While fans want to hang onto the win over Kentucky, it is early in the season and all must move forward. My bet is Krzyzewski and company have already made the player aware of this and turned their attention to Sunday for the Florida Gulf Coast game in a game which has a brutal 8:00 start. I say brutal because, Sunday games are notoriously the roughest on the student athletes and Kyrzewski has lobbied for no later than 7:00 starts. Anyhow, the opponent comes in 1-1 and they beat Miami handily in their last outing, so attention is warranted. The Canes of course were picked in the ACC's upper tier on media day, so the opponent is capable of pulling off a win on the road under the right circumstances. But my bet is that Duke will be energized and players will step up for a solid win going into the incredibly challenging Battle for Atlantis I'm generally not he type to look ahead but Duke will open in the Bahamas with a veteran Minnesota team just outside the rankings and then face the winner of Virginia Commonwealth and Memphis. They may then run directly into the other highly ranked team from Kentucky, Louisville. But first things fist for Duke and they've rarely been caught looking ahead during Coach K's tenure.