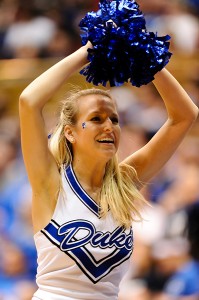 Now you know all I am going to talk about in this weeks Monday Musings is Duke v. Carolina week.  BDN will begin it's coverage Monday afternoon when we'll talk to the Duke players and the man himself Coach Mike Krzyzewski before heading to Chapel Hill to take in what Roy Williams has to say.  We'll remain for the Duke at North Carolina women's game. and on Tuesday we'll feature a lot of tidbits and coverage before Wednesday evenings big game with a streaking Tar Heels team in Cameron.  We'll be on the scene early for this Wednesdays game in an attempt to bring you a  a Duke-centric experience.
Duke-Carolina, there is nothing like it!
If you've ever attended a Duke v. North Carolina Basketball game in person you might equate it to a religious experience.  The atmosphere is fever pitch and you can literally feel the emotion and electricity before, during and after the game.  Fans are atuned to every move on the court, each turnover painful to the marrow, each great play giving you a total body rush and every play seeming like it could make or break your teams ability to win.  There have been Duke-Carolina games in Cameron when it got so loud it seemed like a jet aircraft was taking off, a deafening noise that vibrates your whole body.  There have also been times when a player in the hated light blue silenced the minions as well.  It can be a roller coaster of emotion and I've seen grown men soaked with sweat, gnashing their teeth and acting like they would nowhere else in life. It's Duke v. North Carolina and there is simply nothing like it be it in person or on television.  It's quite simply the game everybody circles, one which the entire nation pays notice to and one that effects the way of life for the fan bases involved.
And the Tar Heels are streaking
There is no way around the fact that North Carolina is coming into Wednesdays game on a tear.  They've not only won 11 of their last 12 games, they've also done so in a decisive manner, save the Georgia Tech game.  The Tar Heels have also been rejuvenated by the play of freshman point guard, Kendall Marshall who put on an assist clinic against Florida State where his team won by 20 points.  That's the same team that Duke lost to badly on the road.  No team in the country is playing with more confidence right now, save Ohio State.  And when the polls come out later today, expect another jump in the rankings adding more hype to the game.
The Women start it off this evening
It's true that UConn handled formerly undefeated Duke in grand fashion but surely we've learned by now that one game where the wheels come off is not the harbinger of death.  Ask the UNC and Duke men about their losses to Georgia Tech and St. John's.  Duke, rated #3, bounced back by throttling a highly ranked Miami team in Cameron which went unnoticed but tonight they travel to Chapel Hill to take on their arch rival #15 North Carolina in a game many will talk about.  It should be a good game with both teams being atop the conference standings and it's always entertaining.  Tickets are still available, so head on over and support your team and kick off rivalry week right.
Tickets?
A quick trip around scalper land shows that scoring a couple of tickets to the Duke-UNC game in Cameron will set you back a minimum of 1000 bucks and the average is about 750 to 1000 duckies a ticket.  This is one of those games where people are literally hanging off air conditioning vents high atop the birds nest trying to stick their head around to get a view.  The question is how do those people get up there to begin with?  I've seen many fans strike out on game day only to have to hustle to a spot on campus to watch the game.  The overflow applies to media as well where everybody in their brother suddenly wants credentials and many of them end up having to watch the game on TV in the Bill Brill Media Room in Cameron.
Football Recruiting
Perhaps you haven't noticed but BDN has been posting all football recruiting articles for free and yes, these are the same types included in subscription packages elsewhere.  We'll take them to premium in due time, but for now, we want to cast a light on Duke Football and that means you can get a lot of great information from our recruiting analyst Patrick Cacchio.  Be sure to link and spread the word for football fans to visit and read about the many juniors Duke is getting involves with.