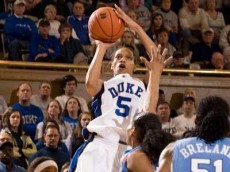 DURHAM - The Duke Women demolished Clemson 92-37 to move to 6-0 in the ACC and 20-0 overall and they remain the only undefeated team in all of women's college basketball.  Of course, there next game is against Connecticut in Storr's in a game that will certainly bring in more than a few casual observers.
Once again, Coach Joanne P. McCallie utilized her whole bench as she has done all season in an effort to build depth.  And that's one thing this years team certainly has as different freshman from a very talented class are stepping up.
Duke was once again led by their senior All American leader Jasmine Thomas who tallied 14 points to go with her game high 7 assists.  She was one of five Blue Devils in double figures. 
The Blue Devils rolled out to a 59-12 half time lead in the first half and that was more than enough as they coasted the rest of the way to an eventual 92-37 win.
"Our defense was terrific in the first half with the pressure we employed.  Any time you hold a team to 12 points in a half, you've done your job," said Coach McCallie.
Duke outscored the visitors by a 39-12 score off turnovers where they forced a whopping 36 of them.  The Blue Devils dominated the paint as well where they held a 30-16 edge.  And the deep bench McCallie is grooming scored 45 points to the Tigers 16.
"We found our transition game and that created easy buckets by our running the floor," said McCallie.
The win was also the Blue Devils 20th straight in Cameron Indoor Stadium.  Duke has won 18 out of the last 21 games with the Tigers.
The easy first half brought smiles to the players and staff who realized that they were clicking on all cylinders before their showdown with #2 Connecticut in a game that tips at 7:00 EST on ESPN 2 this coming Monday.
"It's a focus game, a poise game." stated McCallie when questioned on how to beat UConn.  Then Thomas added it's a great opportunity and that is indeed true.  What McCallie was saying is that Duke must maintain their poise in a hostile environment with a team that has their ears pinned back. 
If Duke can emulate their first half performance against Clemson, then they have an opportunity to gain a memorable road win, but as we all know, beating the Huskies in their house is a tall order.  Still, if you are looking for a list of teams that could pull off that feat, these Blue Devils are at the top of the list.