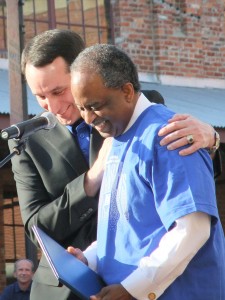 DURHAM - The Duke Men's Basketball team was honored by the city of Durham on the American Tobacco campus on Thursday.
Several Duke fans gathered in the converted former warehouses to honor their Duke Blue Devils for winning the 2010 National Championship.
Chants of "Let's go Duke," rang through a beautiful spring day in the City of Medicine as the band and cheerleaders helped get the crowd going.
Coach Krzyzewski led his troops out as Durham Mayor Bill Bell and other dignitaries gave homage to a team that Krzyzewski called the most together team he'd ever coached.
After Krzyzewski sang the praises of his team and Durham, seniors Jon Scheyer, Lance Thomas and Brian Zoubek spoke to the gathering of smiling faces, most all of them wearing royal "Duke" blue.
When junior Final Four Most Outstanding Player Kyle Singler was mentioned, chants of "One more year," were heard.  Singler is undecided on whether he will enter the NBA Draft with the deadline fast approaching.  When asked by Mayor Bill Bell if he was ready to make an announcement to make, Singler smiled and declined.
Several signs will go up on Durham highways stating, "Home of the Duke University Blue Devils 2010 NCAA Men's National Champions."
The Blue Devils then made their way over to the DAP home of the Durham Bull's the defending AAA Champion who were playing their home opener.  Scheyer, Thomas and Zoubek all threw out pitches and the team was honored during the third inning.
In winning the title, Duke gave a gift to its fans that keeps on giving as time goes on. It's clear that Blue Devil faithful are still basking in the glow of victory, each one on this day immersed in sunlight surrounded by Duke blue.
Just below you can hear the celebration in its entirety.  Coach K and the team speak at the sixteen minute mark for those who want just that.
Just press play - (see photos below, more to come on our Blue Devil Nation Facebook site)